409 Eastern Parkway Almost Complete, Bringing More Luxury Apartments To Crown Heights
CROWN HEIGHTS – A look at the new luxury apartments springing up seemingly everywhere these days, offers a sobering reality of the new Crown Heights.
One of the latest additions is the 11-story building at 409 Eastern Parkway, on the corner of Bedford Ave, that is expected to be completed in 2019. Its studios start at $2,225, and 2-bedroom units range from $3,025 to $3,665. What does that get one these days? A studio starts at 408 sq. ft – about the size of two parking spots – and the 2 bedrooms top off at 1,087 sq. ft. The new complex does offer more than 17,000 sq. ft. of amenities  – including a co-working space, game room, and a communal lounge. All units have high-end Bosch appliances.
"Our goal was to create an amenity-rich building that allows residents the opportunity to live, work and play year-round as their lives and needs change," Omri Sachs of Adam America Real Estate said in a press release.
Developers boast that 250 "prospective residents" were interested in renting during a soft launch in June, which begs the question of  – who is moving so far East of the Brooklyn Bridge to rent at these prices, when apartments directly across the street peak at less than a thousand of what Adam American Real Estate is asking?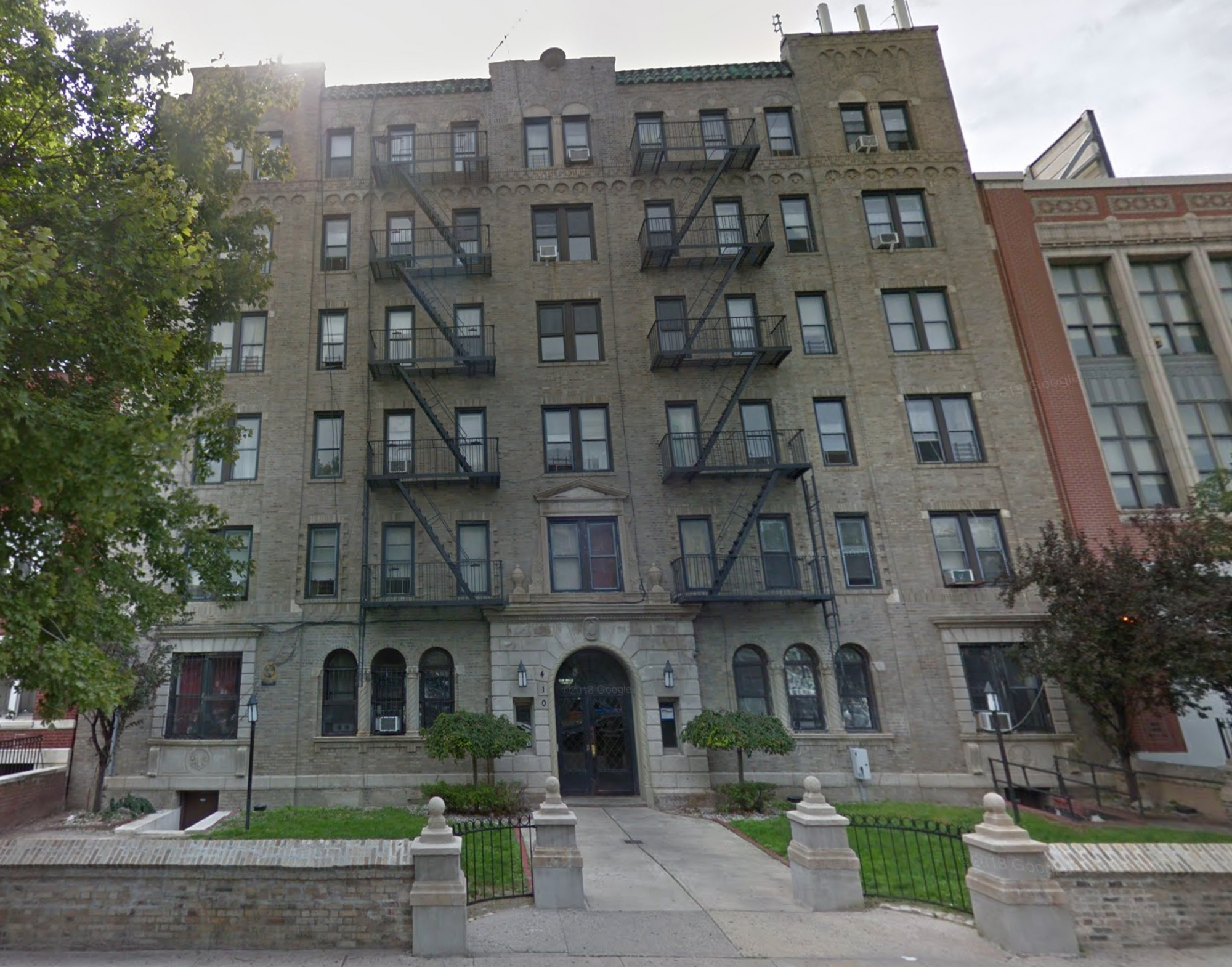 Apartments.com listed 1-bedroom apartments at 410 Eastern Parkway, a 72 unit building with at least some rent-stabilized units, for $2,250, which is not exactly cheap either, but quite a bit less. For 2-bedrooms at 800 sq. ft. residents can expect to pay $2,850 and $3,300 for a 900 sq. ft. 3-bedroom apartment.
This particular building came to the attention of Public Advocate Letitia James back in 2016, when tenants were accusing management of pushing them out to raise rents. Apartments can be de-regulated through high-rent or high-income deregulation, and the threshold for former was raised with the Rent Act of 2015 from $2,500 to $2,700, and increased to $2,733.75 effective January 1, 2018, according to the Rent Guidelines Board. Looking at the for rent rates at 410 Eastern Parkway today, these apartments seem to be offered at market rates.
Both buildings are minutes away from the massive Bedford Armory which, after a year-long battle between residents, lawmakers and developers, will have an affordable housing component as well as more rental units when developed.
But there's good news for families who cannot afford the nearly $4,000 price tag. The building is part of the city's Voluntary Inclusionary Housing program, Housing Preservation and Development (HPD) confirmed, and there will be at least 35 affordable units.
Developers applied to the program when the project was expected to have 175 units, of which 35 would be "affordable", as defined by the controversial Area Median Income, putting them out of reach for most neighbors in the actual surrounding area, where the median household income is just over $50,000 per year.
The development has since grown from its original 133 residential units to 189, and HPD expects the number of affordable units to increase. "We are expecting amended building plans with additional units outlined which would result in an increase in affordable housing units after agency review and approval," said an HPD spokesperson.
Applications for market-rate units are available now but affordable housing units will become available through a housing lottery on Housing Connect in the upcoming months. We'll keep you posted. HPD confirmed a completion date of 2019.