12 Great Pie Shops For Your Thanksgiving Order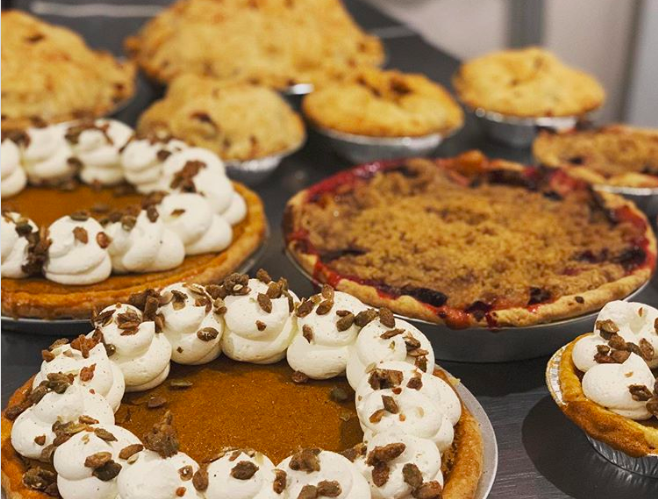 There's still plenty of time to place your order for Thanksgiving pie, and with this list you truly can't go wrong.
Miss American Pie
86 5th Avenue, between Prospect and St. Marks places.
This newly minted Park Slope pie shop started taking pre-orders on November 1st for Thanksgiving pies. They're offering a wide variety standard, vegan, and gluten-free pies, including old fashioned banana cream, pumpkin, and their signature bacon lattice apple pie.
Four & Twenty Blackbirds
439 3rd Avenue, between 7th and 8th streets.
Four & Twenty will have four Thanksgiving pies available this year, including bittersweet chocolate pecan, brown butter pumpkin, salted caramel apple, and salty honey. They are taking orders now, but pies must be picked up in-store from the 24th-28th of November. You can order pies here.
The Blue Stove
415 Graham Avenue, between Withers and Frost street.
This Williamsburg shop is offering apple, pear ginger crisp, raspberry plum pie with pecan crumble, and bittersweet chocolate mousse for Thanksgiving. They begin taking orders starting on the 1st of November, and are available for pick-up only.
Petee's Pie Company
61 Delancey Street, between Eldridge and Allen streets.
Petee's is offering over 12 pies for the holiday, including brown butter honey pecan, pumpkin, NY sour cherry, and salty chocolate chess. You can also add sides of their homemade vanilla ice cream and maple whipped cream when you pick up in-store. You can see the full list and place orders here.
Butter and Scotch
818 Franklin Avenue, between Union Street and Eastern Parkway.
This bakery is offering four pies at $42 each- s'mores, pumpkin spice, apple pear cranberry crumble, and brown butter and scotch pecan. They are available for both pick up and delivery until Wednesday, November 27th. Orders can be placed here until November 25th, but they will have limited pies available for walk-ins in the week leading up to Thanksgiving, ass well as Thanksgiving day.
The Good Batch
936 Fulton Street, between St. James and Cambridge places.
The Good Batch is offering classic pumpkin, pecan maple, apple crumb, and a vegan pumpkin bread loaf. Orders can be placed online or in person until the 24th.
Pie Corps
77 Driggs Avenue, between Monitor Street and Kingsland Avenue.
Pie Corps is offering their full menu for order. This includes classics like pumpkin, as well as pecan bourbon chocolate chip, coconut custard, and lavender lemon pies. You can find the full menu here.
Krumville Bake Shop
630 Flushing Avenue, Eighth Floor, between Tomkins and Union avenues.
This gluten-free bakery will be offering their full menu for Thanksgiving, plus a special pecan maple pie. You can order here.
Pels
446 Rogers Avenue, between Lincoln Road and Lefferts Avenue.
This shop is offering all of their pies for order, including pecan, pumpkin, and apple. They will also host a Thanksgiving meal at the restaurant on Thanksgiving. Orders can be placed now over the phone.
Pies 'n' Thighs
166 S. 4th Street, between Driggs Avenue and S. 5th Place.
Pies n Thighs is offering five pies for the season. Bourbon pecan, sour cherry pear, apple, pumpkin, and banana cream are on the menu, as well as their full catering menu. You can order pies here until the 24th.