1 in 10 Students in Brooklyn Experienced Homelessness Last Year
Over 31,000 students attending public schools in Brooklyn were homeless at some point last year, according to data released Monday by the group Advocates for Children of New York (AFC).
The group, an organization that advocates on behalf of marginalized students in public schools, found that 31,158 students – one out of every 10 –  attending either traditional public schools or charter schools in Brooklyn had experienced homelessness at some point during the 2018-19 school year. The number of homeless students in Brooklyn is second only to the Bronx, where over 39,000 students experienced homelessness.
In Brooklyn, District 23, situated in Brownsville was most affected – over 20% of students were homeless at some point, estimated Randi Levine, AFC's policy director. District 23 had the second highest share of homeless students of any district in the city, trailing only District 9 in the Bronx.
Districts 14, 17, and 18 had over 10% of students experience homelessness, while Districts 16, 19, and 32 saw over 15% of students face it.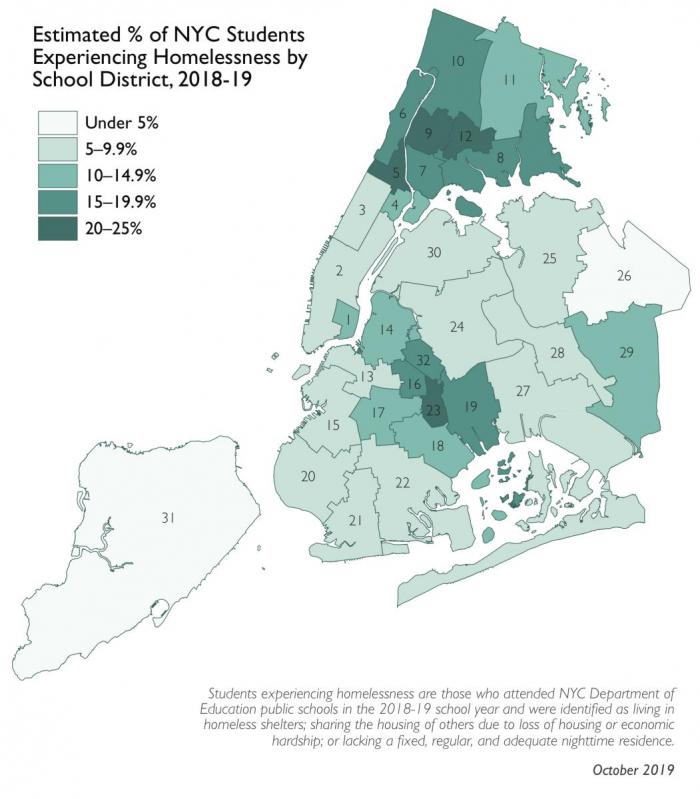 The data is based on totals reported by school districts to the State Education Department, Levine said. NYS-TEACHS, the state's "technical assistance center" for homeless students, is housed in AFC and reports the data annually.
A Citywide Issue
Citywide, over 114,000 students experienced homelessness last year, about 1 in 10 of the more than 1.1 million public school students. According to AFC, this is the fourth consecutive year that the number has topped 100,000, though this year the number diminished slightly, by about 600. Advocates have characterized Mayor Bill de Blasio's response to the problem as grossly inadequate.
"This problem is immense. The number of New York City students who experienced homelessness last year—85% of whom are Black or Hispanic—could fill the Barclays Center six times," AFC Executive Director Kim Sweet said in a statement. "The City won't be able to break the cycle of homelessness until we address the dismal educational outcomes for students who are homeless."
The group defines "homeless students" as those who were without a permanent address at some point over the past year, and who sought out temporary housing. As such, homelessness among students can and does take many different forms. In Brooklyn last year, 10,413 students spent time in a homeless shelter, while 19,087 "doubled-up" temporarily in the homes of friends or relatives and 120 stayed in hotels. Another 1,538 students at Brooklyn schools were unsheltered, living on the street, in parks, on the subway, or in other non-residence situations.
Seeking Shelter
Approximately 15,000 students are residing in shelters on any given night, according to a spokesperson for the DOE. Families with children stayed in shelters for an average of 438 days in the 2018 Fiscal Year, according to the Mayor's most recent preliminary management report.
AFC said that about half of homeless families are placed in a different borough from where their youngest child goes to school. However, a spokesperson for the Department of Social Services said that proportion refers to "initial placement," and about 79% of families' "final placement" is in the borough their youngest child goes to school.
Since students' shelters or temporary housing is often far away from where they go to school, sometimes even in different boroughs, homeless students are frequently absent or tardy from school. Nearly two-thirds of homeless students are chronically absent from school, AFC says. The city is opening two new family shelters in Park Slope this winter, at 535 and 555 4th Avenue, in part to allow children to live closer to the schools they attend.
Impact on Student's Life
Homelessness has a profound impact on a student's academic performance, which in turn has a profound impact on the rest of their lives. According to the AFC, students who experience homelessness score substantially lower on state reading and math proficiency tests than their peers living in permanent housing. Only about 57% of homeless students graduate from high school; among students specifically staying in shelters, fewer than half graduate.
The City's Efforts
The de Blasio administration has addressed the problem but at a glacial pace. The city first dedicated $10.3 million in 2016 to place social workers in schools with high numbers of homeless students, among other things. Last year, the city said it would spend an additional $12 million on new supports for homeless students, including 100 new "coordinators" within schools with high homeless populations to better address the issue, and 31 new social workers, bringing the total number up to 100.
The city also now provides yellow bus service for all students in shelters in K-6, and afterschool programs to homeless students, the DOE spokesperson told Bklyner.
"We're making critical investments to meet the needs of students in temporary housing including hiring social workers, providing busing, and placing staff in schools focused on connecting families to community services and improving attendance," said DOE spokesperson Miranda Barbot. "We're committed to serving these students and families by providing the programs and resources they need to have access to a continuous, high-quality education."