Youth Violence On The Rise In Brooklyn: High School Students On Their Fears
A bunch of thugs stabbed and robbed a student's older brother of his jewelry, the teenager recalled, seemingly reliving the trauma he experienced in his own neighborhood. "It gets me very emotional," he told state lawmakers, pausing to regain his composure, before adding, "I'm worried about the safety of my younger sister."
Democratic state Sen. Roxanne J. Persaud, whose district includes Canarsie, East New York, and parts of Brownsville, asked the audience at Spring Creek Educational Campus' auditorium on Nov. 13 not to photograph or live stream students participating in the public hearing on youth violence. She was concerned about the students' safety if their identity or picture appeared online.
Persaud's concerns are real.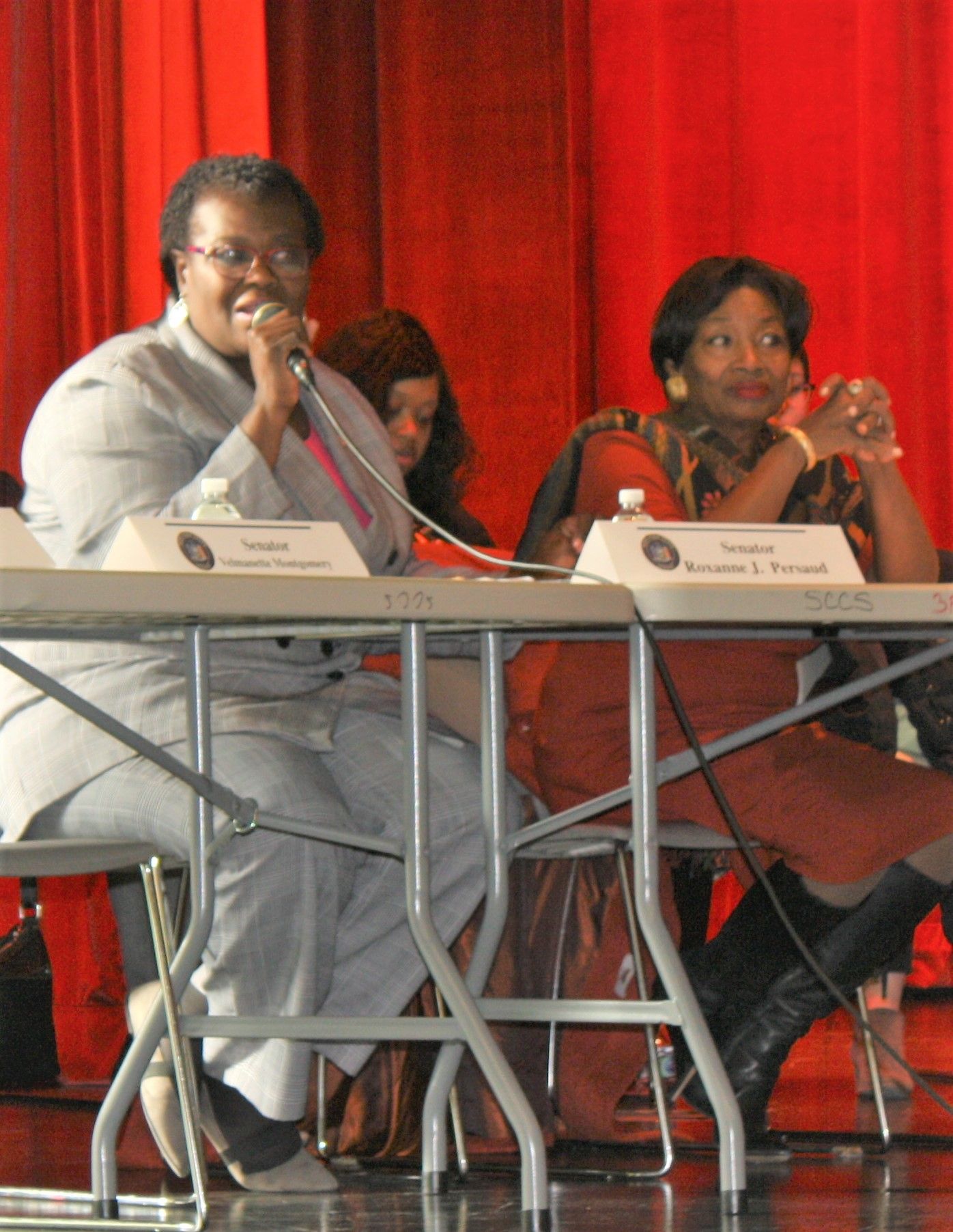 Youth violence has spiked in pockets of Brooklyn, the New York Times has reported, even as overall murders and shootings have significantly decreased across New York City. Teenage gangsters, in neighborhoods like Bedford-Stuyvesant and Crown Heights, are responsible for the uptick, police officials told the newspaper. Tit-for-tat assaults, often sparked by perceived provocations on social media, are a major cause of the violence.
Persaud, who chairs the Senate Social Services Committee, hosted the roundtable discussion in the East New York portion of her district, which has one of the highest levels of gang violence in Brooklyn. Bronx Democratic state Sens. Jamaal Bailey and Luis Sepulveda co-hosted the event. Seventeen Brooklyn high school students shared their experiences at the roundtable titled, Examining the Prevalence of Youth Violence.
The students gave Persaud a laundry list when asked about the types of violence they encounter at their school, home or neighborhood. Gang violence, black-on-black violence, gun violence and police brutality were the most common responses from the mostly black and Hispanic students.
"I have seen gun violence first-hand," one of the high schoolers said. "The two most prevalent types of violence I've seen are police brutality and black-on-black violence."
Fear of the police was a recurring theme from many of the students.
"Personally, I know just one police officer. The police see you differently when you're black. On social media or TV, you see an officer, every once in a while, playing basketball with some random kid. But that's dwarfed by all the reports of police shootings," one of the students commented.
Another young man talked about police officers harassing him and his buddies. "Me and my friends were literally sitting on my porch, just talking about our day when a car pulled up and they threatened to throw us in jail," he recalled. "I was confused because I didn't do anything wrong. I didn't feel safe. How could I trust any type of law enforcement?"
A Rutgers University study reported by USA Today in August suggests that their concerns about police brutality are not exaggerated. Police violence is a leading cause of death for the nation's young men—especially young black men, the study found.
The wave of headlines and videos in recent years of police-involved killings of unarmed black men has traumatized African-American communities and damaged their mental well-being, according to a separate study reported last year in the New York Times.
Community leaders took the stage in the second part of the roundtable to discuss solutions.
"We need programs that take kids into the precincts and actually show them what takes place and teach them how to respond to officers," said Camara Jackson, executive director of Elite Learners, a Brownsville-based anti-gun violence and youth-programming organization. "We have a program that teaches young people how to talk to police officers and what to do when they're stopped by officers."
Jackson and other panelists underscored that it's imperative to build positive relationships between young people and cops who patrol their neighborhoods.
Officers sitting at the roundtable said the NYPD recognizes the need for neighborhood policing, which is a "cornerstone" in their crime fighting strategy. The department has officers working in its Youth Programs section who serve as a bridge between the youth in their precincts and law enforcement.
At the same time, the panelists recognized that creative solutions are also needed to stem youth violence. Khari Edwards, Brookdale Hospital's vice president of external affairs, pointed to the hospital's It Starts Here program.
Launched in 2016, the program brings middle school and high school students to Brookdale to hear from victims of gun violence, see pictures and videos of gunshot victims, and visit the morgue.
"The program tries to stop kids from thinking that, like a video game, if you shoot someone that they'll get back up," Edwards said. "We want to show them the realities of gun violence."