Your CBD Store Opening in Park Slope on Saturday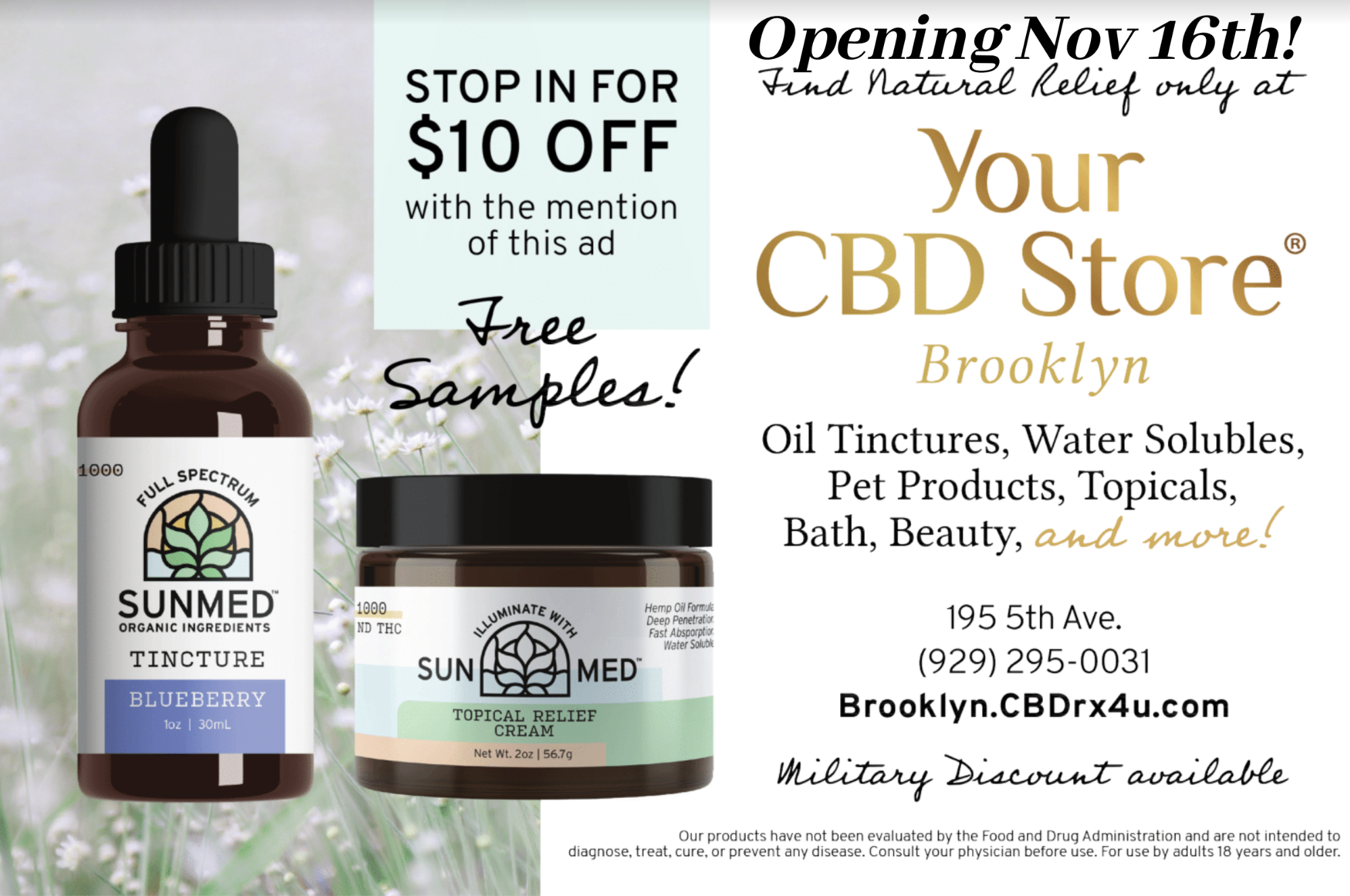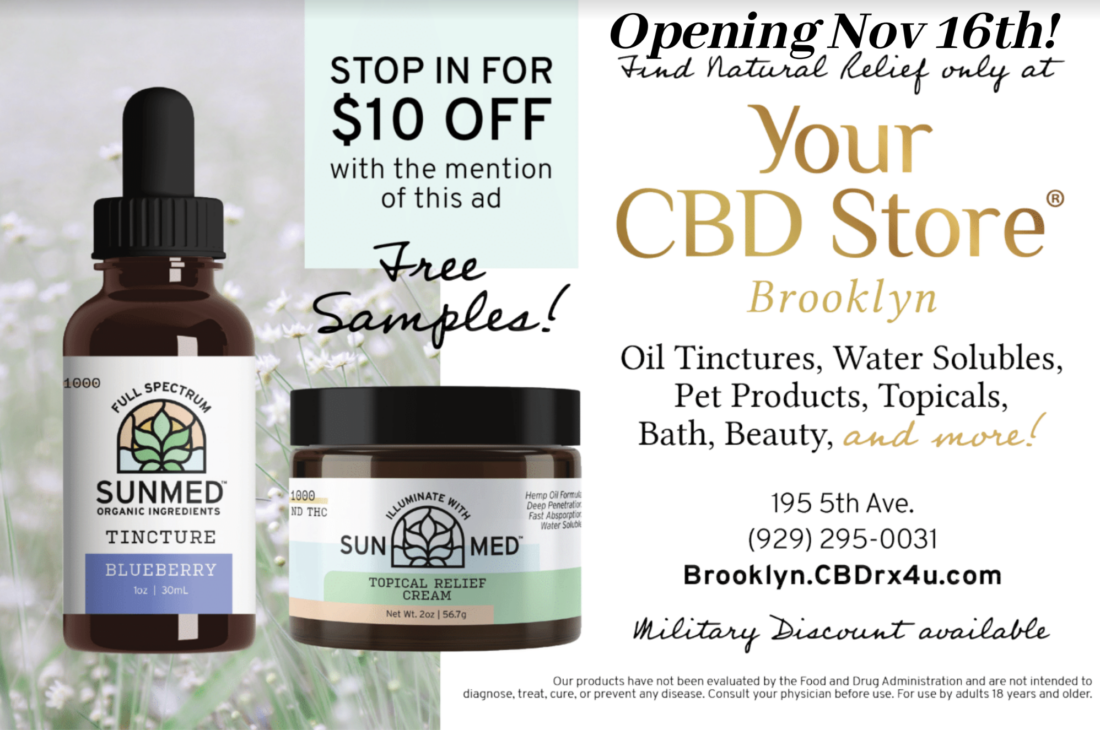 A new store dispensing CBD products is coming to Brooklyn and will open at 195 5th Avenue in Park Slope, between Union and Sackett. Owner Dominique Pastorello hopes to focus on educating consumers on the potential benefits of CBD products and opening the first 'Your CBD Store' in the 5 boroughs. The grand opening is scheduled for Nov. 23, but the store will welcome visitors starting this Saturday, November 16. This post is sponsored by Your CBD Store.
Can you tell us more about Your CBD Store BK?
Your CBD Store and the Sunmed brand were founded by Rachel Quinn and her husband Marcus. Rachel suffered from Crohn's disease and experienced severe pharmaceutical side effects for years before finding natural relief from CBD. When she saw how difficult it was to obtain a consistent, high-quality product – she knew she wanted to provide a better option. She and her husband began extensively researching CBD and assembled a team including Dr. Tony Ferrari, the onboard Sunmed chemist, and this outstanding brand was born. It started with one flagship store in Florida in May of 2018 and because of the overwhelming success of the brand, there are over 600 stores and counting nationwide. It is the largest CBD retail chain in the world.
I was introduced to the Sunmed brand by a friend of mine and was so inspired by their vision that I decided to bring Your CBD Store to my hometown in Ithaca, NY. I have always spent a lot of time with friends in Brooklyn and saw a hole in the market surrounding the education aspect involving CBD products and how to properly use them. I started thinking about venturing into this market soon after I opened my first store as I had always wanted a reason to spend more time in beautiful Brooklyn. Park Slope seemed like a great area to open the first Your CBD store in the five boroughs.
Sunmed prides itself on providing some of the highest quality and most innovative CBD products on the market today. Your CBD Stores are dedicated to carrying organic, lab-tested, CO2 extracted CBD products packed with therapeutic terpenes and cannabinoids. All stores are staffed with knowledgable employees capable of helping you choose the best product for the most benefit. Our comfortable spa-like atmosphere enables you to feel at ease while learning about the products most suitable for your needs. We look forward to meeting you!
How does Your CBD Store BK benefit the Brooklyn community?
CBD can be found everywhere you look these days. Unfortunately, not all CBD is created equal and many companies are not what they say they are when it comes to transparency of their products. Producing low-quality oils with harmful residual solvents and/or pesticides can have potentially detrimental effects. Lab testing and premium extraction methods are expensive processes, but crucial to the integrity of the products. It is very important to us to not only provide a top-quality product to the community, but to create a comfortable environment where people can stop in to receive education about CBD from our knowledgeable staff and understand how these products may benefit their health.
What line of work were you in/what was your career before you started Your CBD Store BK?
I studied Plant Science at Cornell University and worked closely with plants in the years after school as well as studied alternative medicine independently throughout my life. I was working in real estate in Ithaca, NY when a friend of mine introduced me to Rachel and Marcus Quinn's vision and it made a lot of sense to me and inspired me to become part of the Sunmed and Your CBD network. This career path has been extremely fulfilling and I'm excited to continue the journey here in Brooklyn.
What's been the biggest challenge of the business?
The biggest challenge so far has been debunking all the learned myths surrounding hemp-derived products. People often associate CBD products with marijuana and assume that it has the same psychoactive effects. Because our products contain either zero THC or in some products only trace amounts, there is no possibility of experiencing the high effect you would get from marijuana. This challenge has also been the most rewarding when we suggest skeptics try our products for the potential anti-inflammatory and neuroprotective health benefits and in turn get to hear about their wonderful experiences. We do not sell hemp flower in our stores. All of our products available offer therapeutic value without the high you may get from smoking hemp or cannabis flower.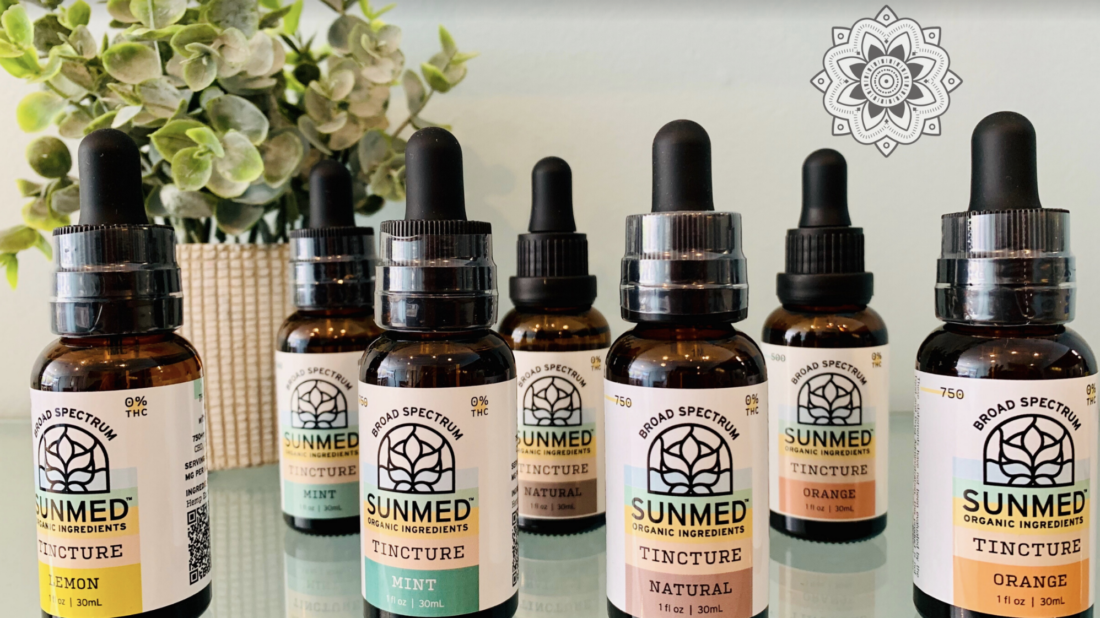 What do you look forward to most in the future for your business?
It's been amazing to be part of this new booming industry that has enabled so many people to gain their quality of life back. Because of the change in legality, there has been a great deal of scientific research coming out proving a lot of the amazing health benefits people have long been experiencing from hemp-derived products.
Your CBD Store's across the nation donate to organizations such as American Childhood Cancer, the Humane Society, the Wounded Warrior Project, and the American Heart Association to name a few. I'm excited to watch this brand continue to grow and to be part of a collective that is able to use its network to give back to those in need.
Any additional thoughts? What is CBD?
CBD, known as Cannabidiol, is one of the main chemical components of the hemp plant that offers a great amount of potential benefit without the high. We produce CBD naturally in our bodies, but most of us do not produce enough. CBD acts on receptors in our endocannabinoid system in order to find imbalances in our body, pull inflammation out, and provide general homeostasis- which is why it has such a wide array of potential benefits. CBD also is touted for its neuroprotective qualities which is why it can potentially be beneficial for people experiencing mood disorders. It is believed to target the nervous system and coax it back into order.
We are proud to share that Sunmed won the award of excellence at the biggest CBD expo in the nation this year in Miami, Florida! Sunmed took home the award for 'Best Oil Tincture' as well as 'Best Topical Cream' with over 500 brands in contention.
Your CBD Store is located at 195 5th Avenue in Park Slope, Brooklyn, between Union and Sackett Streets.
This post is sponsored by Your CBD Store.