Young Runners In Sheepshead Steal The Show At Brooklyn Half Marathon
For Young Runners at I.S. 234, there was a lot of buildup to the Airbnb Brooklyn Half Marathon last Saturday, as dozens of student athletes ran a mile-long loop on the Coney Island Boardwalk.
Young Runners, a New York Road Runner program for public schools, trains 6th to 8th graders to run a mile without stopping then improve on time and endurance. And the result is building self-confidence and leadership skills along the way.
"The program gives the kids a real feel for racing competitively at no cost to them," said I.S. 234 head coach and math teacher Sue Fattah. Through the program, students progress and grow voraciously. "These kids will be runners for life."
But it's more than just hitting the pavement every day, the program has been personally transformative for students, many of whom are first-generation immigrants.
Favor Ibenme, a Nigerian 6th grader, transformed from an uncoordinated pre-teen who felt like he didn't fit in, to a top runner and student leader. Before he was a focused, disciplined athlete, Fattah saw a spark of potential and invited him to a NYYR race.
"I don't think I'm that good," he told her. But he won first place in the 200-meter race, and immediately caught the running bug. Now, Ibenme clocked in as a top five runner at Saturday's race. "It's now his passion," Fattah said. "He's a young man that steps up to be a leader."
I.S. 234, on East 17th and Avenue S, is a true melting pot, said Fattah. "We have kids from Nigeria, Uzbekistan, Pakistan, and Ireland." And this presents both opportunities and challenges, she said.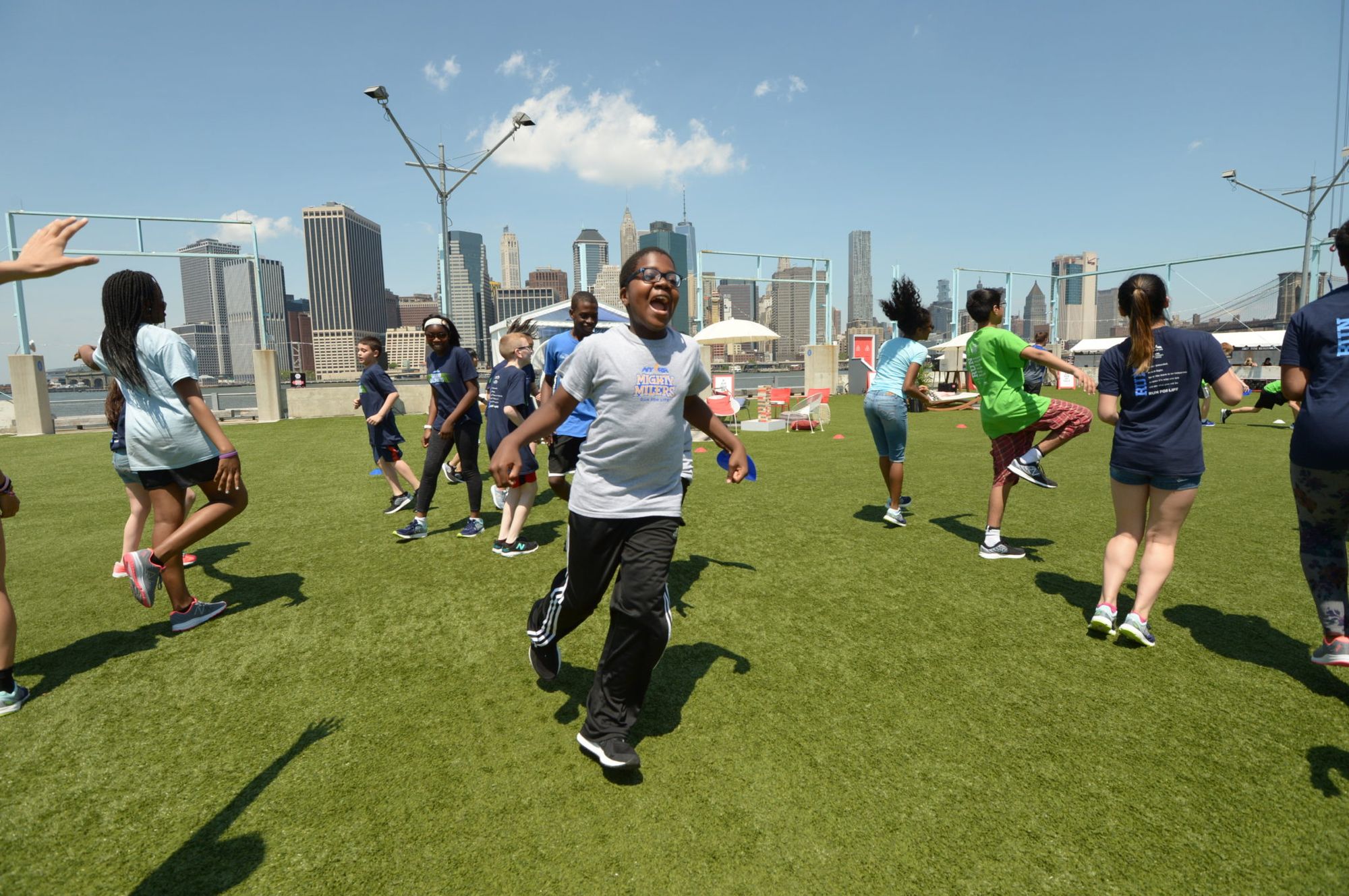 Fattah said it can be challenging to convince parents to let their girls practice as often as the boys. "In sports, there's always an inequity between resources for boys and girls," she said, but in Sheepshead Bay where there's an immigrant-heavy population, the cultural gap can be wider.
"Mothers will allow their sons to play sports, but there's a lot of backlash for female athletes who need to come out for a race on Saturday because they're stuck home helping with housekeeping and family duties like babysitting. Trying to change that mindset is like trying to move a mountain," she said.
Fattah herself grew up in the Bronx with the same mindset, she said, with her Brazilian mother encouraging her to stay home on weekends to clean the house.
But her athletic spirit kicked in when she was in high school and overweight. "Kids were making fun of me, I didn't feel good about myself." But she soon discovered that running through the hilly roads by the Botanic Gardens helped her shed pounds and boost her sense of self-worth. "I felt like it made me a different person and helped me connect spiritually, with just you and the pavement, you and your footsteps," she said.
According to a 2014 NYRR report, Young Runners at the school not only improved their athletic abilities over the course of the program, but their self-confidence, social skills, and ability to achieve goals.
"We were pleased to cheer on hundreds of youth runners taking part in the free NYRR Youth Boardwalk Run," said Rachel Pratt, senior vice president of youth and community services at NYRR. This is the third year that Fattah and assistant coach Allison Polizzi trained and cheered on their runners at the Coney Island Boardwalk.
"The kids need to feel their ability to bring value to this team, small or a big, it'll translate into so many areas of their lives," said Fattah. "This is only a snapshot."