After Years Of Organizing, Neighborhood Volunteers Debut Q Gardens With Inaugural Cleanup
After two and a half years of organizing, neighbors flung open the door (well, fence) to a new community green space, Q Gardens, on E. 18th Street, just behind the Church Avenue subway station on Saturday, when people from throughout our community gathered to clear the many layers of trash and debris from the site.
Neighbor Anne Schoeneborn, who has helped to spearhead efforts to create the garden, and other volunteers said they were thrilled with the community's incredible hard work and support over the weekend.
"Thanks to all of the new and old Q Gardeners who participated–we look forward to many summer days working together!" the volunteers wrote on their website.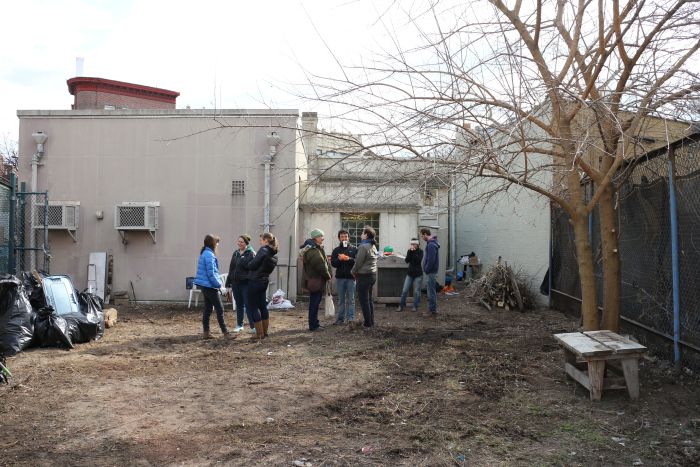 Neighbor Nathan Thompson sent us this wonderful writeup of the event, as well as numerous photos, which we wanted to share:
Most of these people had never met each other. But we had all been watching Ali [Jacobs], Anne and Natalia [Sucre] slowly tread through the bureaucratic machinery for the last two and half years to get permission to launch Q Gardens by the Church Ave Q subway stop. Saturday we all got to step up and help it happen. They scheduled only four hours, but the energy of those that showed up made a lot happen in that time.
You can see from the photos the range of garbage that filled the space. We found knives, some bones, and a whole lot of broken bottles. The area smelled pretty harsh for a while as we got through the second level of nastiness. But then it started to feel like a new space.
A group of us carried over the compost bins donated by Sustainable Flatbush. These were very heavy and took a lot of people to move around. But it was a committed group. For apartment dwellers, until NYC steps fully into the 21st century and gets compost pick up, it is hard to compost. Some more committed people have been bringing their compost up to Cortelyou. No longer. They actually set up the whole compost deal today. It's ready to go.
It was hard to imagine that most of these people had not met before. I recognized a few from the annual clean up day the Church Avenue BID and Flatbush Development Corporation do. But a lot of new faces showed up too.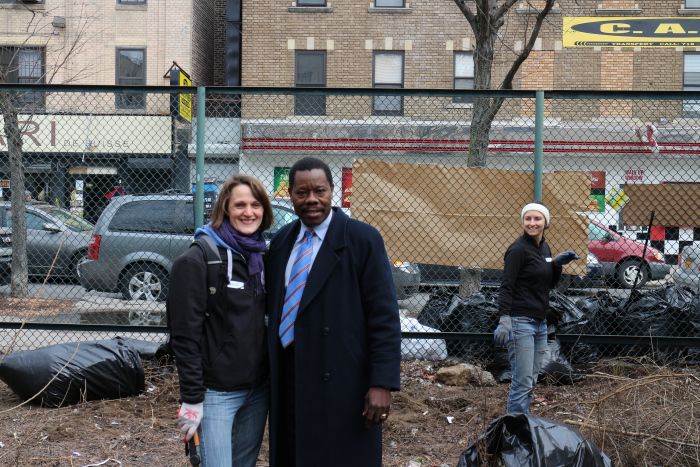 With such a successful launch, it did not surprise anyone when the local public servants showed up. They weren't dressed to clean up, but they did have some encouraging messages. Councilmember Mathieu Eugene and District Leader Jacob Gold knew they could not walk into this set up without some words about what they had to bring to the party. We have recently learned some disappointing news. The Church Avenue Q station will not be afforded any rehab money, even if the MTA gets all the money it asked for this year. A frustrating story, but one for another day. Saturday belonged to the Q Gardeners.
One of the things Eugene told us is that he was willing to put up the money from City Council to start the Church Avenue station rehab. It was refreshing to hear that this station was on anyone's radar.
"I have two specific requests for your help," Anne told the community leaders. One was a request for a specific muralist to be contracted by the MTA for the garden. Anne's other request was for help buying cedar wood, which the MTA is requiring they use for some of the building. It seemed Eugene and Gold heard her loud and clear. We look forward to seeing how they follow through.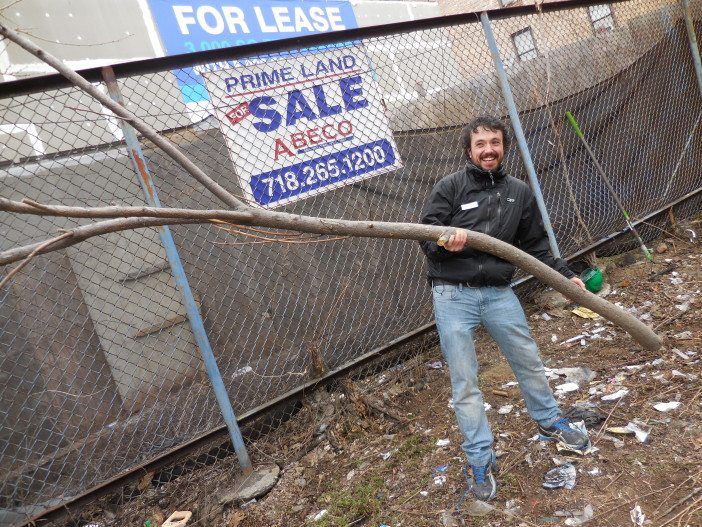 I am grateful to the Q Gardens team. This does not just put another community garden on the map. It's helping put the Church Ave station on the political map. The Church Ave Q station is the gateway to the rest of Brooklyn. "I see Q gardens all along the Q line," said Natalia. "There are unused areas like this at many stations along the Q tracks. I am hoping this is just the start."
This sounds ambitious. But three years ago, so did what happened today. You go girls.
If you'd like to find out more about Q Gardens, or get involved, you can email qgardensinfo@gmail.com, as well as visit their Facebook page and website.
Many congratulations to all the Q Gardens organizers and other neighbors for all of their hard work in transforming this space to a place we can all be proud of!