WTFigaro?! Another Brooklyn Institution Gone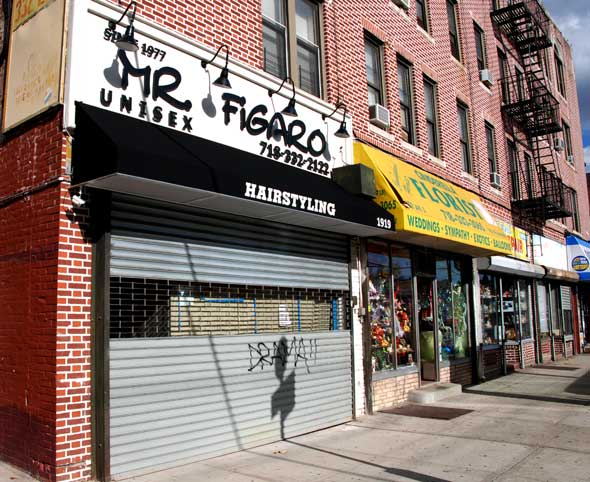 Looks like I need to go back and take Mr. Figaro off of my list of manly barber shops; we've lost another one to the metrosexuals.
Damn, I loved this place, too. Mr. Figaro, the Singing Stylist, a.k.a Jerry May, a media darling during the 80s for belting out Sinatra, Jolsen and Crosby – among many others – while fixing hair at 1919 Avenue Z. His walls were decorated with photos of celebrities and media clippings, the floor cluttered with souvenirs (not to mention a piano). He even carved his own Hollywood Star at the entrance floor.
It was a bad year for Figaro. It started out when he tried to bring some new business to the place by hiring some young whippersnappers. They promptly told the old dog to get rid of everything. The shop was cleared out, all the memorabilia gone, and the boys painted over the Hollywood Star.
Is nothing sacred?
Then in June, the ceiling fell in. The Department of Buildings issued an order to vacate. We worried until, in September, renovations started going forward. We thought our old Figaro would be back.
But no. It's Mr. Figaro's in name only. It's just another freakin' salon now. And only half a block away from the newly opened Voyage Unisex Hair Salon on Ocean Avenue.
I give it one year before one or the other shuts down.