"Would You Like To Live in This Community?" – Frieda Vizel On Tour Of Hasidic Williamsburg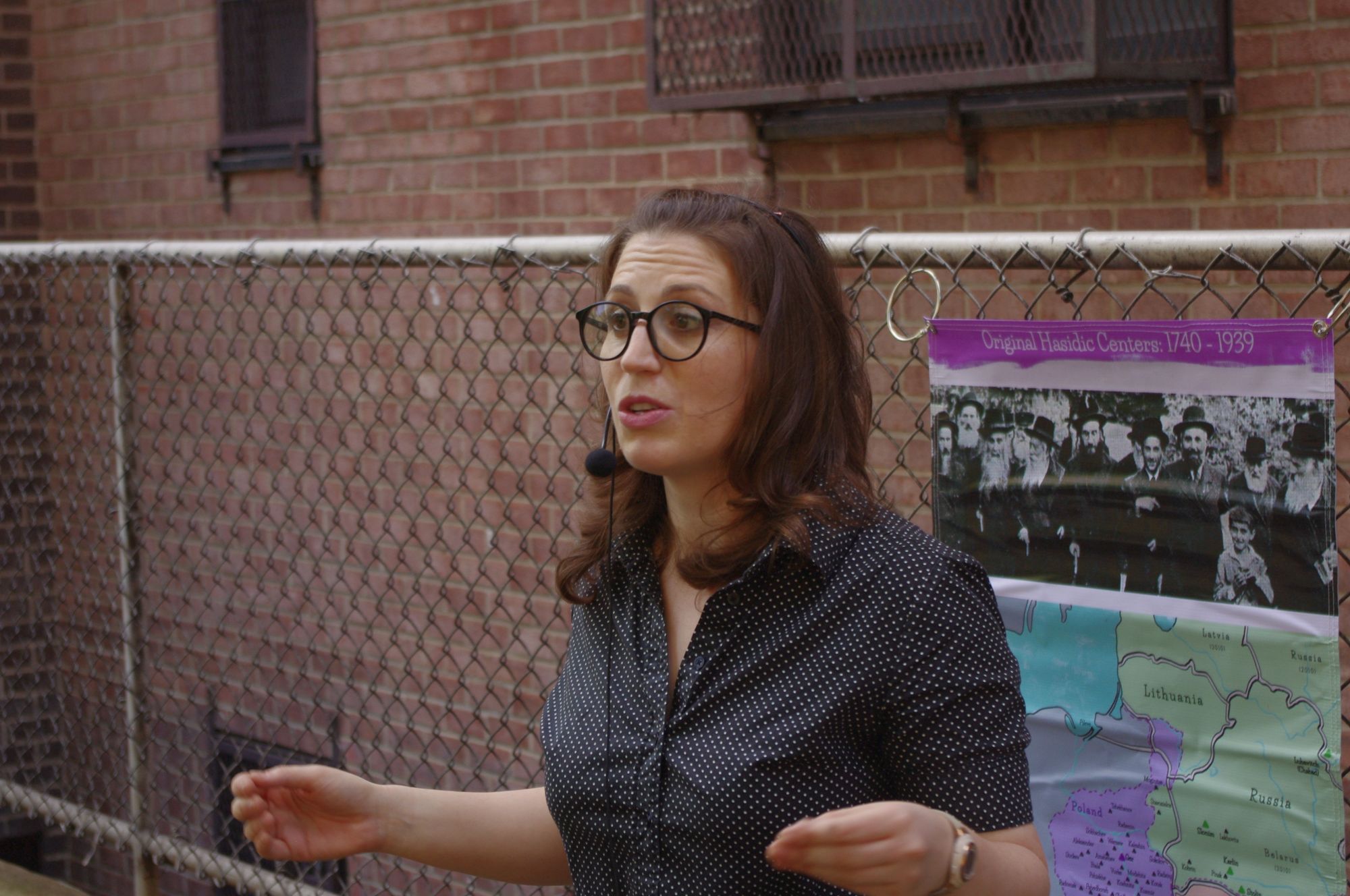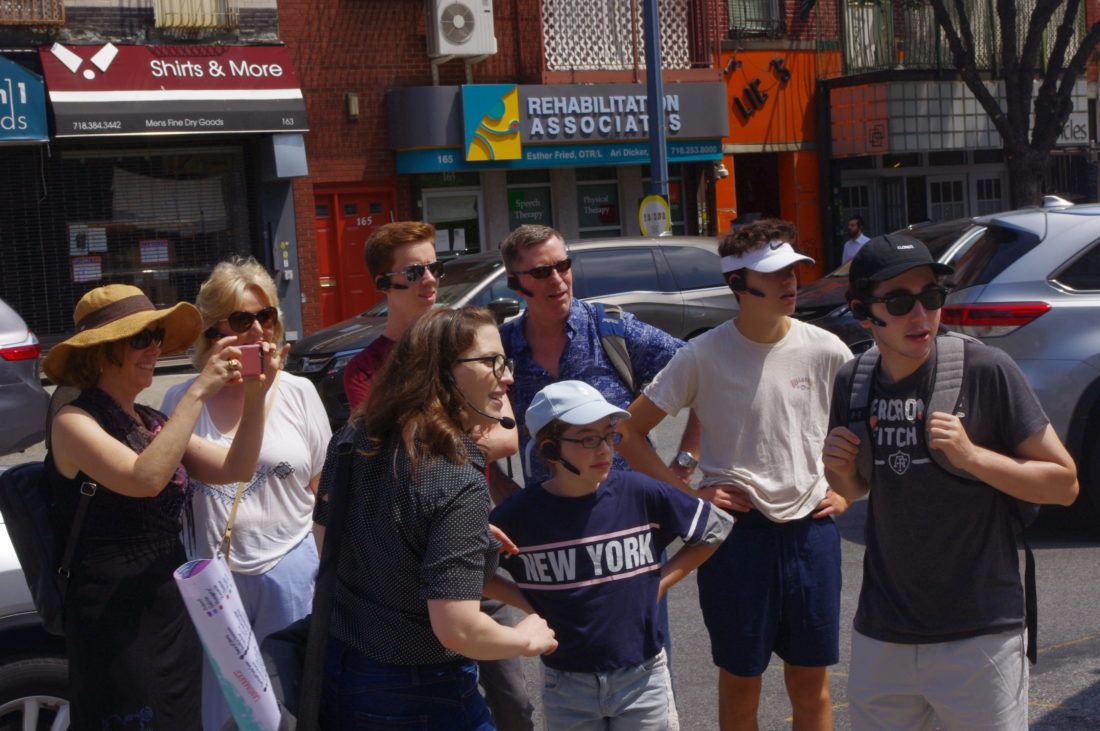 WILLIAMSBURG / FLATBUSH — Frieda Vizel left the Satmar community roughly ten years ago. But these days, she is giving tours of Hasidic Williamsburg four days a week for a living.
"I definitely never fit into the community very well," she recalled over coffee. "I was always a little bit of an oddball."
"The irony is, I ended up of all places, to find that emotional, intellectual stimulation in the middle of Williamsburg," Vizel said. "It's that contrast, being able to talk about how this culture is different from another. It makes for such great conversation. … I often will ask people, 'Would you like to live in this community?' And what this brings is a conversation about our culture versus another culture."
Vizel concedes its easier to admire parts of the Hasidic world now that she's outside of it, taking it in in small doses.
"I admire some of it, but I admire it in the sense that I admire it and want to take home some of the ideas, but I don't want to actually embody the entire bag of the good and the bad," she explained. "My admiration comes from being at enough of a distance not to be hurt by the parts that are problematic."
Vizel wants others to be able to learn more about her former world, where when she was part of it, she felt like secular people looked at her as a "freak" who outsiders "secretly glanced" at with suspicion, even contempt.
In turn, she seeks to humanize Satmar Hasidim for others.
"I'm much less concerned about changing the Hasidic community than making people from the outside think outside the box," she said. "I don't dwell on [the negative aspects of the Satmar world] on my tours, because then they'll end up hearing just the negative things."
"It is so hard to access this community," she told the roughly 20 people on a tour on a recent Friday during her introduction. "I'll try to bring you into this world in a way that is respectful that helps you understand the community on a deeper level."
Vizel, 34, is the fifth of 15 siblings who grew up in Kiryas Joel— an exclusively Satmar Hasidic village within the town of Palm Tree in Orange County. After graduating high school, Vizel was put in an arranged marriage, as is customary, and worked as a secretary at a Satmar-owned insurance firm. Then she left.
She traces the beginning of the process back to 2006, when she started writing blog posts under a pseudonym detailing her at times critical views of the Satmar Hasidic world that "threw a lot of my life out of whack," she said.
"I thought he was totally on the same page," said Vizel of her husband. "I really didn't expect the blog to be a big deal."
But it took her years to make the full leap out of the restrictive Satmar world of Kiryas Joel.
"As I got older and older … I took these tiny steps into reading, into learning about the outside world," said Vizel. "Eventually, it became almost impossible to squeeze myself into that conformity."
Now, Vizel is not only very much secular ("I do a little bit of shabbos," she said of the extent of her religious practices), but has immersed herself into the left-wing intellectual world— a far cry from the insular, conservative atmosphere from the one in which she grew up.
"I read a lot of leftist stuff," she said. "I love The Baffler, I read Out Magazine, Jacobin, Current Affairs."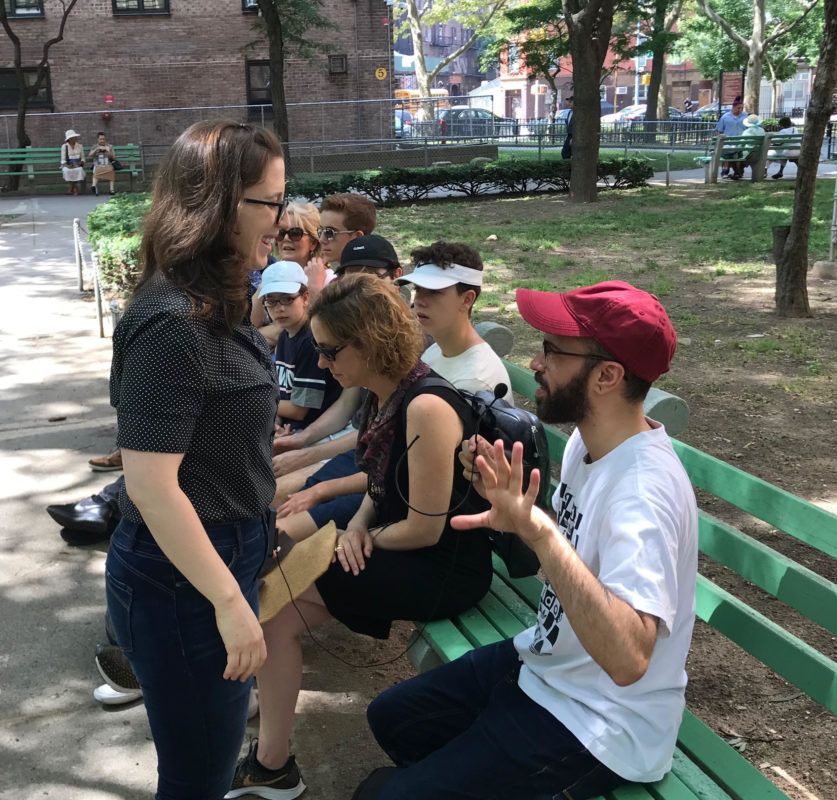 Still, she keeps close with her family, with whom she has an amicable relationship, attending major holiday events and some family celebrations. That doesn't mean there isn't fear and tension, though.
"I visit my family and before I go, I always drive myself crazy with anxiety about how difficult it's going to be for my parents to see me, seeing their reaction," she said. "I'm afraid I'll see that I left wreckage. That's what I'm always afraid of. 'You left and you destroyed everything.'"
"When I get there, I have a great time, I'm really happy to see everyone, it's good, I like it."
And despite receiving a mostly warm or polite reception in recent years from family members, she suspects many in her former community may not show how they truly feel about her.
"There's no knowing what they're saying behind my back," she explained, "because this is a community where they're experts in putting on a show."
When she left the Hasidic community, Vizel was fired by the insurance company, but was shortly after brought back and moved to an out-of-site office desk. Her employer, she said, didn't want to incur the "reputational damage" from keeping someone who had left the Hasidic community.
"They sort of distanced themselves publicly," Vizel recalled.
In 2010, Vizel divorced her husband and took custody of her then-5-year-old son in a relatively smooth fashion. Vizel's husband, she explained, quickly remarried and had children with his second wife. Vizel shortly after moved to Pomona in Rockland County. After she "CLEP'd [her] way into a stupid, garbage" undergraduate degree online she says, Vizel in 2011 began attending Sarah Lawrence College for graduate school.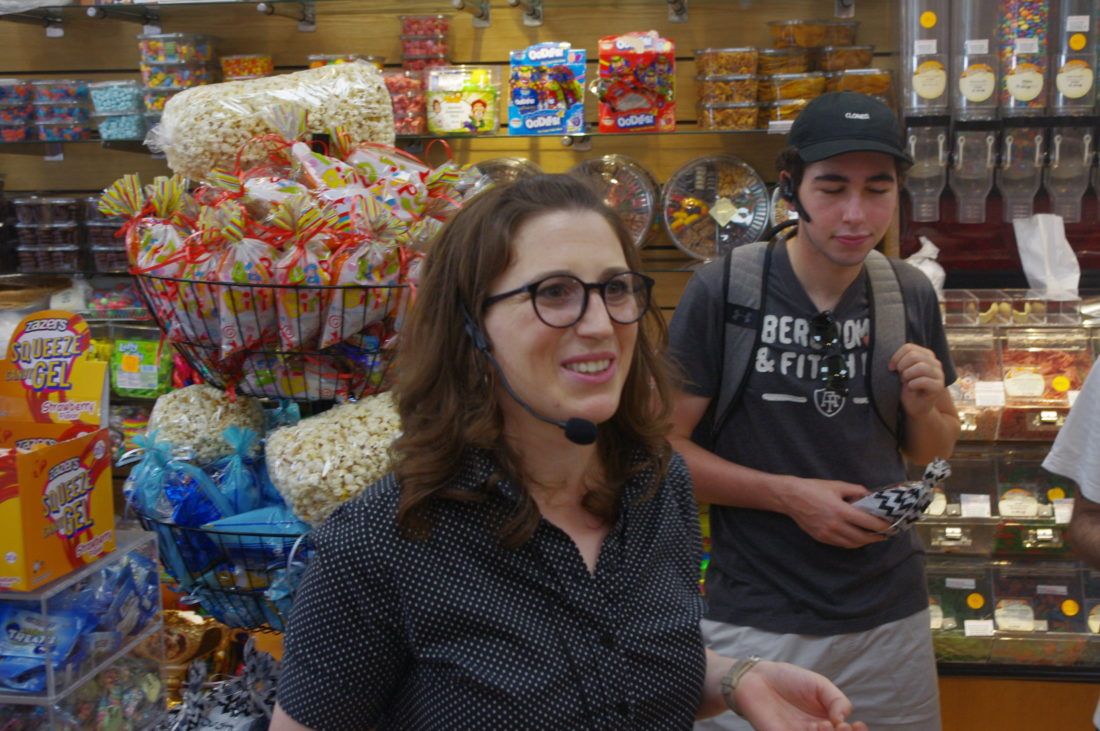 There, in summer 2013, a professor with whom Vizel was taking a Jewish history class received an emailed request from a University of Pennsylvania professor to help show a group of PhD students around the Hasidic parts of Williamsburg. Vizel, of course, was the obvious choice for the job.
"I didn't think much of it," she said. "I just gave a tour to a bunch of students."
Subsequently, for roughly four years, Vizel while working at the insurance firm, commuted from Rockland County to give tours of Hasidic Williamsburg a couple of times a week.
And in 2017, after moving to Flatbush, Vizel began giving tours in a full-time capacity, offering them at $48 per person.
"At some point," she said, "it was like, 'Either I'm the secretary for the rest of my life or I figure out how to do this full time.'"
Currently, Vizel gives about four tours a week, two private with a small group and two public with up to 25 people. And while Vizel is not from Williamsburg, she knows the area well and has family there.
"I meet cousins on my tours all the time," she said. "My grandparents lived in Williamsburg."
On a recent tour, Vizel took a group of people from places like London and San Francisco to a bakery, a deli, a candy shop, a toy store, and orchestrated an abridged game of the Samtar version of Old Maid. (The Old Maid character, pictured below, is a man carrying a computer who is called the "Yeitzer Hora," Yiddish for evil inclination).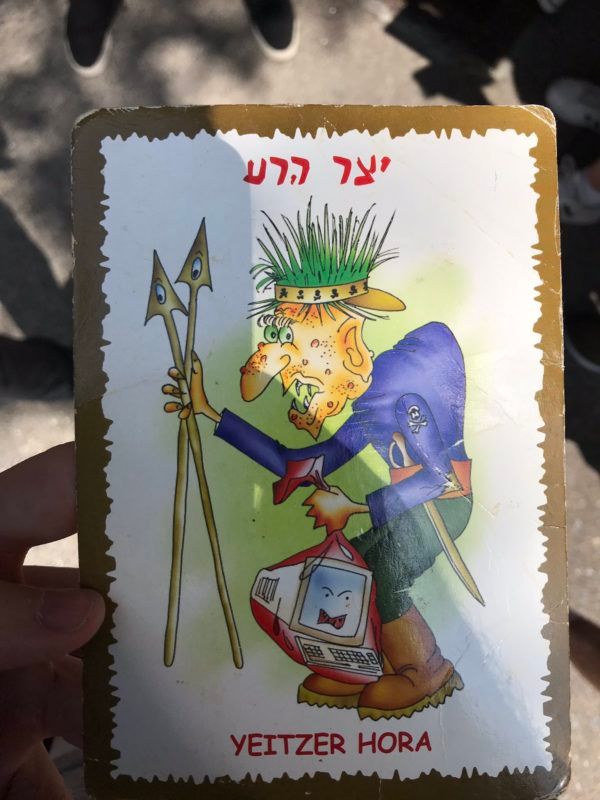 She also explained the difference between Satmar Hasidim in Williamsburg and the Chabad ones in Crown Heights, showed people on a tour a map of where the Satmar originates (a city that was once in Hungary, and is now in Romania), an old picture of Vizel and her 14 siblings when they were children, and her kosher phone, which can make calls and text but can't access the internet. (Vizel carries an iPad for internet access, and holds on to her kosher phone because she says it is "convenient").
"There are many many different kinds of kosher phones," Vizel told the people taking the tour. "The less kosher will have apps, but it has no app store."
Later on the tour, Vizel encountered a relative who in a not-so-discreet manner took a picture of her.
"She was judging," she told Bklyner of the encounter. "Definitely judging."