Work To Begin Soon On Commercial Redevelopment Of Sheepshead Bay Road and Voorhies Avenue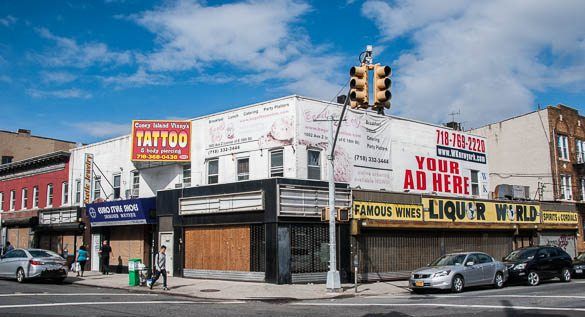 The owners of the commercial property on the corner of Sheepshead Bay Road and Voorhies Avenue has papered up the windows of the six ground-floor businesses that once occupied the space, signaling that work is set to begin soon on redevelopment of the site.
The six businesses – a deli, shoe store, audiologist, accountant, bridal store and liquor shop – as well as the second-floor offices spanning from 1663 Sheepshead Bay Road to 1669 Sheepshead Bay Road and 1709 Voorhies Avenue, all closed up in the past several months as the landlord, Waldorf Realty Co., began laying the groundwork for the plans. We do know some of the businesses, including Liquor World, which has moved to 1733 Sheepshead Bay Road, and Coney Island Vinny's Tattoo, which has moved to Jerome Avenue, were upset, having spent a great deal of money to renovate after Superstorm Sandy only to be given the boot when Waldorf announced their plans.
Waldorf is also currently renovating the storefronts on the southwest corner of Avenue Z and East 16th Street, having similarly refused lease renewals or relocated the businesses there. That site has been gutted entirely and a new facade is nearly complete, featuring dark blue tiles and silver paneling.
We reached out to Waldorf about their Voorhies Avenue redevelopment plan, but have not yet heard back.
UPDATE (September 20, 2013): Waldorf has responded, confirming that it is a "revamp." They have not yet chosen an architect so were not able to say more about their plans.