Wondering How The Newly Restored Plumb Beach Looks From The Sky? Check Out This Photo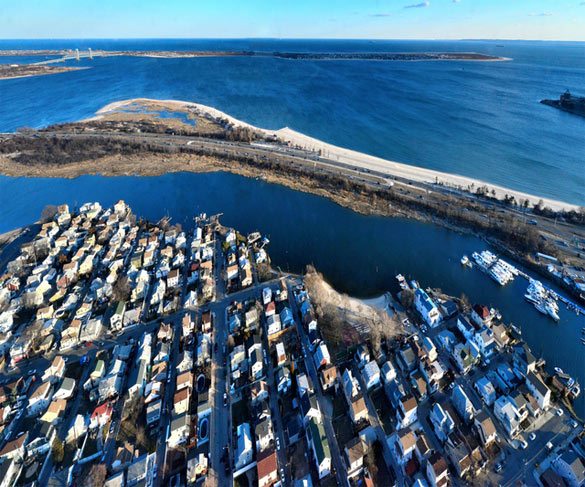 As we all know by now, the Army Corps of Engineers has been hard at work replenishing sand at Plumb Beach and installing long-term fixes to prevent against future erosion.
At ground level, the one thing you notice is that, hey, there's actually a beach again in that area near the parking lot closest to the Belt Parkway. That section was the most heavily eroded, with just a few feet of sand bags between the water and the highway. Now there's a nice stretch of sand. Other than that, though, it's hard to see the extent of the work.
Until now. A local photographer who asked not to be named sent in this fantastic aerial photo of Plumb Beach after the Army Corps of Engineers completed phase one of the project, in which they pumped in fresh sand from the Ambrose Channel. That's Gerritsen Beach in the forground.
In phase two of the project, Army Corps contractors have closed off the parking lot and bike path as they bring in equipment. They'll be constructing two rock jetties at either end of the eroded section. One will go near where the sand roughly drops away in the photo above, and the other will be just at the right edge of the image. They'll also add a groin in the middle – a man-made sandbar of sorts that will help diminish the power of the waves before they strike the sand.
The project is expected to be completed by the end of the year.