Woman Sues After Husband Dies In Restroom Of 86th Street McDonald's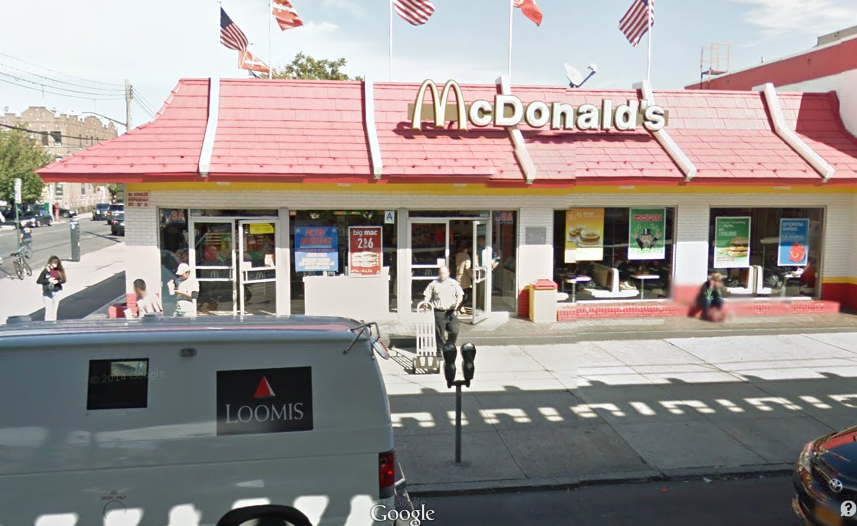 A local woman filed a lawsuit against McDonald's after her husband died in a restroom at their 86th Street and 24th Avenue location.
Anthony Denicola, a 67-year-old grandfather, had a heart attack in the restroom in June 2013, but medics couldn't get to him in time because he was dead bolted inside, the $10 million suit filed by Anna Denicola alleges.
The Daily News reports the chain of events:
The part-time truck driver was meeting friends at a McDonald's near his Bensonhurst home ahead of a fishing outing.
He went to use the restroom and, after a while, his worried pals went to check on him, relatives said.
The one-stall room was shut with a slide lock and employees "told them there's no way to get in, there's nothing they can do," said the dead man's son, Anthony Denicola Jr.
After a passerby called firefighters, it took them 15 minutes to get inside the restroom, according to the suit.
His dad had been planning a surprise retirement party for his wife, who had just completed a long career at the Department of Education, according to 36-year-old Denicola.
"My father was a family man," he told the Daily News. "My kids, they adored him."
Denicola also fumed that McDonald's employees did not respond appropriately during the crisis.
"They were definitely no help, either the workers or the managers," he told the New York Post.
Family lawyer Stephen Spinelli told news outlets that McDonald's has "a duty to offer their customers a safe environment."
"We were deeply saddened by the loss of our guest Anthony, who visited our restaurant regularly," franchise owner Paul Hendel told the Post.