Watch Rosanna Scotto & Filmmaker William Demeo Talk B'hurst 'Back In The Day'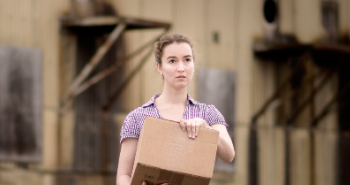 The last time we spoke to Bensonhurst-bred actor and film producer William Demeo, he was telling us about his documentary about cruising 86th Street back in the day that he had just cobbled together "on a whim."
This morning, Demeo was on Good Day New York to talk about his upcoming drama "Back in the Day" — out Friday —  which features the likes of Danny Glover, Shannen Doherty, and Alec Baldwin.
The movie, which has been described as "Rocky" meets "Goodfellas," follows Anthony Rodriguez, an aspiring boxer of Italian and Puerto Rican descent who grew up in Bensonhurst during the 1980s, played by both Demeo and the actor's 17-year-old son Cristian.
On today's show, Good Day New York's Rosanna Scotto — who happens to have grown up Dyker Heights — bonded with Demeo over the legend of 86th Street and that now iconic John Travolta/Lenny's Pizza scene.
"Did you ever do the two pizzas? I think we all tried it afterwards, but we never did the two pizzas," said Scotto.
Demeo — who you might recognize from "A Bronx Tale" and "The Sopranos" — has several feature films under his director belt, but this is his most high profile yet. When Scotto asked him how he raised the money for a movie featuring such big name actors, and he credited a special investor — whom he calls "a guardian angel — who allowed Demeo to make a movie "on a different level than I have in the past."
Digging a bit deeper than your average boxing film, "Back in the Day" touches on race relations in Brooklyn during the 1980s, the murder of Yusef Hawkins, the looming shadow of the Italian-American mob, and other themes of Bensonhurst's past.
"The way we grew up very unique back then — there's so many stories to tell. I could go on, and we could sit here for hours, just telling stories of the neighborhood," said Demeo.
"Back in the Day," directed by Paul Borghese, hits AMC theaters Friday, May 20. It will also be available on iTunes on Demand.