Why is Sheepshead Bay So Complacent About Bus Service? A Call for Community Action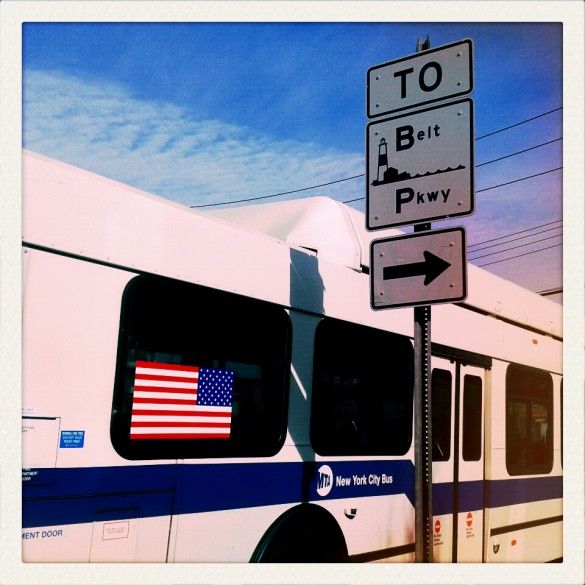 THE COMMUTE: Is it that we are satisfied with the bus service we receive and believe the MTA is doing a great job? I don't believe that is generally the case. The comments I have seen, especially the criticism of the B36 route, or hearing the elderly Russians grumbling to themselves every time a B1 bus passes them by without stopping indicate otherwise.
Personally, I believe the MTA does a good to excellent job slightly over 50 percent of the time, judging by the times I personally use the system rather than drive or walk. When I decide to take the bus, I feel like I'm making a crapshoot. Sometimes I am lucky and other times not. The customer service study, which I criticized for a number of reasons, came to the same overall conclusion. The question then becomes: Is 50 percent an acceptable standard. Is that all we can expect from a large bureaucracy?
Is the MTA any worse than sanitation, the police or fire departments, or the US Postal Service? Would you find getting 50 percent of your mail on time acceptable, or 50 percent of the fires being extinguished promptly, or 50 percent of major criminals being caught? You obviously aren't satisfied with sanitation picking up 50 percent of the garbage from the litter baskets or from your household containers? But what do we do about these situations? Most of us reading this do absolutely nothing but just complain a lot to our neighbors or to other readers of Sheepshead Bites.
The Bay Improvement Group organizes annual plantings and clean-ups with the help of volunteers. Interested residents attend the precinct community council meetings and make a difference that way. Community Board 15 has a Postal representative. Other than myself, what does anyone in Sheepshead Bay do for transit aside from use it? That is my question this week.
Since I have been writing this column, I have received a lot of flack from MTA apologists who claim all I do is unfairly criticize the MTA. I've complimented them on rare occasions, here and here, but yes it is mostly criticism, but I do not think it has been unfair criticism.
This week will be a little different. I will not criticize the MTA; instead I will criticize the residents of Sheepshead Bay and surrounding communities for not speaking up while other communities have not remained silent and have fought back especially regarding last year's dreadful bus service cutbacks, although not always successfully.
Areas That Have Fought Back
Local bus routes have been restored in sections of the Bronx, Manhattan and Staten Island, and in Bay Ridge express bus service cuts have been restored. Staten Islanders are even asking for new bus service. Residents have been fighting for service restoration, although unsuccessfully, in at least three sections of Queens: in Northeast Queens against discontinuance of a local bus route, and in southern Queens and Astoria against reduced service or discontinuance of express bus service.
At least they have been fighting. Isn't that how this country was founded — by a revolution because we were being oppressed by the British? Isn't that also the reason for the ongoing Occupy Wall Street movement? Isn't fighting, either peaceful or otherwise, the only way real change is accomplished, for example the Civil Rights movement, the Americans With Disabilities Act? Real change does not occur overnight. It usually takes at least 20 years or more just to accomplish something really worthwhile, but it has to start somewhere.
In Bensonhurst, Assemblyman Colton is rallying for the return of the B64 cut last year. In Park Slope, Councilman Brad Lander asked for temporary bus service when the first phase of the Culver viaduct was reconstructed. He failed in that attempt but did not give up. Just look at this recent study and most impressive report regarding the B61 his office spearheaded. Has any Sheepshead Bay elected official ever done anything like this? Is B61 service really worse than the bus service in Sheepshead Bay and surrounding areas?
What We Did
Sheepshead Bay stood silently when the MTA discontinued the B4 in our neighborhood, even after the MTA revealed that shortening the route made it more inefficient, increasing the weekday cost per passenger for the remaining portion of the route. Our elected officials remained silent because they were not approached by large numbers of concerned residents. One even stated it wasn't his job because the route only sideswiped his district, but after this was exposed by Sheepshead Bites, a representative recanted in the comments and stated the office would fight for B4 restoration. What have they done? The problem was that the only person I know of who asked for their help does not even live in Sheepshead Bay, but needed the route to travel here. Don't we care about ourselves?
The MTA chief who signed off on the service cutbacks personally told me that, if not for my efforts, the B4 would be terminating today at Coney Island Hospital at all times. That shows that even one person without any political power such as myself can make a difference, and there is greater power in numbers. Where were our elected officials? Why did they sit by and let the B4 be discontinued. Were the B4, B2 on weekends, and B31 at night really not needed? That's what the MTA believes because we did virtually nothing to try to stop them. So which neighborhoods do you think will be affected the most during the next round of cutbacks — the ones where people spoke up or where they remained silent? I think you know the answer.
The MTA is currently making its final plans for the B44 Select Bus Service. I have been very negative about that change and expressed my thoughts here in numerous articles. Some people think it is a great idea. Some storekeepers expressed concern that they were never notified. Good or bad, it will change Sheepshead Bay. How many care? How many showed up at the half dozen open houses or MTA presentations to the local community board? No more than 20 at each meeting for a change that will affect over 40,000 daily riders. That is just disgraceful. You can blame the MTA for poor community outreach, but thousands had to have noticed the public notices in the buses and just ignored them, just like they ignored the ones announcing the service cutbacks.
I made a suggestion for the B44 SBS to terminate at Sheepshead Bay Station instead of at Knapp Street. The MTA promised to consider it, if it was something the community really wanted. Thus far the little feedback I have received is that about half of you like it better than what the MTA has proposed. Ned offered to run a poll to determine which route readers preferred more. I have not asked him to run it because I fear that no more than 20 people will vote either way. That would not show community support for either idea. It would show apathy, that anything the MTA does will be just fine. If you support this rerouting of the B44 SBS, by all means, let all your elected officials and Community Board 15 know. B36 complainers, are you reading this? It is an opportunity for you to get better bus service to Sheepshead Bay station, unless you would rather travel to the Junction for the IRT.
I guarantee you, the first day the B44 SBS operates — even if it eventually does prove to be successful — there will be hundreds complaining of confusion, not knowing how to pay for the bus, and questioning why it was necessary. The media will find one or two people praising the change to show they are showing both sides. There will be complaints why the SBS does not stop at Avenue R when the Limited did. The time to ask for an additional SBS stop at Avenue R is now — not after the Limited is discontinued. An additional stop was added at Avenue D at the request of the Flatbush community. The MTA is willing to listen to you now; they might not later. You have been warned.
What We Can Do
Transportation Alternatives has evolved into a powerful national organization primarily representing the needs of bicyclists. On the periphery, they have also been fighting for mass transit users by starting a riders' rebellion. We either need to join them or start something similar locally and join forces with groups throughout New York City advocating better mass transit and service restoration.
Last week I had the opportunity to speak with Gene Russianoff, head of the Straphangers Campaign, which I am sure you have heard of. Guess what were the first two things he said to me when I asked him if he reads Sheepshead Bites? (1) He does and (2) He grew up in Sheepshead Bay near Batchelder and Avenue Z and still cares about the neighborhood.
The situation is not hopeless. There are resources out there to help us. Elected officials like Lew Fidler do care. You can all rant about the MTA saying things like "service sucks," "The MTA is useless," "They only care about getting their pay checks," "The elected officials are useless," "No one will listen to us, so why attend a hearing," et cetera. But you know what? Talk like that is only self-defeating and isn't true.
I worked nearly 25 years for the MTA, and you know what, most of those people do care and do a good job. Yes, there are a few rotten apples who get by doing the minimal amount possible just to keep from not being fired, but that is true everywhere. Most of the people at the MTA working behind the scenes perform difficult work every day just to keep the system running. They are the people you don't have any contact with, so you just take the necessary jobs they do every day for granted, like purchasing materials, writing contracts, distributing materials to where they are needed, fixing things that break down or sitting at a desk tediously working with numbers on the computer all day performing a variety of functions. Yes there is waste. The organization would work much better if employees were appreciated for their hard work and dedication. That, often, is not the case. There are a lot of things wrong with the MTA, but there are also a lot of things right with the MTA.
Although I do not have a good relationship with Operations Planning, I have a good rapport with Bus Operations since my numerous complaints to them over the past three years regarding the B1, the route I use the most often. It took several years of effort and it seems that the situation may finally be starting to improve somewhat. I have had no problems on my last four trips using the B1. My friend saw a bus dispatcher with a pad outside his house at Ocean Parkway and Brighton Beach Avenue for the first time in years. The MTA informed me they will be adding three runs this spring to the B1 as Kingsborough enrollment continues to increase each semester, and also has increased their supervision of bus drivers to ensure they stop for Manhattan Beach and Brighton Beach passengers during school hours. An open invitation to meet with me if I continue to see additional problems has been extended to me. I certainly will take them up on that if I have to.
So the situation is far from helpless. You just need to get involved, whether it's transportation, sanitation, or whatever. Attend meetings of your local community board, civic association, and precinct community council. Let your elected officials know who you are by showing up at public meetings and speaking to them, where they are most accessible. Send an email to the MTA every single time they piss you off, keep records every time they ignore you, and let your elected officials know when they do. You can sit back and bitch to yourselves all you want but that won't solve a damn thing. If our Founding Fathers just did that, we all would still be ruled by the British today; we would have one less holiday to celebrate, and there would be no weekly fireworks in Coney Island each summer.
The Commute is a weekly feature highlighting news and information about the city's mass transit system and transportation infrastructure. It is written by Allan Rosen, a Manhattan Beach resident and former Director of MTA/NYC Transit Bus Planning (1981).