Where To Eat Outdoors In Red Hook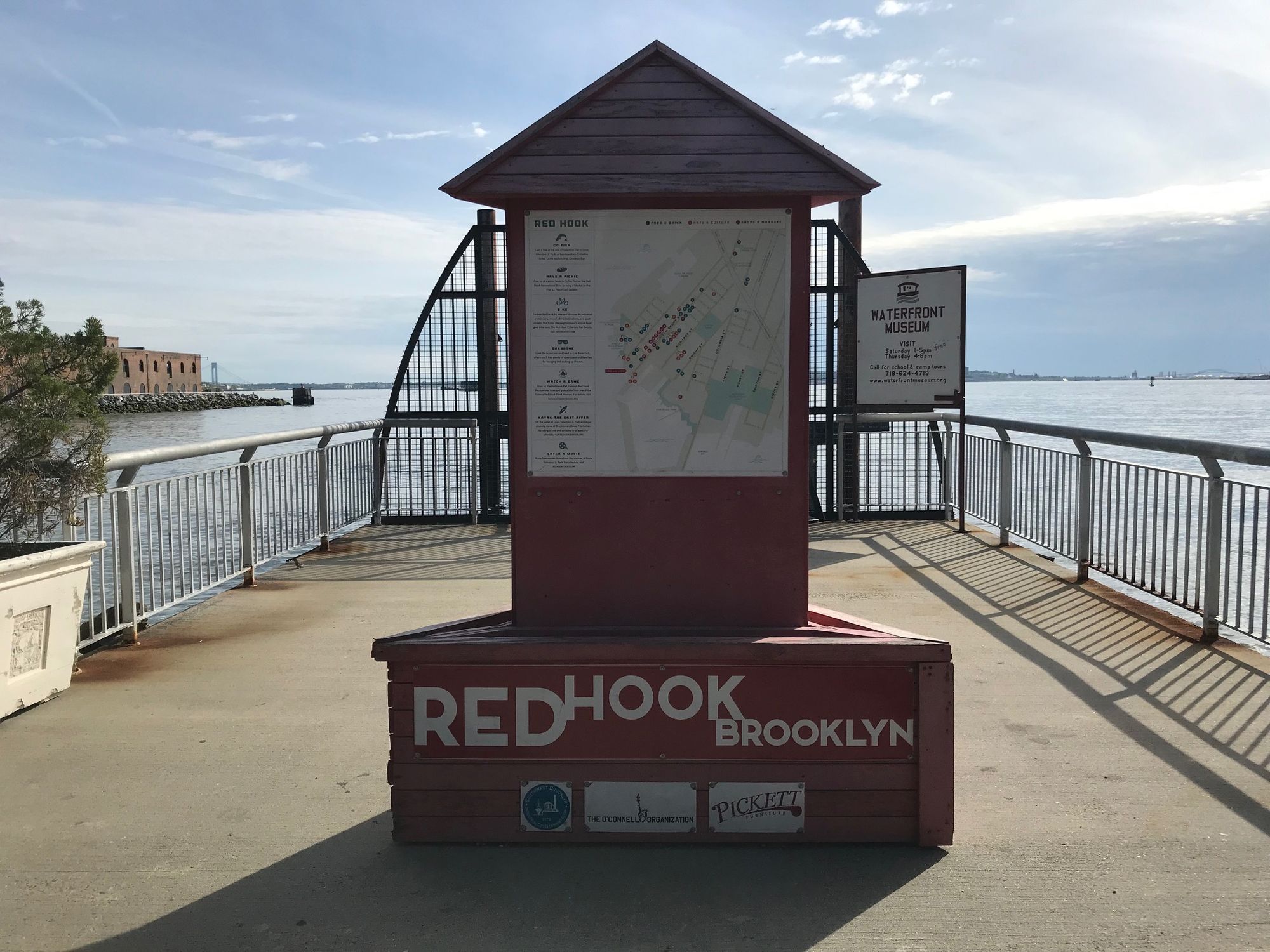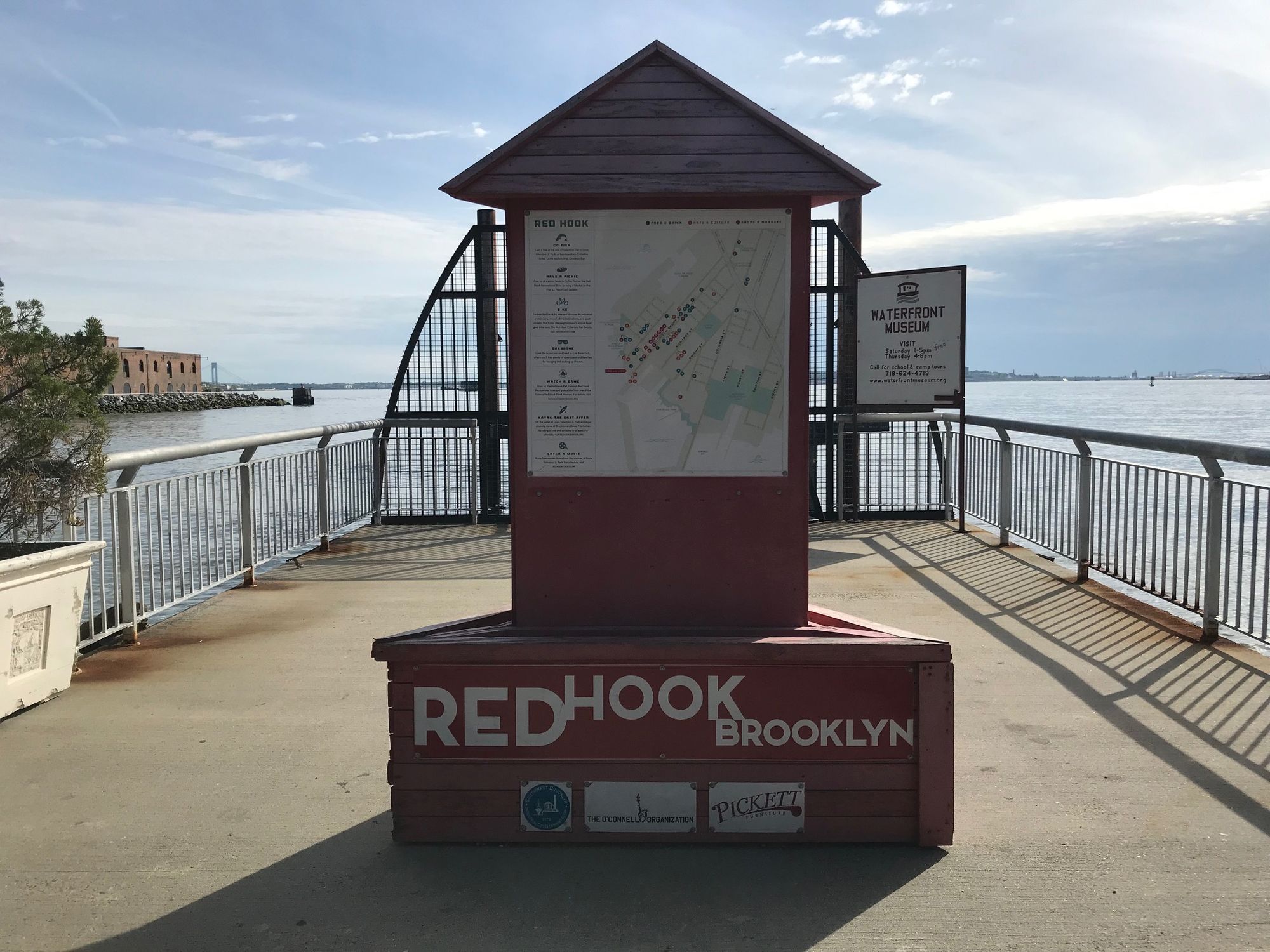 RED HOOK – There are lots of things to like about Red Hook. The views from its shores are among the best in the borough and some of the coastal architecture is straight out of Dickens. But the thing we enjoy that makes it a great food destination is the neighborhood's ability to make non-residents feel like they've stumbled upon a find that they are the first to discover.
The sprawling, beachy feel of Red Hook makes for great walking and great exploring, so  even when you come upon big names like Brooklyn Crab and Red Hook Lobster Pound, you get the feeling that you've lucked out. The best part is, you usually have, as Red Hook is home to some of our favorite spots in Brooklyn.
Just in time for warm weather and ocean breezes, we've compiled a list of our favorite places to eat and drink outdoors in Red Hook.
Fort Defiance Cafe and Bar, 365 Van Brunt Street (between Coffey and Dikeman streets)
This spot sits right on the corner, with some of the best (and most limited) outdoor seating in the area. Fort Defiance opts for a small bar attached to its facade, with bright blue stools. If you can catch one of the coveted spots, you're in for a treat. You can spend hours enjoying their Chicken Liver Pate (a NY Times favorite), their innovative cocktails, and, on Wednesdays, their dollar oysters. It's the perfect place to lounge, with enough shade to be comfortable and enough sun to rosy up your cheeks.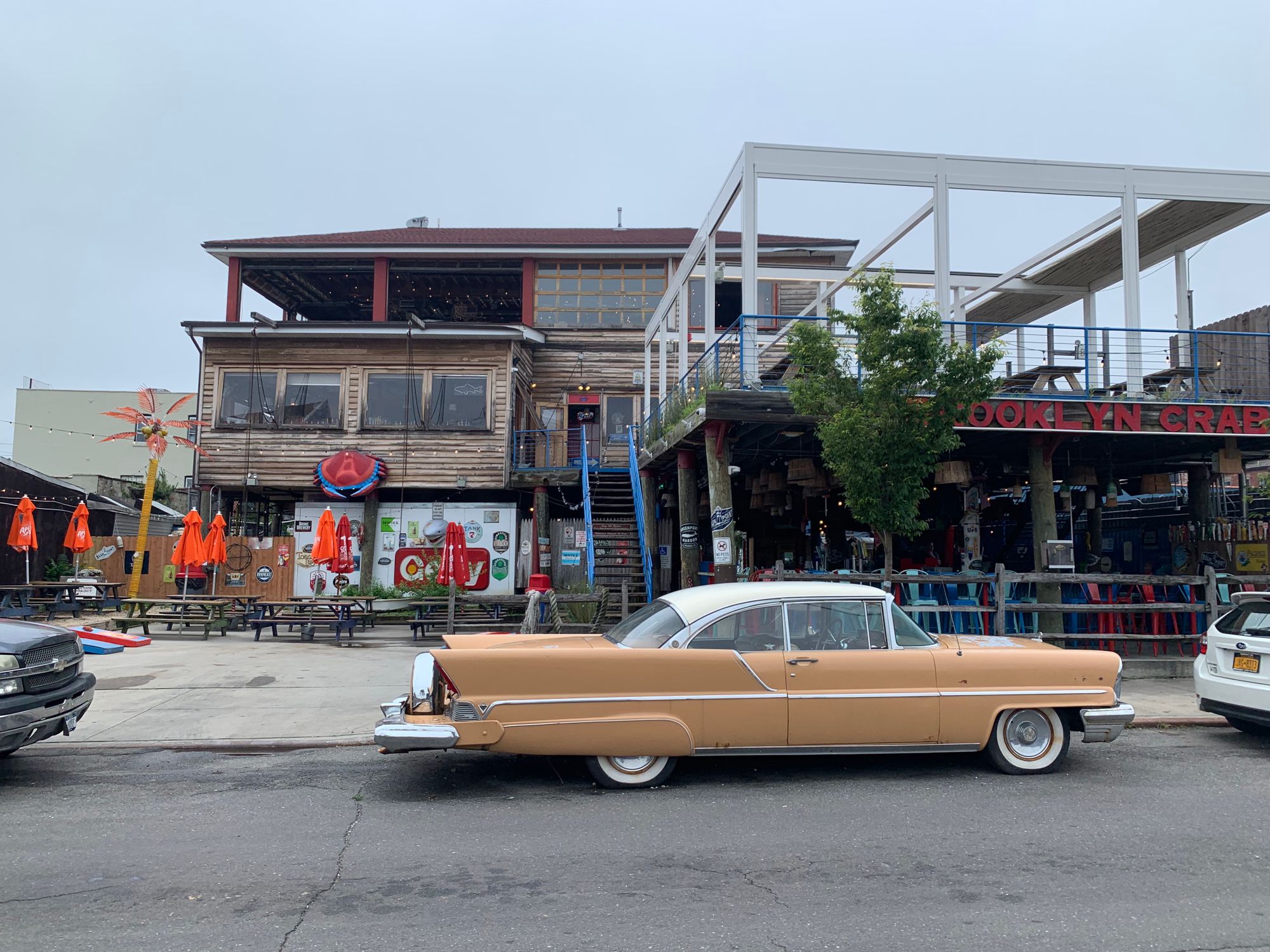 Brooklyn Crab, 24 Reed Street (between Van Brunt and Conover streets)
You can't have a list of the best outdoor spaces in Red Hook and not include Brooklyn Crab. This massive, three story restaurant serves fresh rolls, steam pots, oysters, and lots of other seafood worth getting your hands dirty for. Of all the spots in Brooklyn, this one might make you feel like you're at the beach the most, with all of the fun bars and sunshine but none of the annoying sand in your shoes or sunburn. Now, have a Red Hook Iced Tea and try to remember where you parked your boat.
Defonte's, 379 Columbia Street (between Luquer and Nelson streets)
Famous amongst NYC sandwich buffs, Defonte's has been in the game as long as anyone. Their super-size Italian heroes are impressive enough, but when you couple them with the outdoor picnic table spots next door, you've got one of the best spots in Brooklyn for lunch. Dive into their Eggplant Parm or the Italian Stallion with, of course, a side of fries. Best served al fresco, with an ice cold soda to keep you company.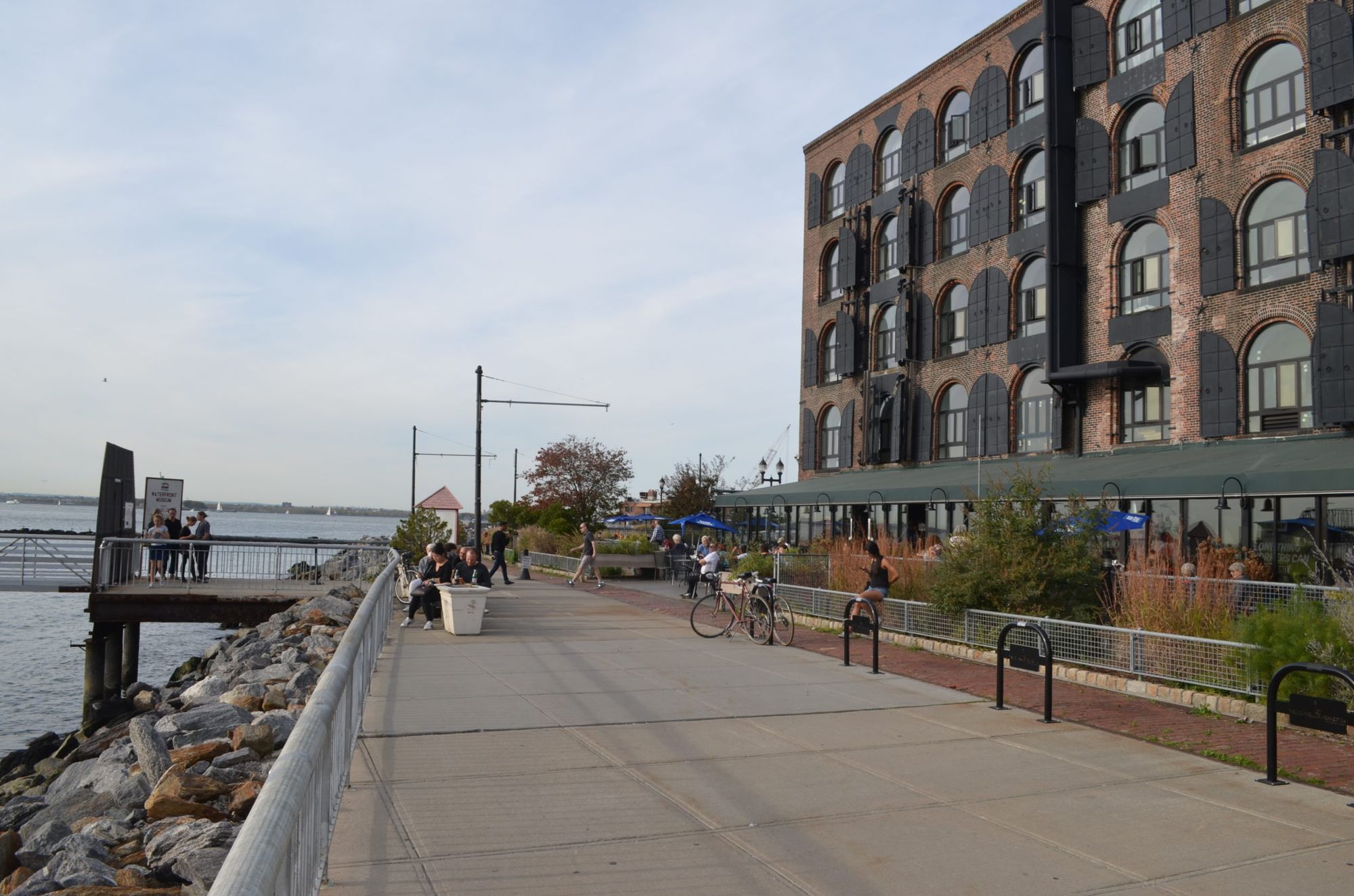 Fairway Market, 480-500 Van Brunt Street (on the waterfront after Reed street)
Nope, not a typo! The very same, "like no other market" has a warehouse-sized outpost in Red Hook with an underrated patio out back. Grab a $6.99 burger and fries, a lobster roll for $10.99 (!!), or one of their many under-ten breakfast sandwiches, and sit back and enjoy the uninterrupted view. The only downside is that there's no alcohol consumption allowed on the premises, but we doubt you'll notice once you start watching the boats pass by.
The Black Flamingo, 281 Van Brunt Street (between Visitation Place and Pioneer Street)
This quaint, 1920's feeling coffee shop has a beautiful secret garden patio that might just make waking up easier (accompanied with one of their top-notch lattes, of course). It's the perfect place to escape the city without having to pay for a bus ticket. We recommend this spot for working on your novel, reading Nietzche, or just gazing pointedly into the distance.
Red Hook Lobster Pound, 284 Van Brunt Street (between Verona Street and Visitation Place)
One of the quintessential shellfish places in Brooklyn, Red Hook Lobster Pound serves up a mean lobster roll. When it gets really warm, the tables they put out front are the best seats in the house—perfect for people watching on Red Hook's busy Van Brunt Street. Our favorites include the BLT lobster roll, the "chowdah," and the hot crab dip.
Steve's Authentic Key Lime Pie, 1011, 185 Van Dyke Street (at corner of Van Dyke and Barnell streets)
Ah, Steve. We've spent many days blissfully thinking of the tart, creamy goodness that is your pie. The only thing that could improve on this famous recipe is the ability to eat it outdoors, which of course, you can. Steve's has a number of picnic tables out front, but even if those are full, you'll find yourself within steps to one of Brooklyn's best parks, Louis Valentino Jr. Park and Pier, with great views of Lady Liberty to boot. So dig in to one of their mini pies (or a full-size, we won't judge), and bask in the glow of treating yourself to quality.
Brooklyn Ice House, 318 Van Brunt Street (between Visitation Place and Pioneer Street)
One of the most popular bars in the neighborhood, Brooklyn Ice House boasts good drinks, good company, and a great backyard patio. They open at noon every day, and we wouldn't say no to spending a whole day here, sipping on reasonably priced drinks and snacking on burgers, fries, onion rings, and other bar bites. This is the perfect spot to go when you want something tried and true—low-key and without any frills.
The Good Fork, 391 Van Brunt street (between Coffey and Van Dyke streets)
This spot is one of the best in the neighborhood for date night. Their backyard garden— with string lights and wicker furniture—is a great place to show someone how much you like them. Add on their innovative menu—with dishes like Korean Fried Broccoli, Ramen Bolognese, and plenty of locally brewed libations—and you've set yourself up for a foolproof evening.