Where to Eat After Midnight: Five Great Places in Williamsburg
It takes a certain kind of restaurant to capture our heart from the hours of 12:00 am – 2:00 am. We'll be honest, maybe we've had a few drinks, and now what we want is to sit down in a comfy place, eat something- often something with a lot of butter, and reminisce about what happened that night (morning?) so far with the people we love enough to stay out that late. We aren't against eating great, innovative food this late (early?), and in Williamsburg, there's no excuse for fast-food. As one of our Borough's premier night-life neighborhoods, Williamsburg has the food to keep the party going, (or end it with dignity).
Sweet Chick
164 Bedford Avenue, between North 7th and North 8th streets.
This is the place to go when you're secretly craving that fast-food chain. Sweet Chick puts out some of the most fun fried chicken and waffles in the city, including The General, a delicious broccoli waffle and, you guessed it, General Tso's fried chicken, and tons of other waffles flavors like Rosemary-mushroom, apple cinnamon, and dried cherry.
If waffles aren't your thing, we can heartily recommend the Sweet Chick Bucket (mashed potatoes over kohlrabi slaw, for us). Salads are not the forte here, but if you're eating a salad past midnight this list isn't for you anyway.
Sweet Chick also knows how to keep the party going with great music and good cocktails, if you aren't tapped out yet- we're partial to the Queen of New York. No reservations, but you can sit down to eat until 1:30 am every night of the week.
Kellogg's Diner
518 Metropolitan Avenue, between Union Avenue and Rodney Street.
If you've been living in New York for more than two years, and you haven't been to Kellogg's, it's time we had a serious talk. As a true diner should, they never close. They're open 24 hours a day, every day of the week.
This is the spot to come when you really like the people you went out with. There's just something about diners that makes us want to sit for hours over a plate of fries and a slice of pie, refilling our soda every ten minutes or so, and have a long talk. If you haven't been, the inside (and outside) of Kellogg's perfectly fit the bill for a classic diner. You'll find all crowds here – and the people-watching is one of the best parts.
295 Berry Street, between South 2nd and South 3rd streets.
If we can tempt you to have just one more drink, you can get them here for around $10, and we can practically guarantee you've been paying more than that all night. Go ahead, try a Paloma. We go right for the requeson gorditas when we come here, with a queso fundido for the table and, why not, maybe let's try the sesadillas (pork brain quesadillas).
This is the spot to come when you want to eat one of everything on the menu, and the people you're with aren't afraid to try something they've never had before (or maybe even heard of). It's usually pretty crowded, but the wait is worth it once they set the steaming food down on the table. You can eat here until 2:00 am on Friday and Saturday.
170 Bedford Avenue, between North 7th and North 8th streets.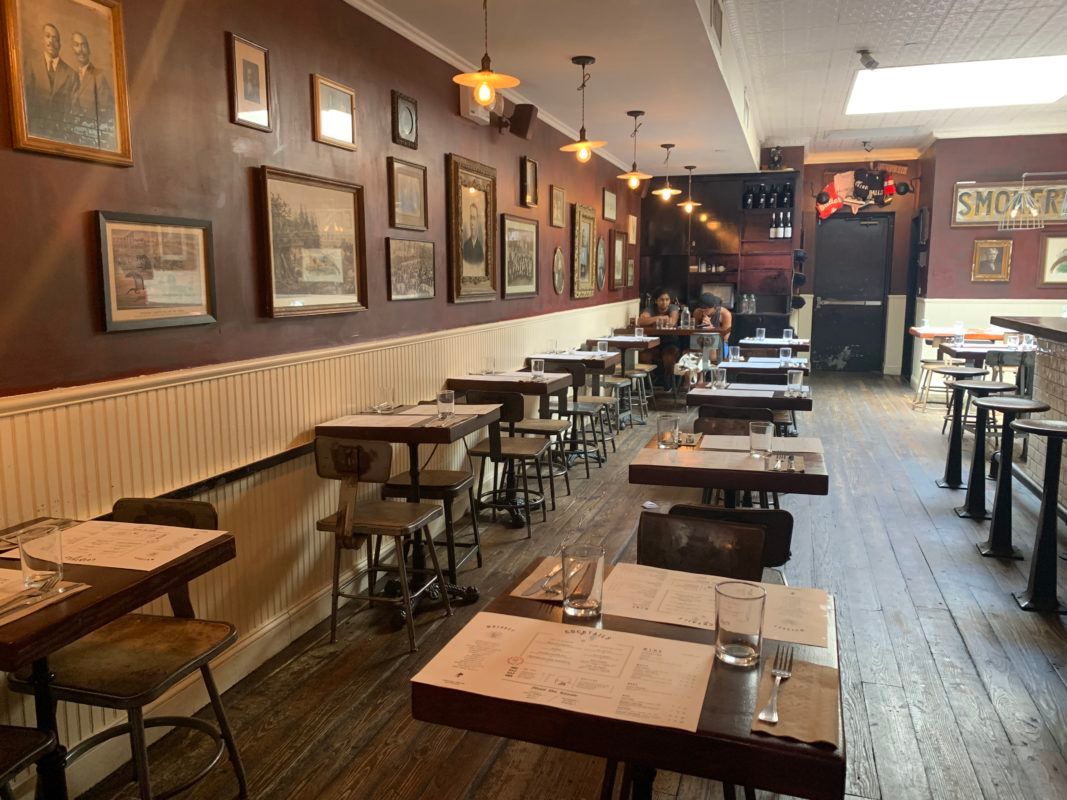 Mmm, meatballs. This is the place to go if you had one drink more than you probably should have, and now you need to soak up some of that alcohol. We can almost guarantee that after a full plate of their Naked Balls, or the Hero sandwich, that you'll be ready for a whole extra night out.
Trust us – the spicy (spicy is used leniently here, so don't be worried if you aren't a fan of spice) pork with mozzarella will fix you right up. The staff is fun, and usually pretty talkative if you need a sounding board. They serve food and drinks until 2:00 am on Fridays and Saturdays, giving you two whole hours before the bars close. Go on, get back out there.
366 Metropolitan Avenue, between Havemeyer Street and Marcy Avenue.
The Commodore is a little dive-y, but we promise you won't even notice. We don't recommend coming here if you're all set for drinks, as it will probably be hard to resist having just one more in their fun bar environment.
As for food, they serve a good grilled cheese, and a pretty good burger. Grits may be the world's most underrated hangover preventer, and they've got both regular and cheesy ones on the menu here. You can eat until 1:00 am every day of the week here, and stay to drink until 4:00 am after that. Be careful not to miss it, as it isn't marked by any signs or lights outside.