16 Excellent Ice Cream Spots In Northern Brooklyn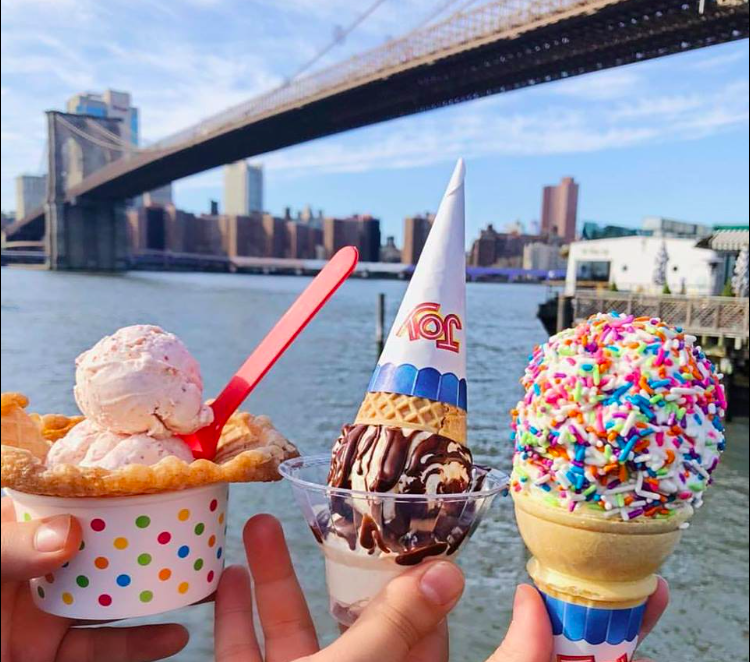 As if we really need an excuse to enjoy a cone, cup, or sundae, National Ice Cream Day is Sunday, July 15.
Here are 16 ice cream shops in northern Brooklyn where you can grab a scoop or two and celebrate.
Ample Hills Creamery, 623 Vanderbilt Ave., Prospect Heights; 305 Nevins Street, Gowanus; Brooklyn Bridge Park, Pier 5; Dekalb Market Hall
First opened in Prospect Heights in 2011, Ample Hills has been growing ever since, with a new storefront/factory coming to Red Hook later this summer and a new space slated for Prospect Park West. Some of their signature flavors include Salted Crack Caramel, Snap Mallow Pop, and Gooey Butter Cake.
Blossom Ice Cream, 196 Court Street, Cobble Hill
Opened in 2016, Blossom Ice cream is known for its hand-rolled ice cream, but vegans love this shop for its variety of options free of animal products including Vegan Coco, Vegan Rose, Vegan Piña Colada, and Vegan Wild Berry Lavender—all made with an organic soy base.
Breeze Cafe, 5613 4th Avenue (between 56th & 57th Streets), Sunset Park

Breeze Cafe has been serving tropical ice cream, sorbet, and ices for 14 years. Flavors include butter pecan, pistachio, rum raisin, strawberry, birthday cake, and more.
Brooklyn Farmacy & Soda Fountain, 513 Henry Street (at Sackett), Carroll Gardens
Stepping into this charming storefront takes you back in time to a vintage soda fountain. Opened in Spring 2010, Farmacy replaced an old-school pharmacy from the 1920s. The corner shop is famous for its sundaes, including a simple Banana Split or the Sundae of Broken Dreams—vanilla ice cream, broken pretzel rods, and fresh whipped cream, topped with warm caramel.
Brooklyn Ice Cream Factory, Brooklyn Bridge Park (corner of Fulton & Water), DUMBO; 97 Commercial Street (Manhattan Ave), Greenpoint
The Brooklyn Ice Cream Factory has been serving eight simple flavors (including vanilla, chocolate, strawberry, peaches & cream) since October 2001. For those who enjoy their ice cream with views of the waterfront and the Manhattan skyline, you can't beat their DUMBO location housed inside a landmarked fireboat house.
Creme and Cocoa Creamery, 1067 Nostrand Avenue, Prospect-Lefferts Gardens
This former coffeeshop used to serve ice cream along with their cappuccinos until the two owners decided to start making their own ice cream and sorbet from scratch. The creamery debuted last summer offering Caribbean-inspired flavors including soursop, papaya, sorrel, and mango alongside classic vanilla, cookies and cream, and dark chocolate, as well as vegan options. Read more about Creme and Cocoa here.
Davey's Ice Cream, 201 Bedford Avenue, Williamsburg; 74 Meserole Avenue, Greenpoint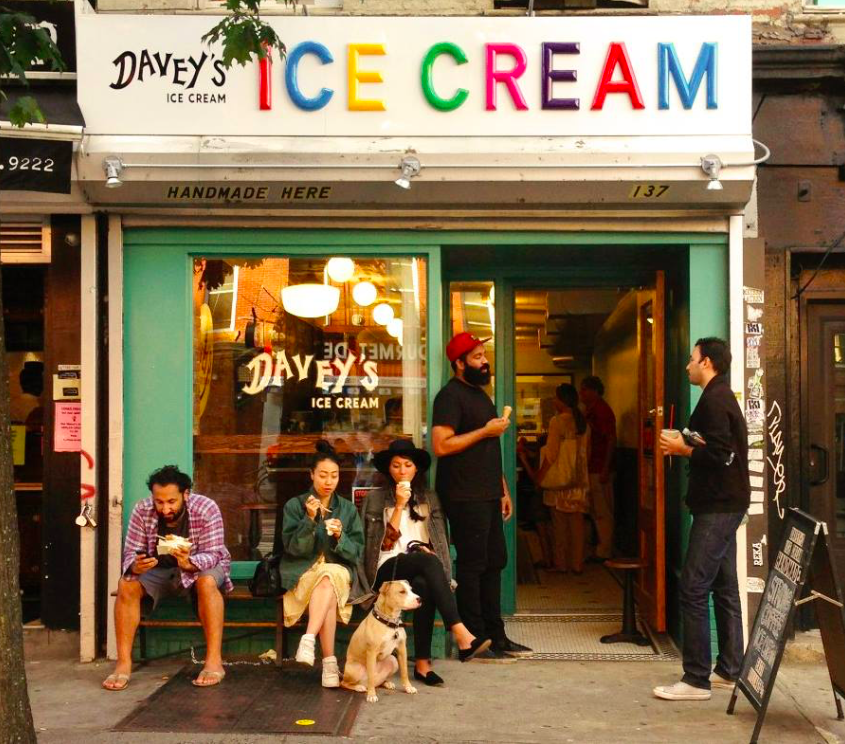 In 2014 the Village Voice awarded Davey's the "Best Ice Cream in NYC"—a well-earned honor—each batch made with raw ingredients requires a four-day production process! Flavors include Nutella Chocolate Chunk, Peppermint Chip, Roasted Pistachio, Speculoos Chocolate Chip, and Strong Coffee.
Dolce Brooklyn, 305 Van Brunt Street, Red Hook
Dolce handcrafts its small batches of gelato and sorbetto (vegan) using fresh milk, fruits and other ingredients purchased at local farmers markets and specialty markets. The flavors change with the seasons and include Amarena (Sour Cherry), Bourbon Chocolate, Cookies & Cream, Fior di Latte (sweet cream), Fresh Mint Stracciatella, Maple Pecan, and many more.
Island Pops, 680 Nostrand Avenue (at St. Marks Ave), Crown Heights
With a grand opening slated for Saturday, July 14, stop by this spot and say "hi" while celebrating National Ice Cream Day with a scoop of one of their unique flavors including Guinness Caramel, Lemon Nutmeg Cookie, Masala Chai, Orange Bitters, or Spiced Rum and Raisin. Inspired by Caribbean flavors, Island Pops creates small batches of their frozen treats made from scratch and "hand-crafted with love."
Kathy's Gourmet Italian Ices & Ice Cream, 422 Greenwood Avenue (at East 5th Street), Windsor Terrace
Since opening in 2009, Kathy's has been serving more than 70 flavors of ice creams and ices along with old-fashioned egg creams, ice cream cakes, and other specialty items. Ice cream flavors include Apple Pie, Brooklyn Cheesecake, Cherry Vanilla, Pumpkin Pie, Rocky Road, and many more.
Lady Moo Moo Ice Cream, 365 Chauncey Street (at Howard Ave), Bed-Stuy
Walk up to the window and order gourmet ice cream in a variety of flavors including Coconut, Earl Grey Lavender, Honey Citrus, Cookies & Cream, Tahitian Vanilla, and more! Note: Lady Moo Moo's hours are Thursday 3pm to 8pm and Friday – Sunday 12pm to 8pm.
Milkmade Ice Cream, 204 Sackett Street (at Henry Street), Carroll Gardens
Milkmade's Brooklyn Tasting Room is a place for customers to sample their wares, meet the team, and learn about their small-batch production process. Milkmade regularly offers eight "Signature 'Screams" as well as some "Seasonal 'Screams" that change monthly. The company also has a monthly membership program that delivers two flavors of their ice cream right to your door.
OddFellows Ice Cream Co., 175 Kent Avenue, Williamsburg; 379 Suydam Street, Bushwick; 60 Water Street, DUMBO
This ice cream shop offers 200 varieties but they rotate their flavors often, so check their flavor page before you go! Exotic flavors include Saffron Passionfruit, Miso Cherry, Thai Iced Tea, and Extra Virgin Olive Oil.
SkyIce, 63 5th Avenue (at St. Marks Ave), Park Slope
This popular Thai restaurant also serves artisanal, all-natural, homemade ice cream in flavors like Thai Coffee, Thai Tea, Roasted Thai Coconut, Durian, Black Sesame Seaweed, Honey Ginger, and many more! The eatery also hosts the annual Brain Freeze Ice Cream Eating Contest in the autumn.
-321º Ice Cream Shop, 288 Grand Street, Williamsburg
Customers at this Williamsburg spot pick a flavor and watch as the ingredients are mixed together then blasted with liquid nitrogen!
Van Leeuwen Artisan Ice Cream, 81 Bergen Street, Boerum Hill; 620 Manhattan Avenue, Greenpoint; 204 Wythe Avenue, Williamsburg
This company began with a yellow ice cream truck traveling across NYC, but their ice cream became so popular they expanded with brick-and-mortar shops across the city and even in the west coast. Their "artisan" all-natural ice cream is made with eggs, fresh milk and cream, and cane sugar. There are also plenty of vegan options, including Vegan Salted Caramel, Mint Chip, and Cookie Crumble Strawberry Jam.