Where To Brunch In Ditmas Park: The Farm On Adderley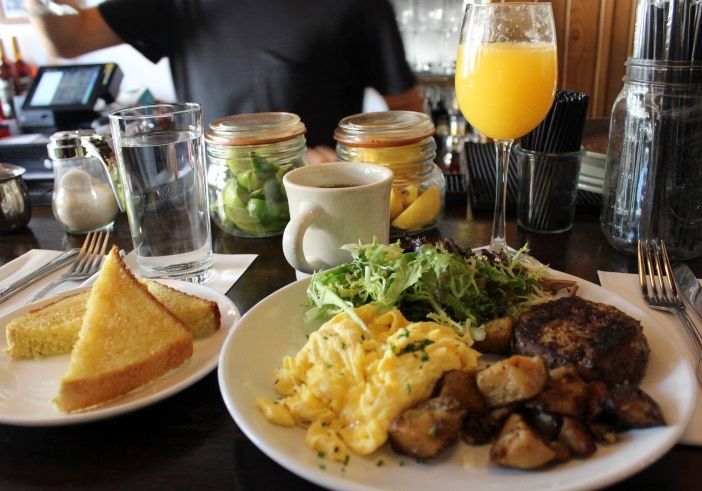 There are quite a few great places to fill your cravings for mimosas and eggs in Ditmas Park nowadays, so how do you decide where to go? With Where To Brunch In Ditmas Park, we tackle all the hard questions like, where are the best cocktails, who has the best classic eggs and bacon, and where is the best place to spend an entire weekend afternoon, so that you will know just where to go when you roll out of bed Sunday morning. Have ideas for where we should go next? Let us know.
It's nearly impossible to talk about brunch in Ditmas Park without talking about The Farm on Adderley. The spot is well-known beyond the neighborhood for its delicious farm-to-table brunch menu and crowds come from all over to chow down on a weekend morning.
Although it can make it difficult to grab a seat, we do think that The Farm's brunch is often worth the wait. We recommend getting there early, however, unless you are there right at 11am, there's a good chance you'll have to wait to be seated. The space is quite big so larger groups can be accommodated, but we'd recommend making reservations ahead of time. When the weather is nice, we love grabbing a seat in relatively secluded backyard.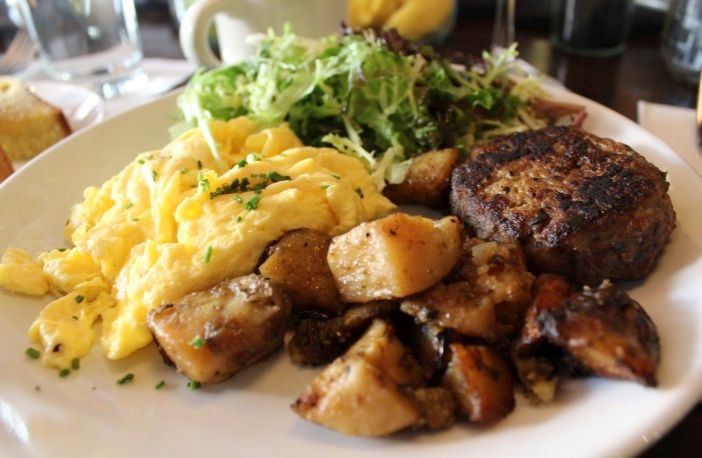 The brunch menu is pretty simple and straightforward but does change slightly with the seasons. The Sausage & Eggs ($12) is our favorite (try the Farmer's Breakfast for $10 if you are vegetarian). It's a very simple breakfast with eggs, potatoes, sausage and a small salad, but everything is perfectly cooked. The scrambled eggs are fluffy and light, the potatoes are so good, we often order extras, and the sausage is obviously homemade and well seasoned. We could probably eat the Farm's Sausage & Eggs every day if they let us.
If you are looking for something a bit more sweet, the French Toast ($11) is always a great option and the fruit it is served with changes seasonally.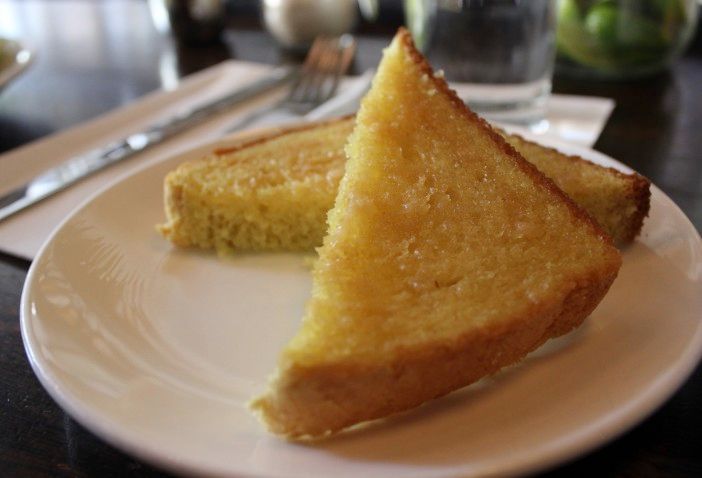 And if you are looking for something a bit more on the lunch side of things, the Adult Grilled Cheese ($9), made with cheddar, apples, and caramelized onions is a great option. Or you could grab their burger ($13), served on an English muffin with the option of adding a fried egg or bacon, though it's not our favorite in the neighborhood.
There are also a number of sides to add to your meal — French fries with curry mayo ($7), chocolate bread with sea salt and butter ($4) — but our favorite is the toast with goat butter and maple sugar ($3), which has an interesting combination of tangy and sweet flavors.
Overall, we think The Farm deserves some of its brunch hype. It's a great place for a really classic brunch. And they've been serving the steady crowds for a while now, so the service is pretty quick despite the number of people trying to grab some grub.
What do you think?
Ditmas Park Brunch Rundown: The Farm on Adderley
Where: 1108 Cortelyou Road
Phone: (718) 287–3101
Brunch Hours: Saturdays & Sundays, 10:30am-3:30pm
Reservations: Reservations are taken but not necessary.
Who To Bring: This space is great for couples or larger groups and families. They have a kids' menu. We like the outdoor space in the summer.
Outdoor Seating: Yes, there is a backyard.
Best Time To Visit: We recommend arriving early, but there is often a wait during the brunch hours.
Best Bites: Grab the classic Sausage & Eggs ($12) or Farmer's Breakfast ($10), which are traditional but well done. The French Toast ($11) comes with seasonal fruit. Want something extra? Try a side of toast with goat butter and maple sugar for $3.