Where Parents Can Imbibe & Kids Can Play: Family-Friendly Bars In The Slope
There are oodles of parenting manuals out there. However, an important chapter is missing from almost every single one: Where can you meet friends for a drink with your kids in tow?
As relatively new parents, my wife and I wanted to start taking our son with us to enjoy a Sunday afternoon drink every once in awhile. We feared that we would become "those parents" — the ones the youngins and regulars roll their eyes at when we walked in the entrance with the kid at our side.
The subject of kids in bars brings out a variety of strong opinions, from the barflies as well as the bartenders. Some bars are happy to accommodate; others, not so much. When I asked one bartender about kids in his bar, he nervously darted outside to make a phone call. After an intense five-minute conversation, he returned. "No comment," he said. I took that as an emphatic "no."
A few weeks ago, I was in a bar's garden when two women in their twenties caught sight of my son and a few other children. "This is sooo wrong," one said. The other added, "This is so soooooo wrong." (They sat down at a nearby table and seemed to enjoy their beers anyway.) The reality: not everyone's going to be pleased.
So what's the best way to go about all of this? And what do you need to bring? Well, some snacks and water for the kids. But most of all, a good helping of common sense.
The good news is that you won't run out of options in our area. And there are plenty of friendly barkeeps and owners to go around.
Crys Duncan, bartender at Toby's Public House, sums it up best: "Enjoy it here. But both the kids and their parents need to behave."
Bartenders and owners of the establishments below all agree that keeping a watchful eye on your kids is the key to everyone in the bar enjoying their afternoon.
Another rule of thumb: nights really don't work. The bars fill up with a clientele that has different expectations. One South Slope resident who has been to many of the bars on our list shares the following thoughts: "I went to school in New Orleans 20 years ago and I remember popping into a very local bar one afternoon where a family was having a party. I liked it. A bar can be a community, and it's great that more and more people are choosing to raise kids in the Brooklyn community. There should be limits of course. If the sun is setting, it's time for the kids to go. Also, don't let your kids run around. And if you're upset that the patrons are swearing or having a kid-inappropriate conversation, then maybe you're in the wrong bar."
The bars listed below are diverse, from small watering holes to establishments with outdoor spaces. Some choices may even surprise you. And of course, this isn't every place in the area — if you've got your own family-friendly bars to suggest, let us know in the comments below!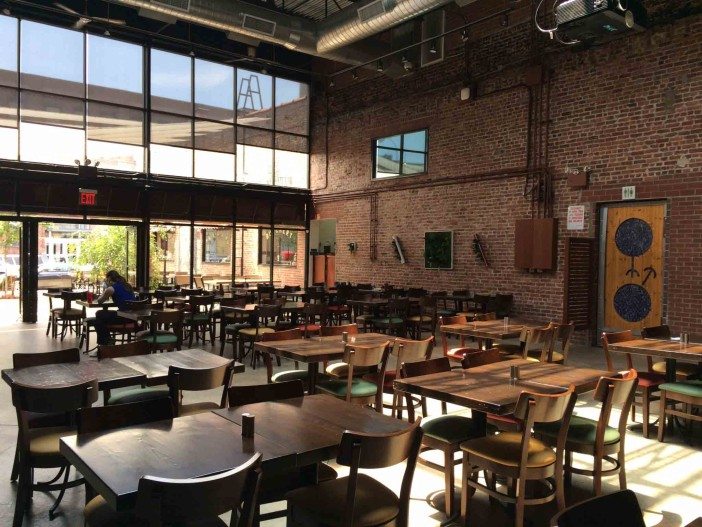 The Bahche
Where: 191 7th Street near 3rd Avenue
Phone: 718-422-0801
Weekend Hours: Saturday, 11am-midnight. Sunday, 10am-10pm
Weekend Food Service: Full menu. Brunch 11am-2pm on Saturdays, 10am-2:30pm on Sundays
Stroller Sense: Large enough to maneuver comfortably.
Details: The Bahche is a large, airy space, making use of an outdoor area in front and an indoor area as well. You won't have any problem navigating a stroller there. It's a table service and full bar establishment. Brunch is served on the weekend, and high chairs are available.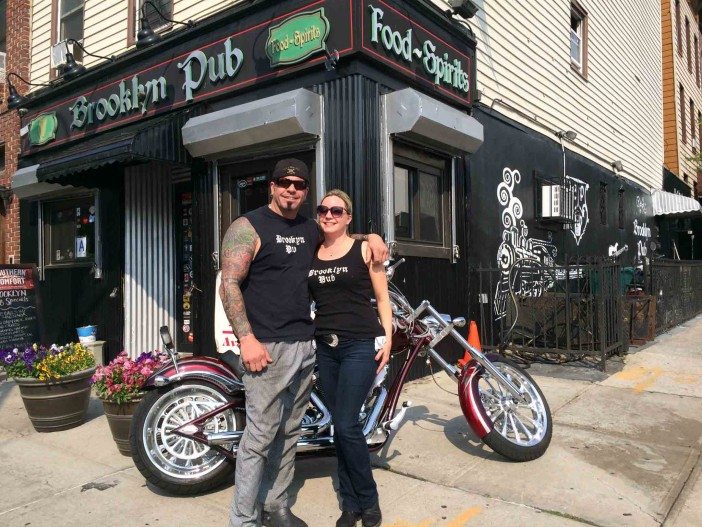 Brooklyn Pub
Where: 689 6th Avenue at 20th Street
Phone: 718-369-0088
Weekend Hours: Saturday, 11am-4am. Sunday, 11am-1am
Weekend Food Service: Full pub food menu
Stroller Sense: If it's crowded, best to close'em up.
Details: A friendly, no-frills neighborhood bar with pub food available. Chef/owner Philip Meoli and manager Susan Palmer run a bar they consider to be a community-based establishment: "People may not know we're kid-friendly. I've seen babies take their first steps in here. Kids have grown up in here." There are comfortable tables toward the back.
Café Steinhof
Where: 422 7th Avenue at 14th Street
Phone: 718-369-7776
Weekend Hours: Saturday 11am-midnight, Sunday 11am-11pm
Weekend Food Service: Brunch and Lunch menu, table service
Stroller Sense: Decent maneuvering, but watch the patrons' feet
Details: This well-known restaurant and bar has been serving Austrian food here for more than 13 years. It has a restaurant atmosphere and the food is Michelin recommended. The beer menu is significant. High chairs are available.

Greenwood Park
Where: 555 7th Avenue at 19th Street
Phone: 718-499-7999
Weekend Hours: Saturday 12pm-3am, Sunday 12pm-1am
Weekend Food Service: Bar snacks, sandwiches, and salads throughout the day
Stroller Sense: Large enough to maneuver comfortably.
Details: This bar/restaurant/beer garden is massive, consisting of both indoor and outdoor spaces with a generous amount of seating. There's a bocce ball court for the adults. After some early controversy, this has become a very kid-friendly establishment, though they take it seriously — they've posted clear (and fair) rules about kids at their entrance, and patrons under 21 are strictly not permitted past 7pm. It's an upbeat establishment that hosts kid-friendly events — the children's album release party of Pete Sinjin's House of Song was attended by more than 400 kids and parents.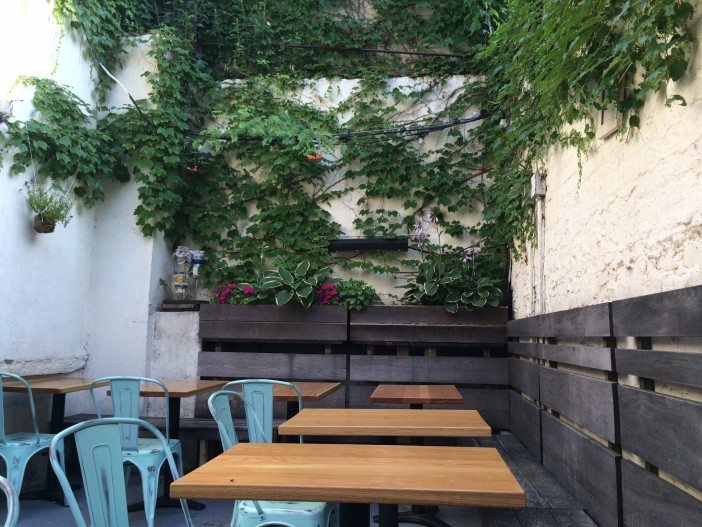 Sidecar
Where: Sidecar, 565 5th Avenue between 15th and 16th Streets
Phone: 718-369-0077
Weekend Hours: Saturday 11am-4am, Sunday 11am-midnight
Weekend Food Service: Full menu; brunch runs from 11am-3:30pm on Saturday & Sunday, dinner begins at 5:30pm both days
Stroller Sense: Decent maneuvering, but watch patrons' feet.
Details: Sidecar is a welcoming bar and restaurant with plenty of restaurant style seating. There's a small outdoor garden in back if you're lucky enough to snag a seat, though strollers may be a bit of trouble out there. High chairs are available.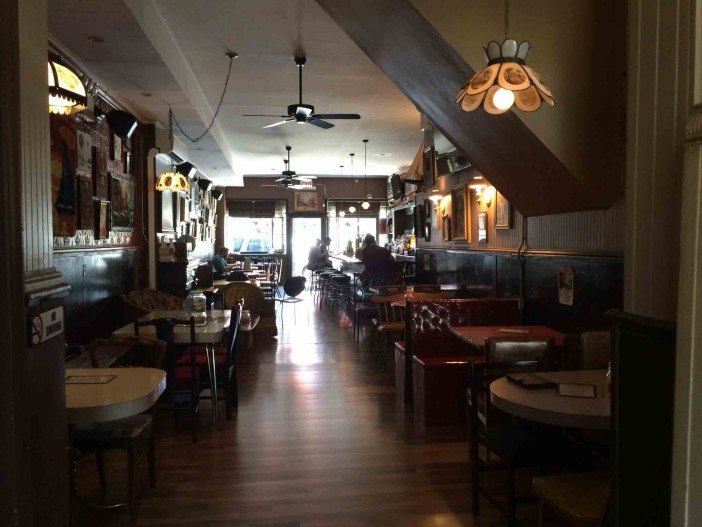 Skylark
Where: 477 5th Avenue at 11th Street
Phone: 347-227-8196
Weekend Hours: 12pm-4am both Saturdays and Sundays
Weekend Food Service: Bar snacks, soft pretzels, and pressed sandwiches
Stroller Sense: Tricky maneuvering if crowded, but there is a seating area in back with comfy couches.
Details: Skylark has a comfortable, living room quality, with a bookshelf stacked with board games for kids and adults alike. Plus, it has a relaxed atmosphere, so if you get super-focused on buying Boardwalk and Park Place in your game of Monopoly, make sure you remember to keep your eye on the kids. Windsor Terrace resident Kira Smith speaks fondly of taking her children to Skylark: "The kids were happy playing board games and trying out the '70s sofas while we ate, drank, and caught up on some grown-up conversation."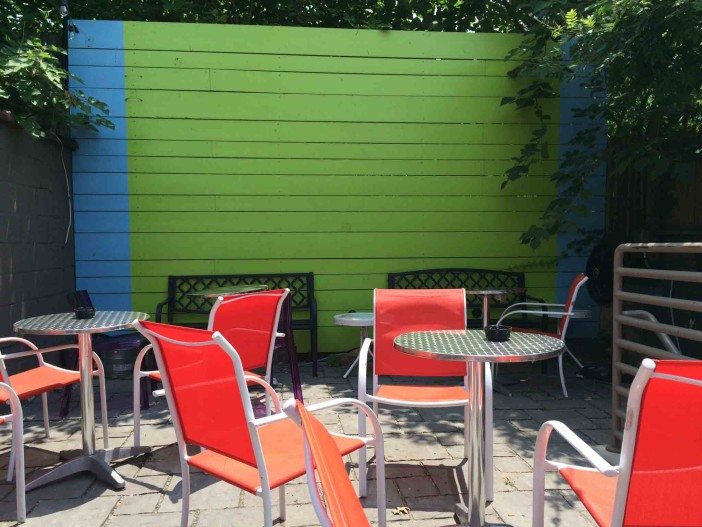 Supercollider
Where: Supercollider, 609 4th Avenue between 17th and 18th Streets
Phone: 347-725-3419
Weekend Hours: 7am-4am on Saturdays and 7am=2am on Sundays
Weekend Food Service: The café is available throughout the day, serving coffee, tea, pastries, and small snacks. Supercollider doubles as a bar.
Stroller Sense: It's a narrow space, so close'em up. There is a small staircase that leads to the roof patio up top; pay extra special attention to your kids up there.
Details: Don't let the narrow space in front fool you. Supercollider boasts an inviting, urban rooftop patio. You'll need to go up a flight of stairs to get there — watch your kids very, very carefully. This is a café/bar combo; you can enjoy caffeine and/or a brew. The pinball machines in the back add to the atmosphere. You'll see people here who have come to read a dog-eared book (or a dog-eared iPad), so try to give those folks some space.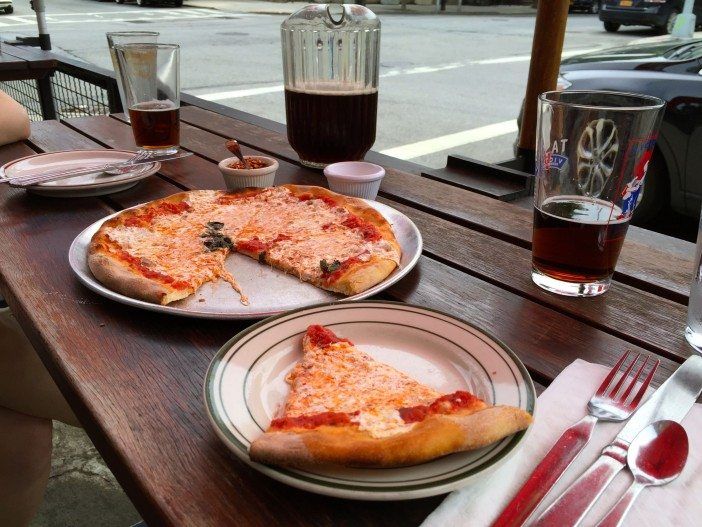 Toby's Public House
Where: Toby's Public House, 686 6th Avenue at 21st Street
Phone: 718-788-1186
Weekend Hours: 12pm-1am on Saturdays and Sundays
Weekend Food Service: Pizza, salads, antipasti, and desserts
Stroller Sense: While Toby's doesn't allow strollers inside, they will provide you with a lock so you can secure it outside.
Details: In addition to being a neighborhood bar, Toby's is well known for its wood-fired brick oven pizza and desserts — a natural hit for the kids. Toby's has a convivial atmosphere, and weekend afternoon kid sightings are part of the fabric. There's an inviting fenced in sidewalk area outside.
The Roof at Whole Foods
Where: 214 3rd Street at 3rd Avenue
Phone: 718-907-3622
Weekend Hours: 11am-11pm on Saturdays and Sundays
Weekend Food Service: Burgers, sandwiches, salads, and other bar foods. You can also bring purchased food up from downstairs.
Stroller Sense: Large enough to maneuver comfortably. There is an elevator to the roof.
Details: You can skip the pricey groceries and have a not-so-pricey drink here. The indoor area has seating and a full play area for the kids (although the assortment of items in the play area have seen better days). There is a separate bar with local draughts. The most inviting area is the outdoor deck with views of Brooklyn and our beloved Gowanus Canal. Order from the menu at the bar or bring food from the downstairs grocery. And a big plus? The bathrooms have changing tables. High chairs are available.