"Wheelers" Returns To Being Good Ol' "Wheeler's"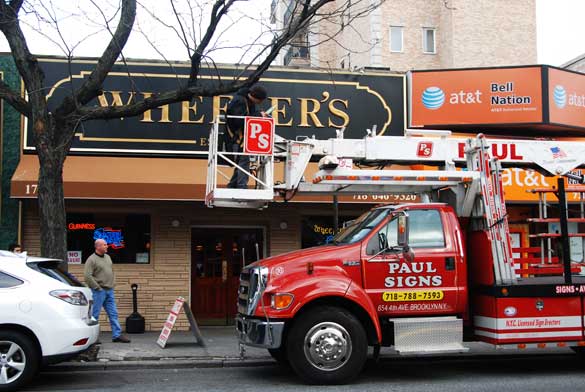 BREAKING NEWS! GROUNDBREAKING REPORT! SHEEPSHEAD BITES EXCLUSIVE! YOUR READ IT HERE FIRST, FOLKS!
The restaurant at 1705 Sheepshead Bay Road formerly known as Wheeler's and then became Wheelers is now once again Wheeler's!
Ah, Wheelers, we hardly knew ye. I mean, you only existed for three months. And, mom was probably afraid to tell you this, but you were totally an accident.
When Wheelers – er, Wheeler's? – upgraded to a new sign and awning in November, a little snafu caused the apostrophe, which indicates this bar is the property of Wheeler and not just named Wheelers, got lost in the mix. After three months of looking for it – bam! Found it! – it was mounted yesterday, bringing us back to the name we've been familiar with since 1979.