What To Expect From The New Baba's Pierogies, Opening On 3rd Avenue On Saturday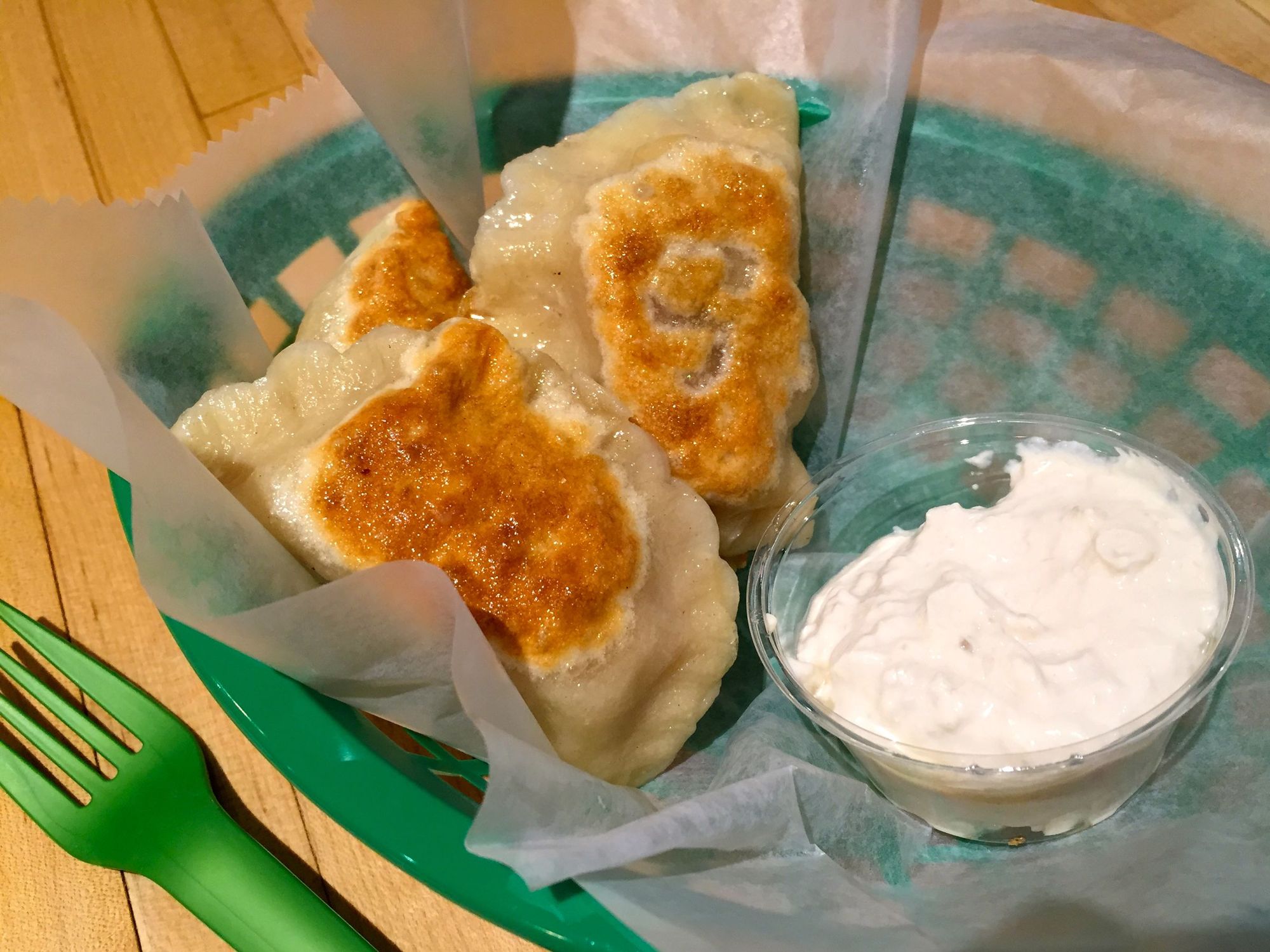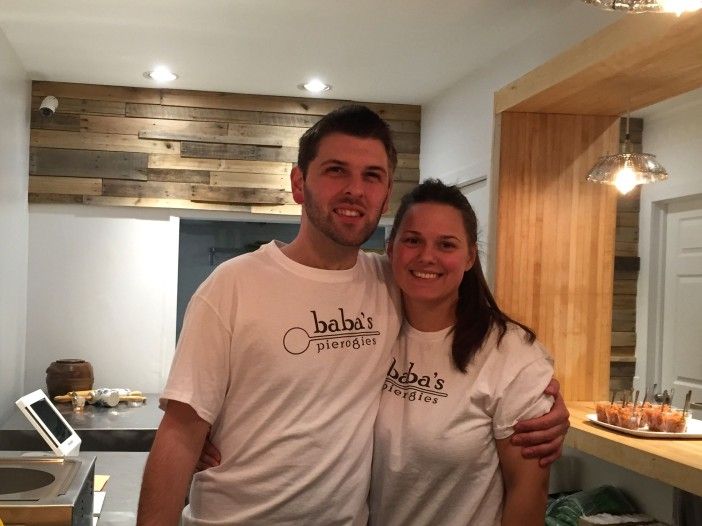 Perhaps the most important thing to know about the new pierogi restaurant opening this Saturday in Gowanus is that, unlike some of the new, former warehouse spots in the area, it's not enormous, and it probably won't be able to accommodate your giant roaming birthday party — though it is worth a shot.
"We've gotten about 20 phone calls asking for reservations," Helena Fabiankovic, co-owner of Baba's Pierogies, said with a laugh in the comparatively compact space, which has seating for about 12 people. She added that her favorite call so far has been about whether or not they've got a drive-through (FYI: they don't).
"They're going to be surprised when they get here!" said fellow co-owner Robert Gardner.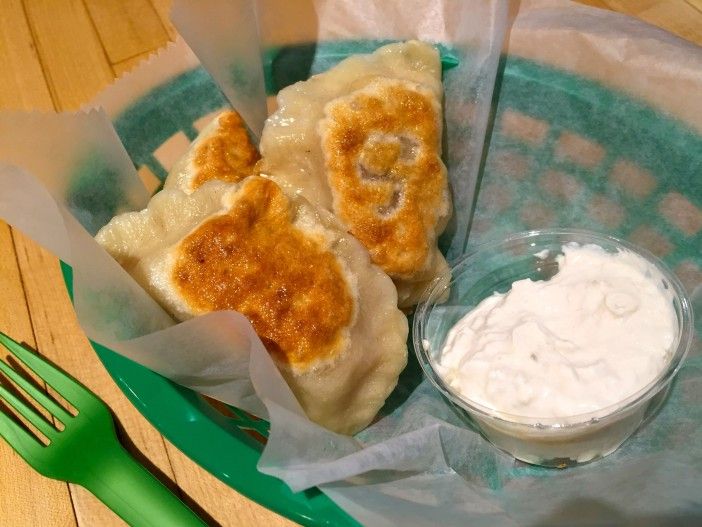 For those who are prepared, however, there's a lot to look forward to. Based on the recipe of Fabiankovic's Slovakian grandmother — Baba — the piegoies the pair has perfected in their home kitchen in Sunset Park are the star attraction of the new space, which is something Fabiankovic has been dreaming about for quite a long time.
"My sister and I joked about it as kids," she said, "about how we were going to sell pierogies out of a hot dog cart."
And it almost seemed like it would start out that way. When Fabiankovic met Gardner, who had worked in the restaurant industry and coincidentally grew up just a few blocks from where she did (and not far from where they currently live), they talked about the idea of their own place, until one day they dove in.
"I was sick of hypothetically thinking about this store," she said. "Let's just do this."
They started with a catering business, and, as a preschool teacher at the time, Fabiankovic spent her summer off hunkered down in dishes and deliveries. Upon returning to school that fall, it became clear that it was too much to do both — and that pierogies were the thing she wanted to focus on.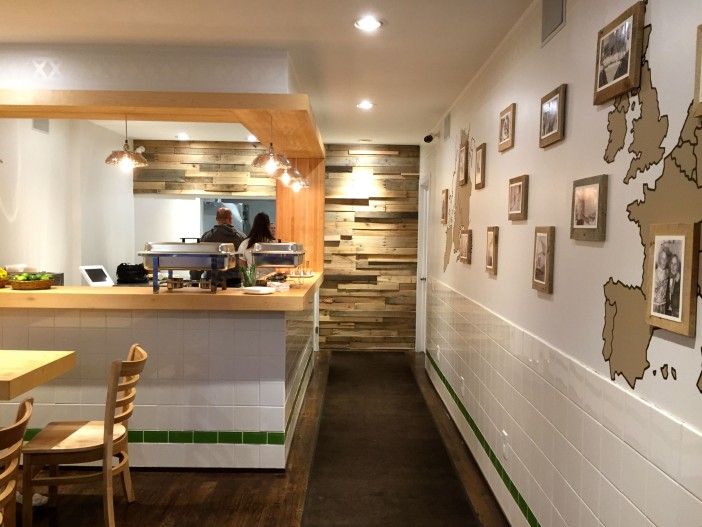 "We weren't trying to find a place, we just wanted to go and see," she said. "And then we saw this place, and the landlord is great, and the neighborhood is exciting — there's so much happening here, it just seemed like it would be great for us to be a part of.
"Everyone's been really welcoming and really nice," she added. "What more can you ask for?"
She acknowledges that these are not the super-traditional pierogies some may have come to expect. First of all, they're not Polish, and second of all, some of them come stuffed with mac and cheese.
"I don't want to take anything away from that," she said. "I think they infiltrated into every part of Europe, and everyone has a pierogi. I get it. I know where they come from. But it's representing what we eat, it's our pierogi. We wanted to make our version of it."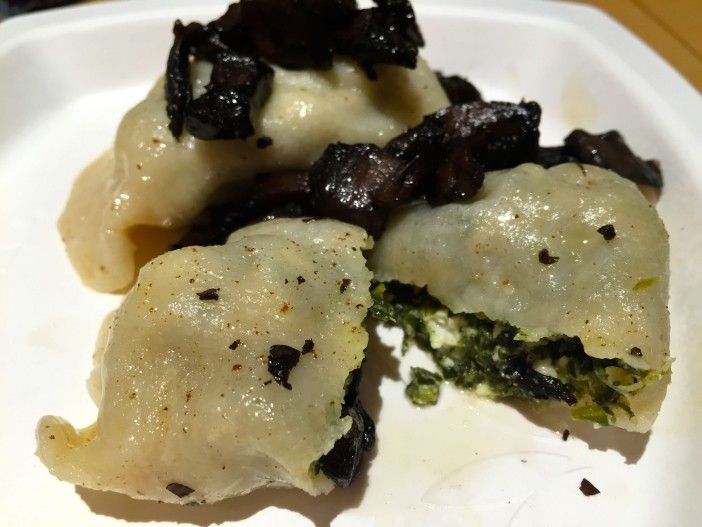 They certainly are their own thing. The menu currently has eight varieties, from traditional options like potato and cheese to unique ones like potato and jalapeño, and even a few dessert pierogi offerings, which you can order boiled (with an option to add toppings) or fried (where you can add different dipping sauces). It will be tempting to try the unusual ones, for sure. We got to taste the bacon/cheddar version, fried and served with the horseradish sauce, perfectly crunchy and savory and just the thing to satisfy your bacon cravings, and ideal with a beer or two; and the spinach and feta, boiled and topped with sautéed mushrooms, which have a nice kick of garlic, and will almost convince you these buttery dumplings could be healthy. Still, don't miss out on the other options.
"People love those ones," Fabiankovic said. "But I hope more people give the sauerkraut ones a shot, they're delicious!"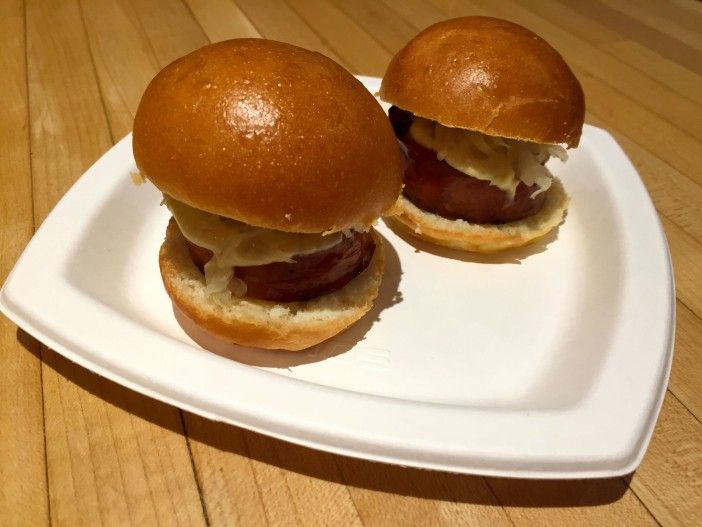 It's not just about pierogies, though. They've also got sandwiches and smaller bites — the kielbasa sliders, featuring sausage from Muncan in Queens, bryndza cheese, sauerkraut, and mustard on soft Baked in Brooklyn rolls, are just as addictive as the pierogies. And if you're looking to round out the meal, the slaw salads will add a nice fresh and vinegary counterpart to the other rich dishes you'll be ordering.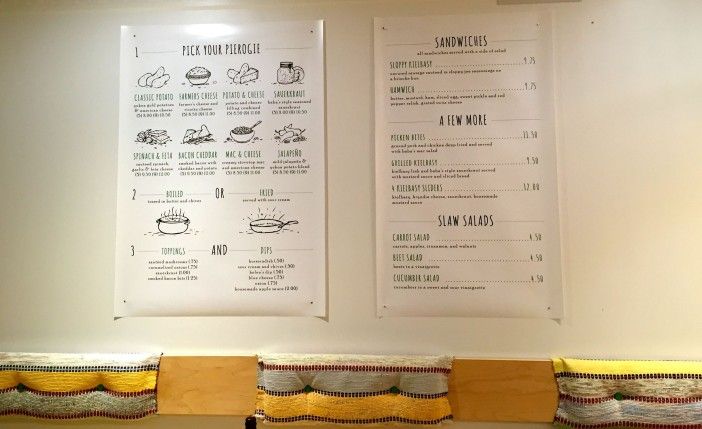 And if it turns out the space is full when you arrive, you might just consider taking your order to go and enjoying them with a drink at a nearby bar, like Canal Bar just up the street. In fact, with so many destinations so close by, from Royal Palms to Ample Hills, you may end up turning your pierogi run into an entire Gowanus evening.
"Come eat pierogies, go play shuffleboard, go eat ice cream," Fabiankovic said. "It's all within like three blocks."

Baba's Pierogies celebrates its grand opening at 295 3rd Avenue, between 1st and Carroll Streets, on Saturday, April 25 from 11:30am-10pm, with live music by Vox Ethnika from 1-4pm. Its regular hours will be Tuesdays through Sundays from 11:30am-10pm, and you can find them on Instagram, Twitter, and Facebook.