What Now? A Garbage Pickup Slowdown?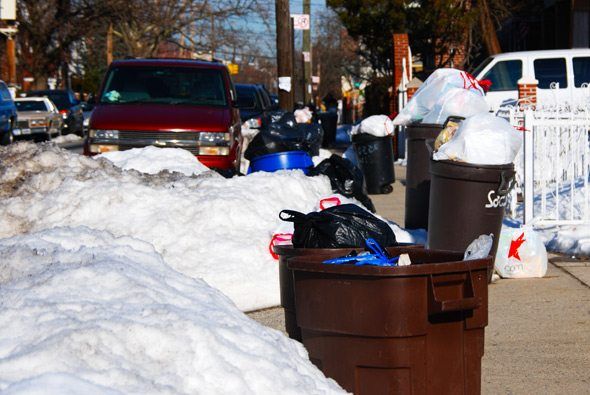 It might be hard to believe that Sanitation Department workers would continue to purposely screw up services, since all eyes are on them in the wake of the bungled blizzard response. But a reader sent in this e-mail that makes it sound like something strange is going on, and a few comments from readers yesterday hint at the same.
Here's the e-mail we received:
Has anyone else noticed a garbage pickup slow down? My garbage hasn't been picked up yet. OK – They said it would take some time.
Walking down my block this afternoon, I noticed my neighbor getting out of his car as he came home from work. We eschanged pleasantries and he went to take his garbage can in from the curb – I said to him, "don't bother, they haven't picked up the trash yet." To his and my surprise, his can was empty. They did take his garbage. We then noticed that neighbors on both sides of his house still had bags of garbage waiting on the curb. But two houses down – their garbage can was empty!  I walked down the block and it appears that every 2nd or third house has had their garbage removed.
Anyone else notice this? What the hell is going on?
The reader saw this pattern along East 21st Street, from Avenue W to Avenue Y. If anyone else has noticed strange behavior in garbage pickup, please note it here in the comments.