Werkstatt, The New Austrian Restaurant On Coney Island Avenue, Unveils Its Menu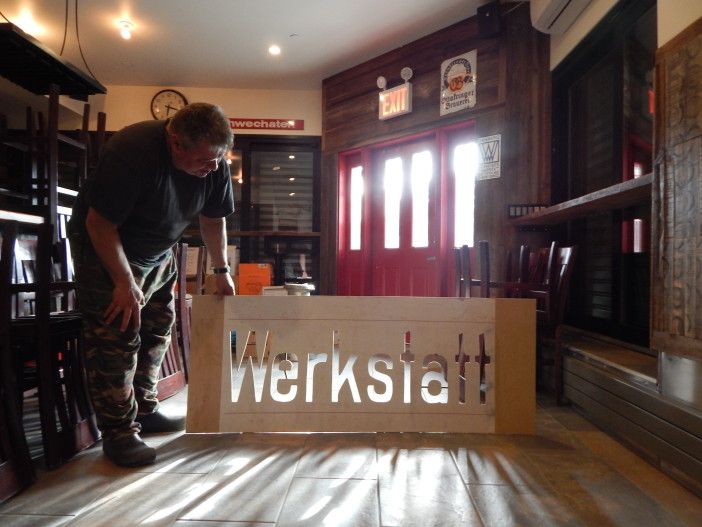 Get ready, neighbors: you'll soon be able to down everything from giant pretzels to beef goulash, wiener schnitzels, apple strudel and more at Werkstatt, the new Austrian restaurant that is slated to soon open its doors at 509 Coney Island Avenue.
After talking to neighbor and chef Thomas Ferlesch, who has decades of experience working as one of the top chefs in the city, including as the executive chef at the Upper West Side's historic Café Des Artistes, about the new eatery last month, we've been excited to find out more about the restaurant. Luckily for us, Werkstatt just unveiled its menu on its website, and there is a whole lot of yum happening there.
It looks like there's a huge range of items, including such appetizers as a $9 giant pretzel, $12 pan fried brussels sprouts with sweet and spicy chili peppers and smoked paprika with a lemon habanero aioli, and a $7 matzoh ball soup.
As for the main courses? There's beef goulash with spatzle ($18), a housemade bratwurst with country bread ($13), and a rosemary roasted free range chicken with basmati rice and argula ($17), among other options.
And, of course, there are the schnitzels: you can take your pick among a wiener schnitzel, cod filet schnitzel, celery root schnitzel, or chicken schnitzel. All are $16, except for the cod, which is $17.
There's a ton more that you can see on the website, from pork belly, cod and grilled avocado tacos (3 for $15), to salads and desserts.
For those of you who want to kick back with a drink, the menu lists $7 draft beers (including Six Point Sweet Action, Schofferhofer Grapefruit and Hofbrau original) to $9 glasses of wine (or a $22 half-liter carafe), and cocktails that vary from a $9 dark and stormy to a $12 Green & Amber (vodka, single-malt scotch, honey, lemon, and green tea).
The opening date hasn't been set yet, but we're told it could be as early as the end of next week. As soon as we know for sure, we'll let you know!