Weinstein Wants Voters To Extend Retirement Age Of Judges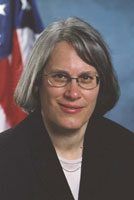 New York State Assemblywoman Helene Weinstein is hoping voters will approve a law that extends the required retirement ages of  judges past 70 years old. The Brooklyn Daily Eagle is reporting that Weinstein and other advocates believe that the current law is outdated and doesn't account for advances made in health care.
The current law requires that appointed New York State judges must retire at 70 years old. They can apply for three two-year extensions that allow them to keep serving until 76 years old as long as they have no pressing mental or physical disabilities. Judges who are elected face no mandatory retirement age.
Brooklyn Supreme Court Judge Barry Kamins expressed his opinion that the law ought to be changed.
"The current requirement that certain judges must retire at 70 and others at 76 is an outdated rule that was created at a time when the life expectancy of the population was much lower than it is today," Kamins told the Daily Eagle. "We have experienced and enthusiastic judges who are eager to remain on the bench and who could contribute so much to the court system. They should not be forced to retire because of a rule that has no relevancy in the 21st century."
The Daily Eagle cited statistics that do indeed show that people are living longer and healthier lives:
With advancements in medical technology and an awareness of  diet and exercise, people are living longer lives. A report issued by the World Health Organization estimates that the life expectancy for individuals in high-income countries, such as the United States, is 80 years of age.  United States Supreme Court Justice John Paul Stevens, who retired from the bench at the age of 90, mused to a Washington reporter that he "may have jumped the gun a little bit."
This past January, Weinstein introduced an amendment called, "Increasing Age Until Which Certain State Judges Can Serve," which would extend the required retirement age to 80-years-old for Court of Appeals judges. It would also allow state Supreme Court judges five two-year extensions past the age of 70.
Voters will have a chance in the November election to decide whether to extend the retirement age for state judges.