Weiner's Seat Goes To Vote On September 13, Sheepshead Residents To Be Screwed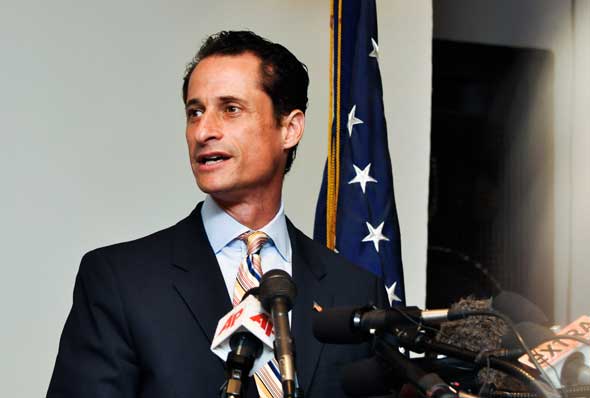 Anthony Weiner's resignation as representative for the Ninth Congressional district struck off an insufferable back-and-forth among politicos about the implications of the now-vacant seat, fretting over who will jockey for power and how much it really matters, given that the district is likely to be carved up as state legislators begin
gerrymandering
drawing new lines based on census results. Of course, most of the discussion revolved around party lines and partisan "strategery," not what it actually means for constituents or who will best represent their interests. But, hey, such minor details usually get lost in the fray, right?
Anyway, the future of the seat is going to get a little bit more certain, as Governor Andrew Cuomo has finally set the date for a special election: September 13.
According to the New York Times:
The special election means that there will not be open primaries — which some good-government advocates had urged — in the Ninth Congressional District, which covers parts of Queens and Brooklyn. Instead, party leaders will select the candidates.
… And as the leader of the Queens Democratic Party, [Representative Joseph] Crowley, with some input from the leader of the Brooklyn Democratic Party, Assemblyman Vito Lopez, and other leaders, will ultimately select the candidate to run in the special election.
Many analysts believe that a Democrat will be favored to win, based on the district's demographics and voting patterns. And Democrats say that the party leaders will try to pick someone with a strong résumé who won't embarrass the party in a way that Mr. Weiner did.
They may find someone who won't embarrass the party, sure. But will they find someone who won't embarrass the district? That seems difficult in these times. Regardless, back to the New York Times' report:
They would want someone who is a proven fund-raiser; political analysts estimate that the special election may require $1 million, which would have to be raised quickly. They also want someone who will be a loyal soldier and not take on incumbents in neighboring districts in 2012, should the Ninth District be eliminated.
Already, several names have surfaced as possible contenders. The three leading candidates, according to Democratic leaders, are Assemblyman Rory I. Lancman; Assemblyman David Weprin; and former City Council member Melinda Katz. Others include City Councilman Mark Weprin; former City Councilman Eric Gioia, and former Reprensentative Elizabeth Holtzman.
"No decisions have been made," said one Democrat who has talked to Mr. Crowley in recent weeks. "Everyone's in the mix."
On the Republican side, the two leading candidates are believed to be a city councilman, Eric Ulrich, and Bob Turner, who, fueled by a national wave of anti-incumbency, won a surprisingly high 40 percent of the vote against Mr. Weiner in 2010. But Philip Ragusa, chair of the Queens Republican Party, said that his screening committee had interviewed eight candidates so far, and would likely interview at least another four more.
One thing not noted here? All of them are from Queens. Whoever takes the seat is unlikely to have the familiarity with Southern Brooklyn's issues – and Sheepshead Bay's issues, in particular – that Weiner, had. The only thing we can hope here is that when
gerrymandering
redistricting is done, we get put back where we belong – a contiguous Southern Brooklyn district, represented by a Southern Brooklyn resident. Some have speculated that the increasingly conservative residents of Sheepshead Bay could be tossed in with Republican Congressman Michael Grimm's district, who primarily represents Staten Island, with Bay Ridge and Bensonhurst thrown in there for good measure. That would similarly ensure that we're no more than an afterthought to our congressional representative. Then there's Nadler, who represents a boot-shaped sliver of Brooklyn, from Red Hook, through Borough Park, down into Bensonhurst and Brighton Beach/Coney Island. He also represents Manhattan's lower, western quarters, but is probably our last best hope. The takeaway here is that, when
gerrymandering
redistricting is complete, Sheepshead Bay's voice is going to end up muted. As personally offensive as some constituents may have considered Weiner, they'll find that a smug response was better than no response.
But, hey, there's some good news for fiscal conservatives! Special elections can cost quite a pretty penny. Ideally, you'd plan one on the same day as regular elections, minimizing costs and maximizing turnout. But, failing that, at least Weiner's seat will be lobbed in with a number of others – so we're saving money. Sure, it means less people will end up voting, and there won't be primaries, all giving the parties even more of a say (and residents, less) in who the seat goes to. But it's something, right?
Silver linings, baby. Silver linings.