Weiner: City Won't Take Plumb Beach Erosion Seriously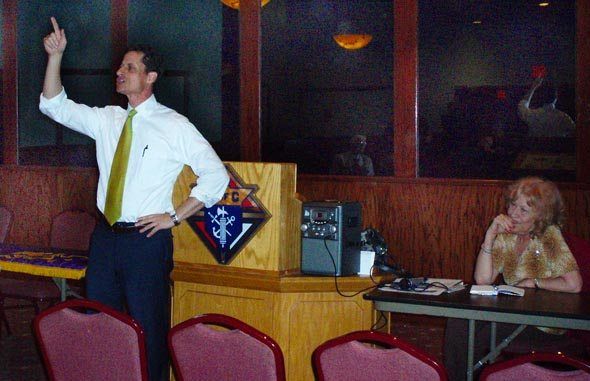 United States Congressman Anthony Weiner has no doubts about whose duty it is to repair the Belt Parkway following environmental erosion and infrastructural decay.
"There's no dispute about whose responsibility this is … it's the city's responsibility," he said at last night's Sheepshead Bay / Plumb Beach Civic Assocation (SBPB) meeting. "The problem is they're not taking it seriously … The longer we wait the tougher the conversation becomes."
Anthony Weiner came to discuss repairs to the Belt Parkway, the Plumb Beach bike path and the beach itself after a season of heavy storms ripped away at the shoreline. This winter saw the bike path crumble and water seep under the highway. So far, the city's only response has been to place emergency sandbags to buffer the current.
"In case you haven't noticed, the Belt Parkway is disappearing," said Weiner. "Now about two feet and a bunch of sandbags are what separate the Atlantic Ocean at high tide in a storm from the Belt Parkway, and it's gotten worse, not better."
Weiner told area residents that, since his Plumb Beach meeting in December, he has taken two approaches to coordinate a better response.  First he asked the Army Corps of Engineers to work with city and state officials, and, second, he is requesting that the state designate the area a disaster zone eligible for federal funds.
(Article continues after video)  Watch the video of Weiner's appearance at the SBPB meeting, edited down to just his remarks and the Q & A regarding the Plumb Beach / Belt Parkway repairs
Following the recent spate of storms that knocked down trees and power lines and caused damage throughout the Northeast, Governor Paterson has included Suffolk, Nassau and Richmond on an application for Federal Emergency Management Agency (FEMA) funds. But, according to Weiner, the governor omitted Brooklyn and Queens because of fuzzy math. Weiner said the state took the amount of property damage and compared it to the population (per capita).
"Well, if you look at the per capita anything, Brooklyn isn't going to come up" because of its dense population, he said. "But did you include replacing the whole Belt Parkway between Coney Island Avenue and Flatbush Avenue in your math? How much did that run?"
Funds from the federal government could help ease the burden on the city and state and help move forward a long term solution. Many other local leaders are similarly concerned about the state's gaff.
"It's a very important thing … to include Brooklyn and Queens in the FEMA application, because that storm didn't just hit Staten Island, skip us, and then bounce off to Nassau," said a representative for Assemblyman Alan Maisel, who co-signed a letter to the governor requesting the boroughs be added.
Community Board 15 Chairperson Theresa Scavo urged residents to send letters to the governor making clear that the borough was severely affected. "Why are we not being included? We deserve a piece of the pie," she said.
In December, Weiner requested $5 million in federal funds to direct the Army Corps of Engineers to study long-term solutions to Plumb Beach erosion. According to the congressman, the Army Corps has agreed to consult with the city but cannot take a lead role on repairs to the Belt Parkway or bike path.
"The Army Corps said pretty clearly, 'It's not our job to go onto city property and start to order people around,'" he said.
So far, the city has been slow to respond to the neighborhood's needs. In addition to inviting Congressman Weiner, the Sheepshead Bay / Plumb Beach Civic Association asked representatives from the city and the state to attend and discuss repairs. Neither responded to the request.
What little the city has done, which came as an emergency response after December's storm, is now being criticized as potentially harmful. SBPB Secretary Barbara Berardelli said the sandbag temporary fix may lead to more problems in the future.
"There's going to be a tragedy," she said. According to Berardelli, the city permits bikers to go around the fenced off path, putting them in spitting distance of the Belt Parkway. If a child falls off his bike they're going to be on the highway. Additionally, the sandbags are beginning to wash away, creating obstacles for boaters. SBPB's executive board took photos and sent letters to the city, "But no one responds to us … Those sandbags need to come off now."
Other residents at the meeting were fed up altogether with the finger-pointing and broken promises, including from Congressman Weiner.
"Shame on all three agencies and shame on all our leaders in this area that let it come to this point," said Sheepshead Bay resident Richie Arneman. "There was no reason it should've got to this point. It's like you said with healthcare: preventative maintenance. If you would've spent $50,000 a year on preventative maintenance it wouldn't have gotten to this point. Now it's costing those taxpayers a lot more money."
Weiner said that, going forward, he will try and wrangle all the involved agencies into a room once again – a repeat of what he first did two years ago and again in December. He hopes that after all the time that has passed they'll have come up with some answers.
Still, Weiner acknowledges there's no simple solution when it comes to rerouting nature.
"Now the city has to say, 'We're willing to partner with the federal government.' And I've asked the governor to ask for disaster designation to partner with the state as well," he said. "[But] it ain't easy. It's a major piece of civil engineering when you're trying to stop the ocean."