Weekend Crime Blotter: Cop Cuffed After Crash in Greenpoint, Vandals Draw Swastikas in Brooklyn Heights & More
GREENPOINT – An off-duty cop was arrested after crashing his car while driving the wrong way down a one-way street in North Brooklyn this weekend, police confirmed.
Harry Sepulveda, 31, was arrested and charged with driving with ability impaired, refusing to take a Breathalyzer and driving the wrong way after crashing into a parked car at North 12th Street and Wythe near the border of Greenpoint and Williamsburg.
The crash took place around 2:00 am on Sunday, November 4, said police.
PROSPECT HEIGHTS – Police have arrested a man allegedly behind the anti-Semitic graffiti scrawled on the Union Temple last week amid a rash of hate crimes in Brooklyn.
James Polite, 26, was arrested and charged with criminal mischief, a hate crime, and making graffiti, police confirmed.
The messages ranged from "Hitler," "Jew better be ready," "End is now," to "Die, Jew Rats, we are here, " police said, and the actions caused the cancellation of a political event to be hosted by Ilana Glazer, of "Broad City" fame.
Polite, who spent most of his life in and out of foster care, was profiled last year by the New York Times for their "Neediest Cases Fund." The Times followed up on the man from Bed-Stuy in light of his shocking crime.
WILLIAMSBURG – Police are looking for two suspects wanted in connection with an assault that took place outside a Williamsburg Chinese food restaurant on Halloween.
Two men, 26- and 28-years-old, were waiting for food at Happy Garden Chinese, at Graham Avenue and McKibbin Street, around 9:30 pm on Wednesday, October 31, when a man stepped in between them, starting a verbal dispute, police said.
The man who sparked the dispute threw the glass bottle he was holding at the 26-year old, striking him in the face. The victim chased his assailant across the street, where they scuffled on the ground, but the unidentified man's female companion slashed the victim on the neck with a sharp object, said police.
Both of the suspects fled, running through a residential building at 106 Boerum Street. The victim walked himself to Woodhull Hospital, where he was treated for lacerations to his face and neck, police said.
Surveillance video of the assailants can be seen below:
BROOKLYN HEIGHTS – Police are looking for two men who graffitied swastikas on homes in Brooklyn Heights last week.
The suspects drew the hate symbols on steps and garage doors of homes on Garden Place, between Joralemon and State Street, police said, on the night of Tuesday, October 30.
Photos of the suspects can be seen below: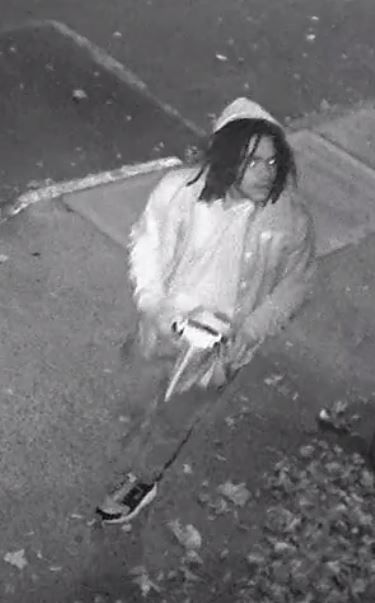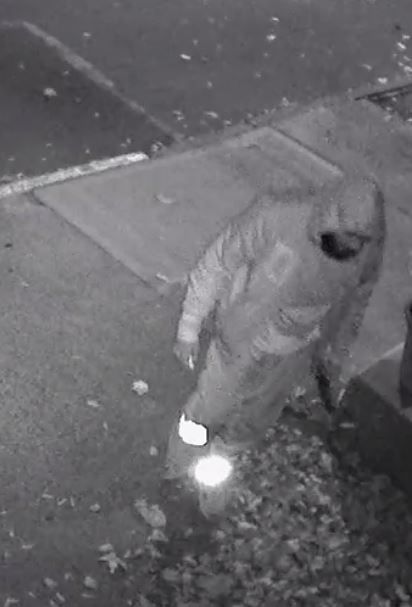 EAST FLATBUSH – A man is wanted for reckless endangerment for letting off shots on an East Flatbush street late last month.
The incident occurred before noon on Tuesday, October 23, near Church Avenue and East 34th Street, police said. A group of men in their 20s were standing on a corner when the suspect ran towards them, pulling a gun and firing three shots in their direction.
None of the victims were hit, and they fled on foot in the opposite direction. Surveillance video of the suspect can be seen below:
BROWNSVILLE – A man assaulted two people while trying to carry out a robbery in Brownsville last month, and now police are looking for help in identifying the suspect.
The assaults came on Monday, September 24, around 6:30 pm, when the suspect followed a 23-year-old woman near Linden Blvd and Bristol Street and tried to rob her. In the course of the robbery, the suspect struck the woman multiple times, and when a 79-year-old bystander yelled for help, the suspect attacked the elderly man as well. He struck the senior citizen multiple times, causing a slash wound to his right leg and hand, police said.
The man was takent to Brookdale Hospital by private means, while the woman was not treated for her injuries, police said. The suspect fled on foot in an unknown direction.
Surveillance video from the incident can be seen below:
Anyone with information in regard to the incidents above is asked to call the NYPD's Crime Stoppers Hotline at 1-800-577-TIPS (8477) or for Spanish, 1-888-57-PISTA (74782). The public can also submit their tips by logging onto the CrimeStoppers website at WWW.NYPDCRIMESTOPPERS.COM, on Twitter @NYPDTips or by texting their tips to 274637 (CRIMES) then enter TIP577. All calls are strictly confidential.