Weekend Art Events: June 9 – 11 (One-Eye Jimmy, One-Minute Plays & More)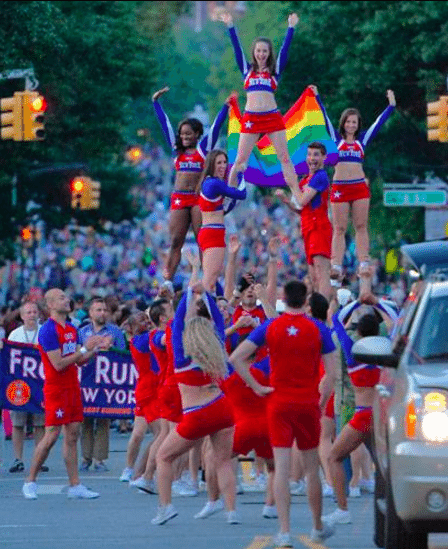 It's Pride Weekend!
Along with the many festivities celebrating LGBTQIA+ Pride in Brooklyn this weekend, there's the Sunset Park Puerto Rican Day Parade, the Northside Festival, the Red Hook Fest, breakfast, salsa, and one-minute play festivals, and much more!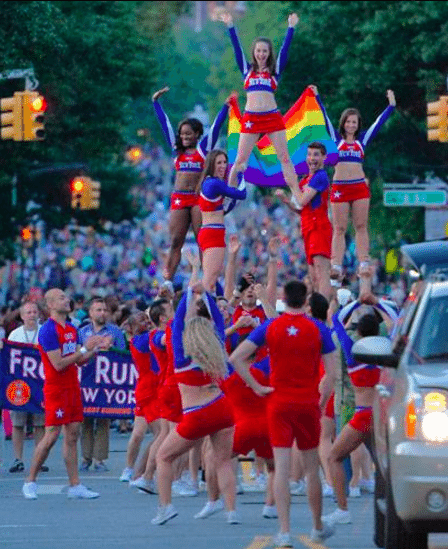 Northside Festival
When: Friday, June 9
Where: William Vale Hotel, 111 North 12th Street, Williamsburg
What: The Northside Innovation Festival brings together a vibrant community of startup founders, entrepreneurs, journalists, VCs, musicians, and artists for keynote talks, panels, master classes, and more. The Intercept, First Look Media, and BuzzFeed News will present "You Are Fake News": Truth, Lies, and Politics in the Age of Trump, a series of talks focusing on the role of media and the new rules of journalism in 2017.
How Much: Tickets $99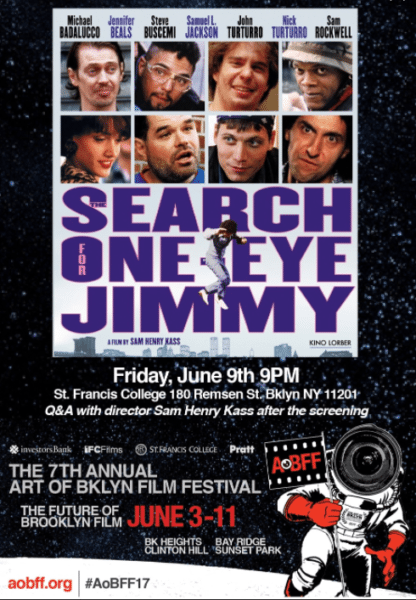 The Search for One-Eye Jimmy, Special 25th Anniversary Screening
When: Friday, June 9, 9pm
Where: St. Francis College, 180 Remsen Street, Brooklyn Heights
What: A part of The Art of Brooklyn Film Festival, this comedy by director Sam Henry Kass is about a young film school graduate who documents the disappearance of a local resident and the strange characters who are looking for him. Filmed in pre-gentrified Red Hook in the early 1990s with an all-star cast including Michael Badalucco, Jennifer Beals, Steve Buscemi, Samuel L. Jackson, Ray "Boom Boom" Mancini, Holt McCallany, Anne Meara, John Turturro, Nicholas Turturro and Sam Rockwell.
How Much: Tickets $12
Red Hook Walks
When: Friday, June 9, 6pm to 10pm
Where: Van Brunt Street, Red Hook
What: Van Brunt Street will be closed off from Visitation Place to Dikeman Street for this third annual street fair. There will be a bounce house, games, zumba, live music, a blacksmithing workshop, sidewalk cafes, art projects, balloon animals, and more. Red Hook Walks will also present Dance Theatre Etcetera's Red Hook Fest opening night party (see below) at the P.S. 15 playground.
How Much: Free

Red Hook Fest
When: Friday, June 9, 5:30 to 8:30 and Saturday, June 10, 2pm to 7pm
Where: Friday—Community Cookout & DJ Dance Party at P.S. 15/Patrick F. Daly School, 71 Sullivan Street; Saturday—Mainstage Performances at Louis J. Valentino, Jr. Park & Pier, Coffey & Ferris Streets, Red Hook
What: The 24th Annual Red Hook Fest is a live music and dance festival on the Brooklyn waterfront featuring community workshops, family activities, games, face painting, and world-class performers.
How Much: Free
Gi60: International One-Minute Play Festival
When: Friday, June 9 and Saturday, June 10 at 8pm
Where: New Workshop Theater, Whitman Hall, Brooklyn College, 2900 Bedford Avenue, Midwood
What: Brooklyn College and Leeds University in the United Kingdom present fifty one-minute plays performed at Brooklyn College's New Workshop Theater, brought to life by an ensemble cast of current acting students, alumni, faculty, and special guests.
How Much: Tickets $15
Walt Whitman Walking Tour
When: Saturday, June 10, 11am to 12:30pm
Where: Fort Green Park (meet at the Visitor Center), Fort Greene
What: Every second Saturday of the month from May through August, the Fort Greene Park Conservancy and the Myrtle Avenue Brooklyn Partnership host a walk discussing the history of the park from its Revolutionary War roots to its becoming an official park through the help of local resident Walt Whitman.
How Much: Free, but space is limited so registration is required.
The Extra Crispy BreakFestival
When: Saturday, June 10, 12pm to 8pm
Where: Industry City, 274 36th Street, Sunset Park
What: A food and drink festival devoted to breakfast featuring twenty of New York's leading breakfast purveyors making food and drinks all day. There will be a DJ, dancing, and games.
How Much: Free admission, pay-as-you-eat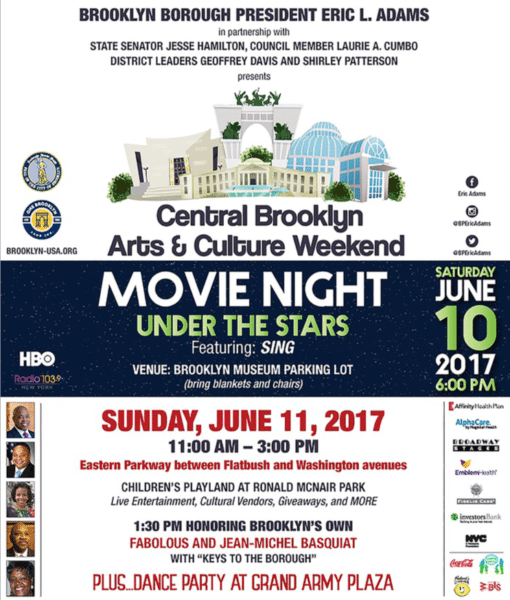 Central Brooklyn Arts & Culture Weekend: Movie Night Under the Stars
When: Saturday, June 10, 6pm
Where: Brooklyn Museum parking lot, 200 Eastern Parkway, Prospect Heights
What: A part of the Central Brooklyn Arts & Culture Weekend, families are invited to bring blankets and chairs to this free outdoor screening of Sing
How Much: Free
Central Brooklyn Arts & Culture Weekend
When: Sunday, June 11, 11am to 3pm
Where: Eastern Parkway between Flatbush & Washington Avenues, Prospect Heights
What: Experience Brooklyn's rich cultural life with a variety of live dance, musical, and theatrical performances, exotic foods, and hands-on arts and crafts activities. Artisans and vendors will showcase diverse wares while kids enjoy a playground featuring puppetry, bouncy houses, slides, ice cream, and more. Brooklyn's Jean-Michel Basquiat and Fabolous will be presented with keys to the borough.
How Much: Free
World Refugee Day Festival & Fundraiser
When: Saturday, June 10, 6pm to 11pm
Where: Brooklyn Conservatory of Music, 58 7th Avenue (at Lincoln Place), Park Slope
What: In celebration of World Refugee Day, the Brooklyn Conservatory of Music hosts an evening of music, food, and community. Held throughout the Conservatory's five-story building, the Festival will feature live kids' music, an interactive Brazilian folk drumming demonstration, a Zumba dance-along, face-painting, and crafts, as well as dozens of musicians from Syria, Ukraine, Nepal, Nigeria, and Burkina Faso.
How Much: Free, any donations will benefit the BKCM New Overtures Fellowship, which provides professional development for refugees, immigrants, and asylees seeking careers in music education in NYC.
8TH Annual Shakespeare in Carroll Park: Richard III
When: Saturday, June 10, 7:30pm
Where: Carroll Park, along Smith Street, Carroll Gardens
What: Richard III tells the story of a country in turmoil and a madman's quest for power. As the ruthless and charismatic Richard seizes power, a nation is forced to the breaking point in this tale of a tyrant, his enablers, and those who attempt to resist.
How Much: Free, Saturday performances (June 10, 17, 24) will donate all proceeds to local charities promoting cultural tolerance and protecting civil rights.
33rd New York Salsa Festival
When: Saturday, June 10, 8pm
Where: Barclay's Center, 620 Atlantic Avenue, Prospect Heights
What: The 33rd Annual New York Salsa Festival features Willie Colón, Eddie Palmieri, Tito Nieves, Grupo Niche, Fruko y sus Tesos, Tito Rojas, DLG, Eddie Santiago, and more, performing salsa hits.
How Much: Tickets $55 to $131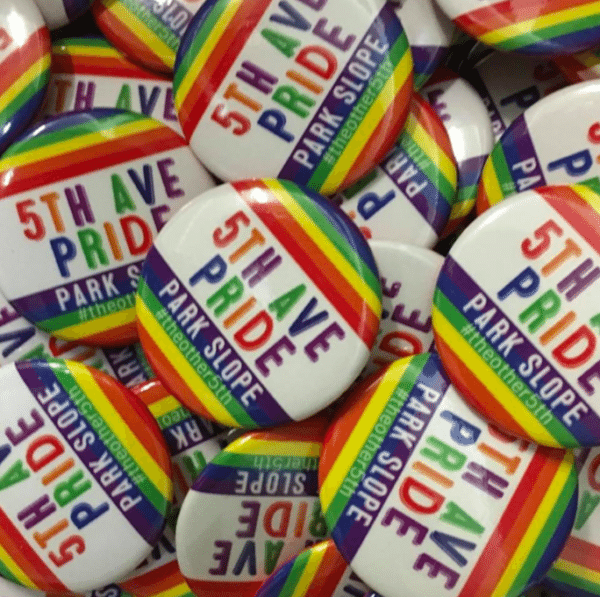 Brooklyn Pride
When: Saturday, June 10 and Sunday, June 11
Where: Various Locations, Park Slope
What: It's Brooklyn Pride's 21st Anniversary! Kick-off Pride with the annual Brooklyn Pride LGBTQIA+ 5K Run through Prospect Park at 10am. Starts at Bartel-Prichard Square. Register here. The Multicultural Festival takes place on 5th Avenue between 1st and 9th Streets from 11am to 5pm, featuring a cross-section of the borough's business, community, and city-wide organizations as well as lots of entertainment. Head over to 5th Avenue at Lincoln Place at 7:30pm to catch the Twilight Parade which will march down to 9th Street.
On Sunday, the Equality Rally for Unity and Pride will take place on the field behind The Old Stone House (336 3rd Street). Hear speakers, clergy, and supporters discuss how to come together to make "Equality. No Exceptions!" a reality. There will be a candlelight vigil at dusk to remember those lost in Orlando's Pulse nightclub shooting one year ago.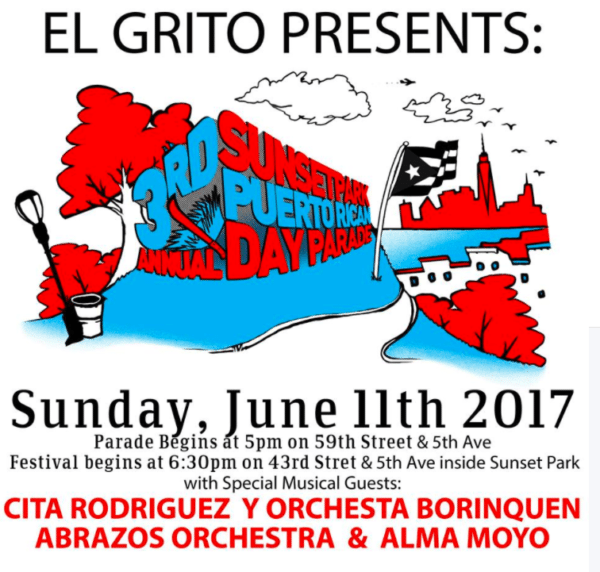 Sunset Park Puerto Rican Day Parade and Festival
When: Sunday, June 11, 5pm to 9pm
Where: Parade begins at 59th Street & 5th Avenue and ends at 44th Street and 5th Avenue, Sunset Park
What: The third annual Sunset Park Puerto Rican Day Parade and Festival is being held in solidarity with and dedicated to the people of Puerto Rico fighting for their civil and human rights.