Weekend Art Events: June 29-July 1 (Garden Party At Green-Wood, Salsa At The Waterfront & More)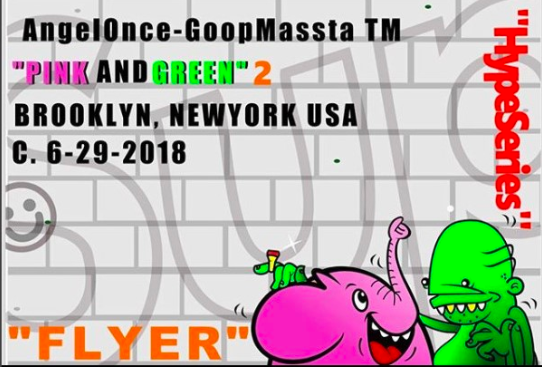 It's hard to believe it's already the last weekend of June. There are lots of events this week to get you outside to enjoy the fleeting summer days, as well as film screenings, the closing party for Haiti Cultural Exchange's Selebrasyon!, a singalong to benefit immigrant families, and even a cheese fest!
Check the BKLYNER Calendar for more events happening around town or to list one of your own.
Selebrasyon! Closing Night Event
When: Friday, June 29, 6pm to 11pm
Where: FiveMyles Gallery, 558 Saint Johns Place, Crown Heights
What: The Haiti Cultural Exchange brings its two-month celebration of Haitian arts and culture to an end with an arts extravaganza and party featuring performances, music, dancing, Haitian food and drinks (Rhum Punch and Prestige beer) and a screening of a collaborative film created by resident artists working in the community.
How Much: Suggested donation $20
Morbid Anatomy Cemetery Garden Party at Green-Wood
When: Friday, June 29, 7pm to 9:30pm
Where: Green-Wood Cemetery, 500 25th Street, Greenwood
What: It's your last chance to visit Morbid Anatomy's pop-up at Green-Wood Cemetery before it closes for the summer. Enjoy music and complimentary snacks, peruse the library, take a final look at the exhibition The Power of Images: Life, Death and Rebirth, and meet Morbid Anatomy's Joanna Ebenstein and Laetitia Barbier as well as artists and contributors to the exhibit.
How Much: Tickets $10, $5 Green-Wood members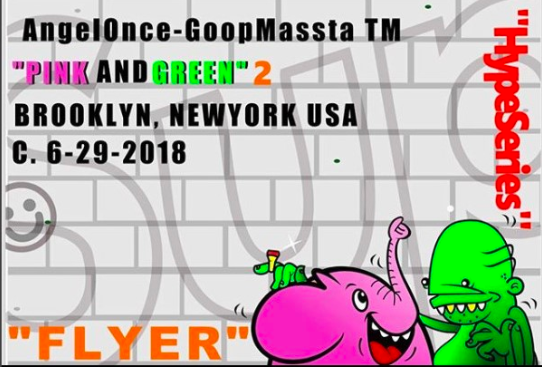 Pink and Green 2, The Hype Series in 3D | AngelOnce x GoopMassta
When: Opening reception Friday, June 29, 7pm to 11pm
Where: 3RD ETHOS Gallery, 154 Knickerbocker Avenue, Bushwick
What: Two West Coast artists AngelOnce (creator of Angry Charlie, the pink elephant) and GoopMassta (creator of hip hop frog) collaborate in NYC for the first time, transforming 3RD ETHOS gallery into a "3D experience of eye-popping colors, retro themes, and animal prints."
LAS MUJERES OAXAQUEÑAS: LA TIERRA Y LA LUZ
When: Friday, June 29 at 7pm
Where: The Castle by Marlow Events, 177 Dwight Street, Red Hook
What: A collaboration between women artists, creatives, and chefs from Oaxaca, Mexico and New York, this four-night conversation and dinner series examines themes of land, female identity, and community. Night #4, LA LUZ ES PARA COMPARTIR: On Creation, Celebration and Connection features a dance performance by Evelyn Méndez, an art installation by Alicia Jiménez, and dinner by Aurora Toledo.
How Much: Tickets $75
Films on the Green Presents Garçon!
When: Friday, June 29, 8:30pm
Where: Transmitter Park, 2 Greenpoint Avenue, Greenpoint
What: This year's free outdoor French film festival lineup includes 12 classic and contemporary films exploring the relationship between French culture and gastronomy. This week's screening features the 1983 Garçon! starring Yves Montand.
How Much: Free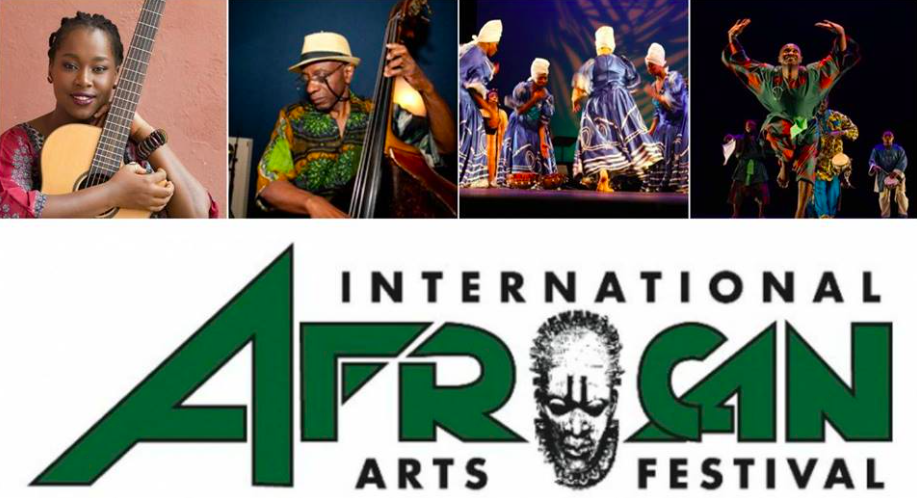 47th Annual International African Arts Festival
When: Saturday, June 30 through Wednesday, July 4, 10am to 9pm
Where: Commodore Barry Park, Flushing Avenue (between Navy St. & North Elliott Pl.), Fort Greene
What: This annual celebration of African arts, culture, and community returns for an extra-long holiday weekend with performances by artists throughout the African diaspora including Elida Alemeida (Cape Verde), Oyu Oro (Cuba), the Muntu Dance Theatre of Chicago, and the Reggie Workman Ensemble (U.S.) headlining the Festival's opening day.
How Much: $5 suggested donation (adults), $2 (kids)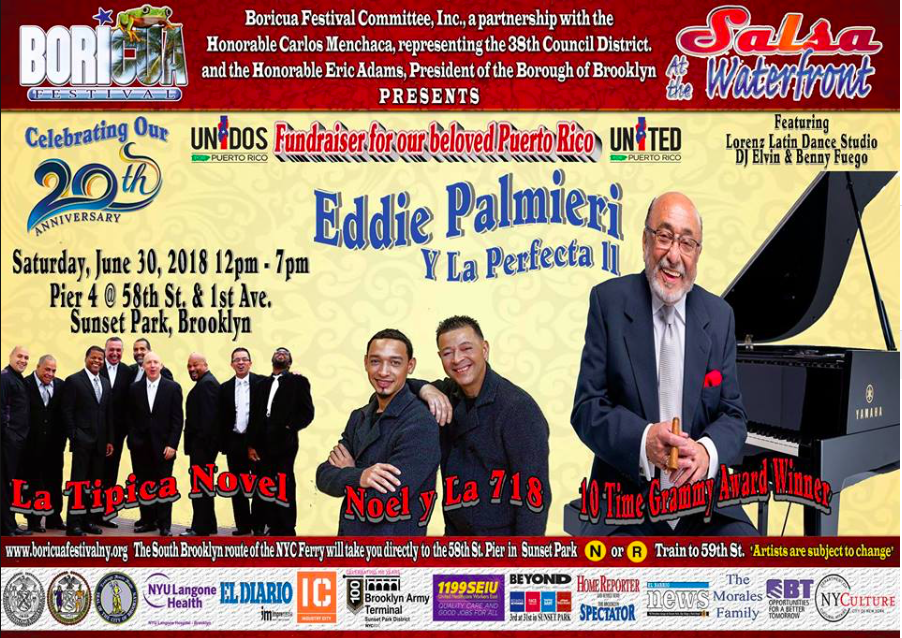 Boricua Festival "Salsa At The Waterfront"
When: Saturday, June 30, 12pm to 7pm
Where: Pier 4 (1st Avenue & 58th Street), Sunset Park
What: For 20 years the Boricua Festival has been uniting Brooklyn's Latino community through social gatherings, activities, and cultural events. This year's Boricua Festival "Salsa at the Waterfront" will feature food, vendors, community-based organizations, and a performance by ten-time Grammy Award winner Eddie Palmieri. Throughout the day, the Boricua Festival Committee will be accepting monetary donations at the event's main stage to support Unidos Por Puerto Rico.
#YoungBlackBrilliance
When: Saturday, June 30, 1:30pm to 3:30pm
Where: Museum of Contemporary African Diasporan Arts, 80 Hanson Place, Fort Greene
What: This interactive public arts program made by and for young black artists features work created by students from five Brooklyn schools based on their personal and collective Black experiences.
How Much: Free, RSVP here
The Cheesemonger Invitational
When: Saturday, June 30, 3pm to 9pm
Where: Brooklyn Expo Center, 72 Noble Street, Greenpoint
What: 30 of the best cheese producers and importers from across the country will come together to share their dairy goods with attendees. If all-you-can-eat cheese isn't enough, there'll also be charcuterie, fondue, grilled cheese, mac n' cheese, ice cream, beer, wine, and more!
How Much: Tickets $80 general admission
New York Nonfiction Short Film Program At Green-Wood Cemetery
When: Saturday, June 30, doors open at 7:45pm
Where: Green-Wood Cemetery, 500 25th Street, Greenwood
What: This collection of a dozen short films celebrates the 8.5 million people who call New York City home, from "neighborhood veterans, creepy Craigslist roommates, and preachers on the corner, to the weirdos wantonly disrupting traffic, the activists fighting gentrification, and the people who just gentrified your neighborhood." The event will also feature live music before the screening and a Q&A and after-party following.
How Much: Tickets $16 for screening, $31 for screening + tour of Green-Wood Cemetery

Flatbush Avenue BID Street Fair With A Caribbean Flair
When: Sunday, July 1, 12pm to 6pm (rain or shine)
Where: Flatbush Avenue (from Parkside Ave. to Cortelyou Rd.), Flatbush
What: The Flatbush Avenue BID hosts this street fair featuring performances by students of the Cynthia King Dance Studio, marching bands, carnival rides, pony rides, food, vendors, raffles, DJs, and more.
Ditmas Families For Families Everywhere: A Singalong For Justice And Peace
When: Sunday, July 1, 12pm
Where: Wattli Bar and Kitchen, 1505 Newkirk Avenue (between Marlborough Rd. & East 16th St.), Ditmas Park
What: All are welcome to join this singalong organized by local parents troubled by the separation of families at the U.S. border. Donations will be collected for Sanctuary for Families, an organization working to support immigrant families in NYC. Wattli Bar and Kitchen will provide light refreshments.
Molly Crabapple & Marwan Hisham: Syria In Ink
When: Exhibition on view through Saturday, June 30
Where: BPL Central Library, 10 Grand Army Plaza, Prospect Heights
What: An exhibition of original artwork from the forthcoming graphic book Brothers of the Gun: A Memoir of the Syrian War, illustrated by BPL's 2018 Katowitz Radin Artist-in-Residence Molly Crabapple and co-authored by Syrian journalist Marwan Hisham. The exhibit features more than 50 of Crabapple's pen-and-ink works displayed throughout the Central Library's lobby and accompanied by an audio guide in which Hisham, now exiled in Turkey, discusses his experiences living through the Syrian conflict, the country's partial occupation by ISIS, and the art it inspired.
A Midsummer Night's Dream
When: Wednesday, June 20 through Sunday, July 1, 7:30pm
Where: Carroll Park, 245 Carroll Street, Carroll Gardens
What: "For Lovers, Leaders and Madmen," Smith Street Stage's production of the Shakespearean classic comedy was reinterpreted for today's audience and imagines New Yorkers as the wild and magical characters from the Bard's play.
How Much: No tickets required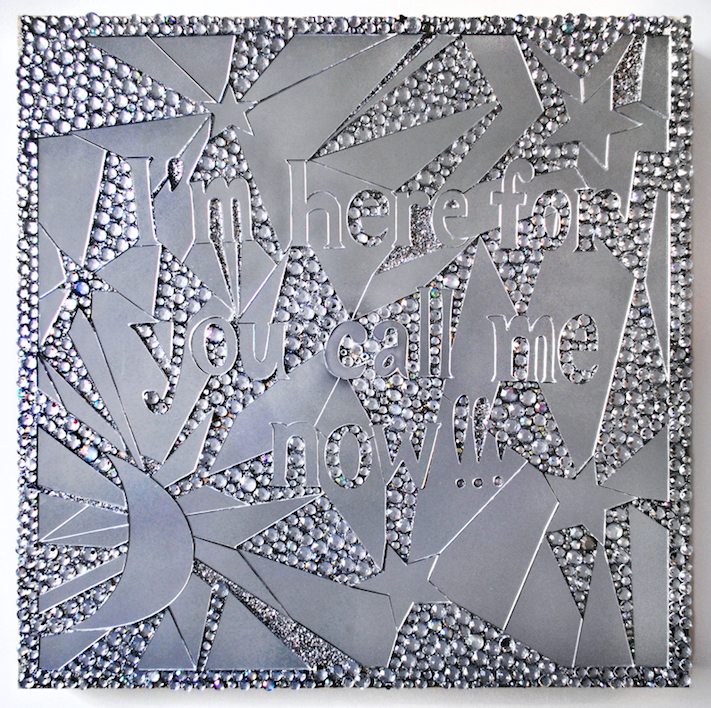 On Reflection
When: Exhibition on view from Wednesday, May 23 through Saturday, July 28
Where: Urban Glass, Agnes Varis Art Center, 647 Fulton Street, Fort Greene
What: An exhibition bringing together the work of six artists who work with reflective surfaces to explore reflection in the physical sense and to reflect the conditions of contemporary experience.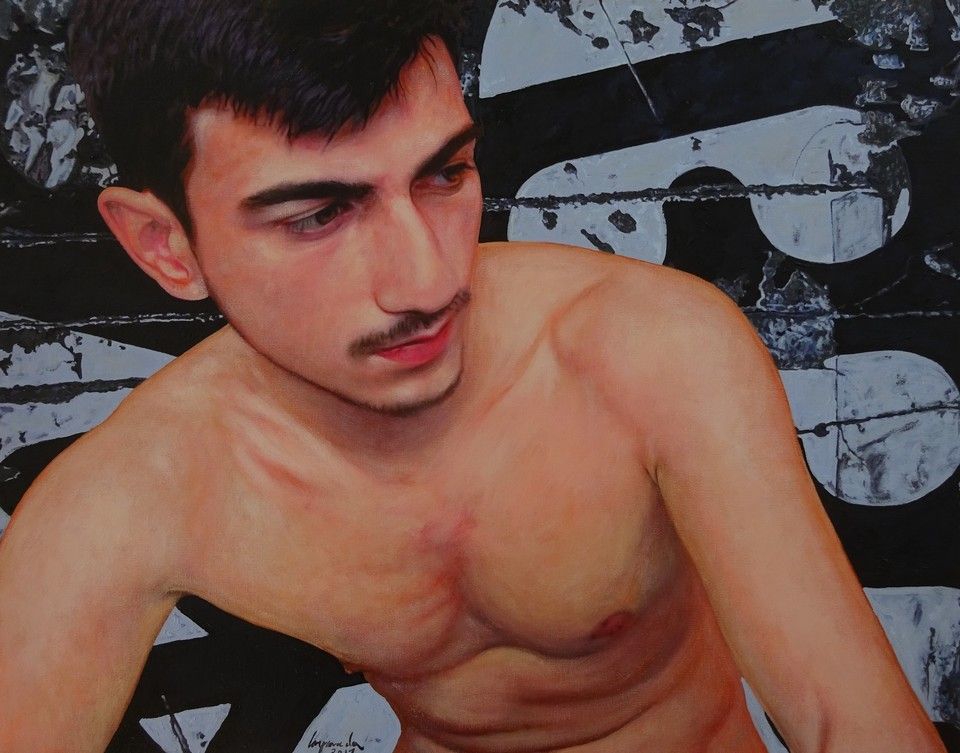 Fernando Carpaneda "New Portraits"
When: On view from Saturday, June 23 through Sunday, July 29 (appointment only)
Where: MF Gallery, 213 Bond Street (between Baltic & Butler St.), Gowanus
What: An exhibition of new paintings and drawings by the New York-based Brazilian artist depicting the beauty and sensuality of men and women. The works aim to provoke questions about equality and inspire acceptance of diversity in human sexuality.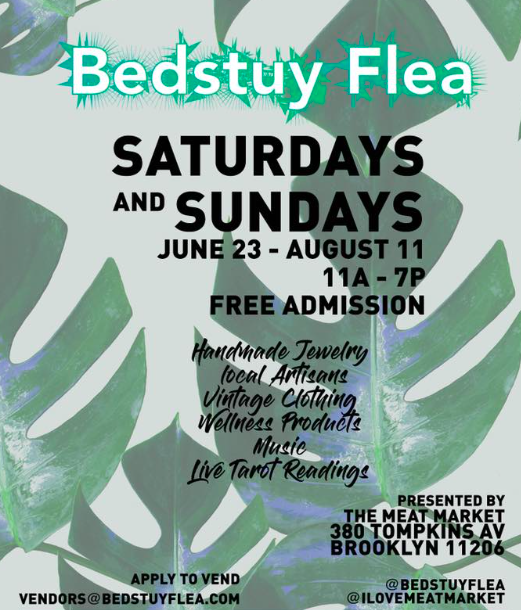 Bedstuy Flea
When: Saturday, June 23 through Saturday, August 11, 11am to 7pm (Saturdays & Sundays)
Where: The Meat Market, 380 Tompkins Avenue (between Putnam & Jefferson Ave.), Bed-Stuy
What: This new summer shopping experience celebrates diversity and will feature more than 30 vendors offering sustainable goods, vintage clothing, handmade items, jewelry, wellness products, arts and crafts, and wares created in the five boroughs and beyond.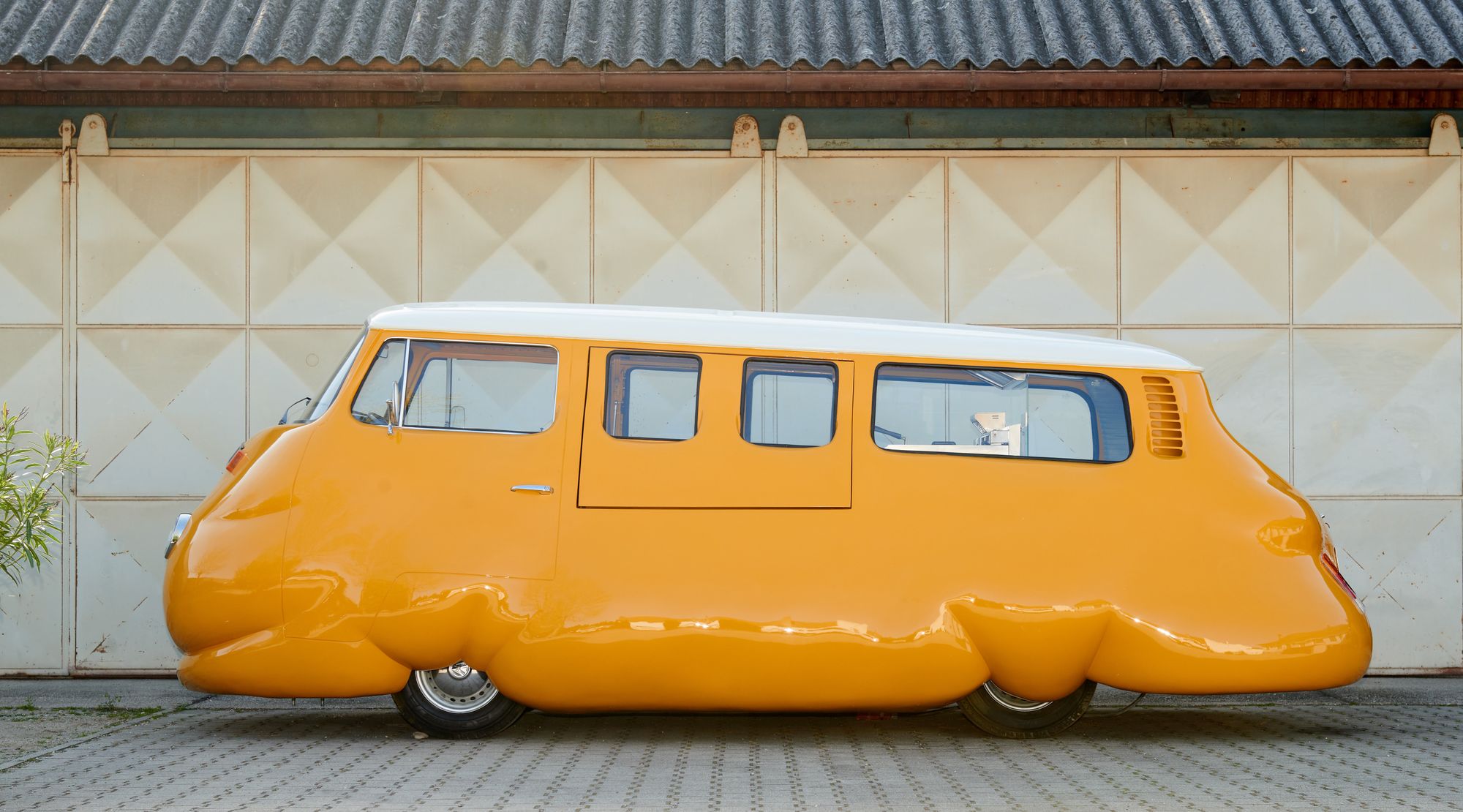 Erwin Wurm: Hot Dog Bus
When: On view from Saturday, June 9 through Sunday, August 26, 12pm to 6pm (weekends)
Where: Brooklyn Bridge Park, Pier 1 and Pier 5
What: The Austrian artist will be passing out free hot dogs to park visitors all summer from a bright yellow, overstuffed Volkswagen Microbus. The bloated-looking bus will force audiences to consider the relationship between capitalism and consumption in society. The Hot Dog Bus will be on view and serving free hot dogs at BBP's Pier 1 on Saturdays and Pier 5 on Sundays.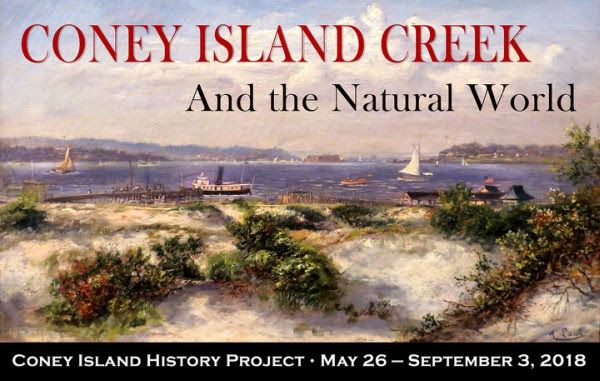 Coney Island Creek and the Natural World
When: Exhibition on view Saturday, May 26 through Monday, September 3 (open Saturdays, Sundays, and holidays)
Where: The Coney Island History Project, 3059 West 12th Street (at the entrance to Deno's Wonder Wheel Park), Coney Island
What: Organized around a timeline of Coney Island Creek from 1645 to 2018, the exhibition illustrates Coney Island's original attraction with maps, photographs, posters, art, artifacts, oral history, and video. The exhibition describes the Creek's environment through history, art, and ecology.
How Much: Free