Weekend Art Events: June 1-3 (Red Hook Fest, Party For The Park, David Sedaris & More)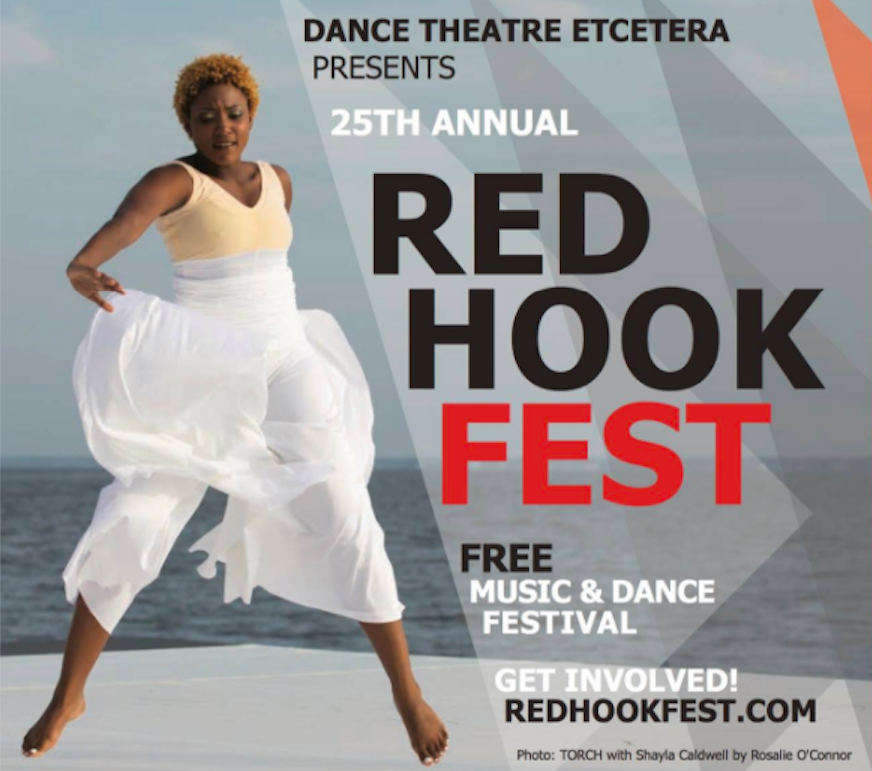 Nothing beats a short work week! It's the weekend again, and there are lots of outdoor events scheduled including movie screenings, performances, festivals, and a dumpling tour to help you celebrate summer's long-awaited arrival.
Don't forget to check the BKLYNER Calendar for more events happening around town or to list one of your own.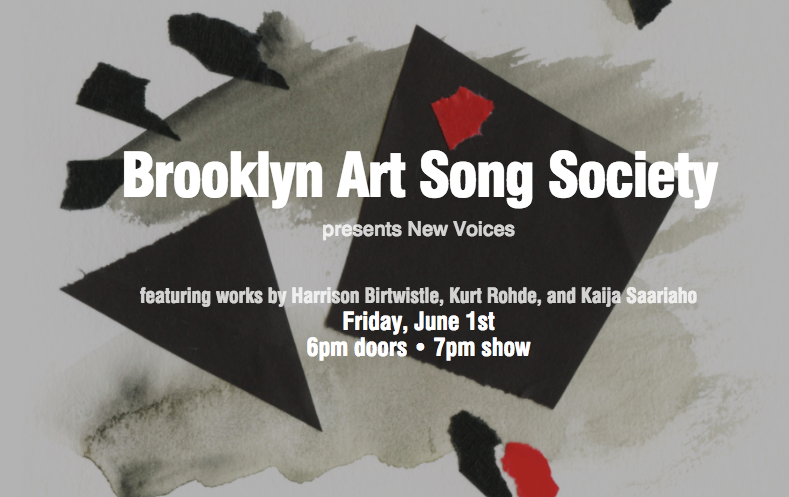 Brooklyn Art Song Society Presents New Voices
When: Friday, June 1 at 7pm
Where: National Sawdust, 80 North 6 Street, Williamsburg
What: Dedicated to the vast repertoire of poetry set to music, the Brooklyn Art Song Society presents New Voices, a concert of 21st-century works including Harrison Birtwistle's Songs from the Same Earth, Kaija Saariaho's 4 Instants, and the world premiere of Kurt Rohde's It Wasn't a Dream. Performers include soprano Charlotte Mundy, tenor Zach Finkelstein, and pianists Michael Brofman and Miori Sugiyama.
How Much: Tickets $29
Movies Under the Stars: Stonewall
When: Friday, June 1, 8:30pm to 10:30pm
Where: McCarren Park Pool Deck (between Lorimer & Leonard Streets), Williamsburg
What: Celebrate Pride Month with a screening of Stonewall (2015). Directed by Roland Emerich, the film tells the story of a gay runaway discovering community and his political voice before the historic riots at the iconic Greenwich Village bar.
How Much: Free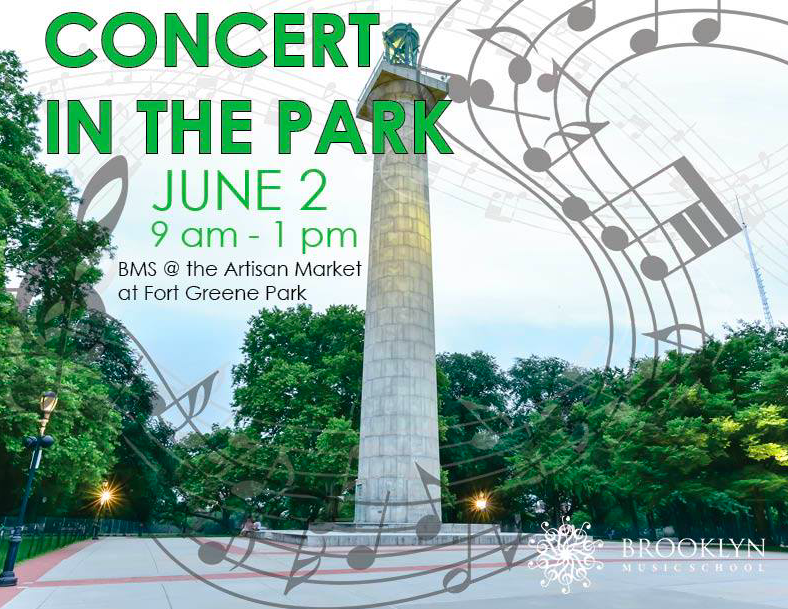 Concert In The Park
When: Saturday, June 2, 9am to 1pm
Where: Fort Greene Park (at the Artisan Market), Fort Greene
What: Enjoy free performances by Brooklyn Music School bands and ensembles while you shop the Fort Greene Park Artisan Market.
How Much: Free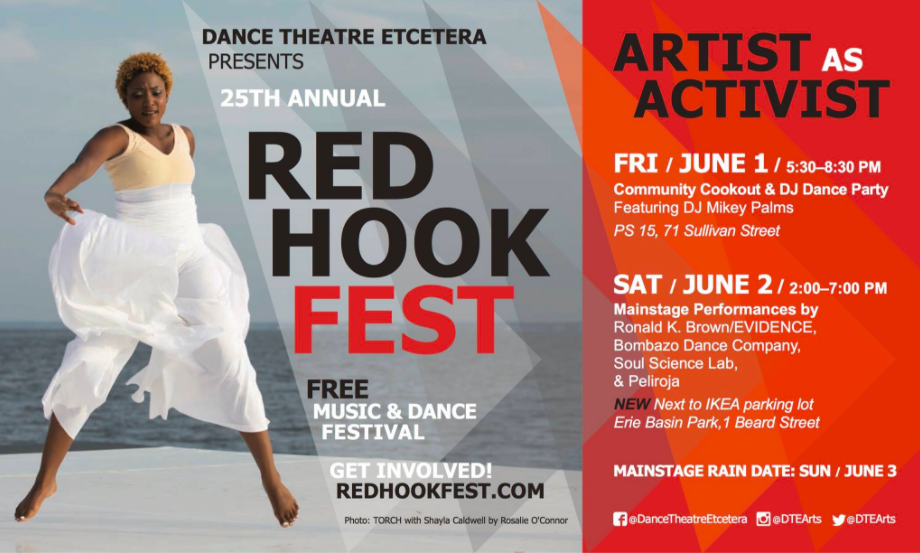 25th Annual Red Hook Fest
When: Saturday, June 2, 2pm to 7pm
Where: Erie Basin Park, 1 Beard Street (near IKEA parking lot), Red Hook
What: The 25th Annual Red Hook Fest returns with live musical and dance performances beside the Brooklyn waterfront. Featuring activities, workshops, community services, games, face painting, food, and performances by the Bombazo Dance Company, Afro-Puerto Rican drum & dance company Peliroja, and the contemporary/traditional African dance company Ronald K. Brown/EVIDENCE.
How Much: Free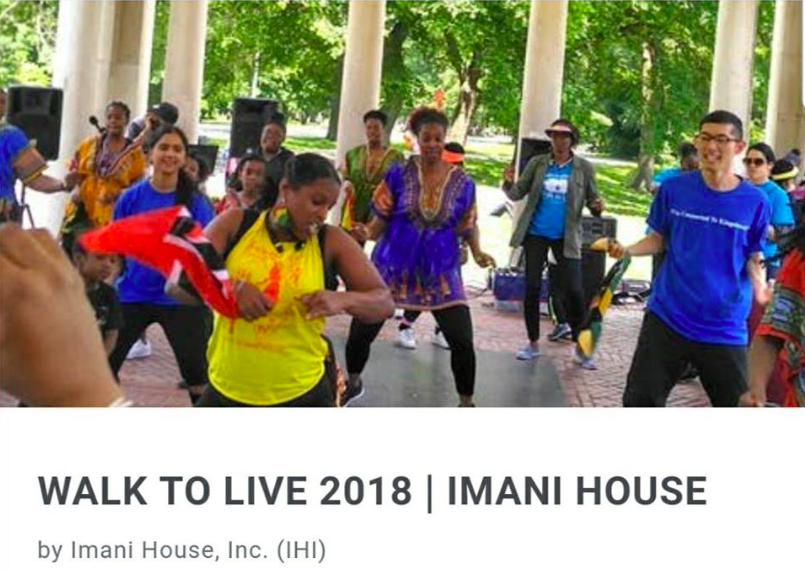 6th Annual Imani House Walk-To-Live Festival
When: Saturday, June 2, 9:30am to 3:30pm
Where: Prospect Park Grecian Shelter (enter via Parkside Avenue), Prospect Park South
What: A community and family event to raise awareness about childhood obesity in an  active, healthy, and fun way, including a 3.6 mile walk around Prospect Park. The event also features free CPR Training, blood pressure screenings, arts & crafts, raffles, music, dance, and more. Learn more about the event here.
How Much: Free; Register to walk ($10 adults, children free)
Rock the House! A Party For the Park!
When: Saturday, June 2, 7pm to 10pm
Where: Old Stone House at J.J. Byrne Playground, 336 3rd Street (between 4th & 5th Avenue), Park Slope
What: Join the Old Stone House for an outdoor party at J.J. Byrne Playground to support the gardens and recreation spaces at the Old Stone House and Washington Park. The adults-only party will feature snacks from local Park Slope restaurants, dancing, and live music.
How Much: Tickets start at $75 per person.
Movies Under The Stars: Art Of Brooklyn Film Festival—Best Of The Fest
When: Saturday, June 2, 6:30pm to 10pm
Where: Sunset Park, 41 Street—44 Street (between 5th & 7 Avenue), Sunset Park
What: Celebrate local independent filmmaking at this party featuring DJs, raffles, and giveaways, as well as free screenings of short films by alumni of The Art of Brooklyn Film Festival—the only independent, international film fest dedicated to independent film in Brooklyn.
How Much: Free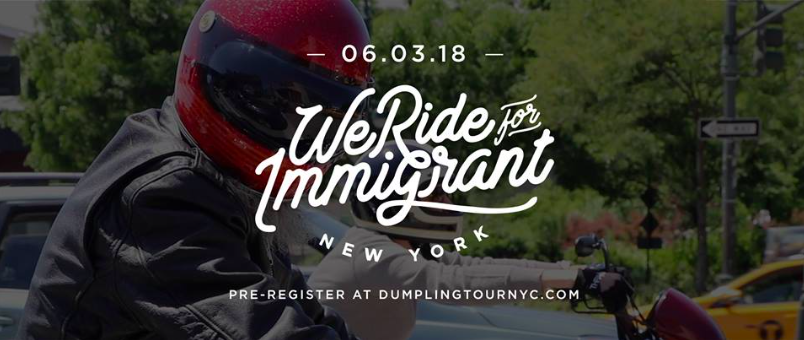 2018 Dumpling Tour
When: Sunday, June 3, 9:30am to 6pm
Where: Meet at Union Garage NYC, 103 Union Street, Red Hook
What: Vintage bikes, sport bikes, scooters, cruisers, and cyclists are all welcome to join in this ride and dumpling tour to raise money for The New York Immigration Coalition. Tour stops include Triple D's in Prospect Heights, Domo Williamsburg, and Ozi Dumplings in Bushwick. A post-ride afterparty will take place at Lot 45 in Bushwick.
How Much: Participants planning to ride on the tour must register.
David Sedaris: Calypso
When: Sunday, June 3, 4pm to 5pm (Doors at 2pm)
Where: Books Are Magic, 225 Smith Street (at Butler St.), Cobble Hill
What: The best-selling author will be reading from and signing copies of his latest collection of essays, Calypso, filled with his signature witty commentary and observations about family, aging, and mortality.
How Much: Free but seating is extremely limited—first come, first serve
Performance As Healing Workshop And Art Talk
When: Sunday, June 3, 1pm to 3pm
Where: The Old Stone House, 336 3rd Street (between 4th & 5th Ave), Park Slope
What: In conjunction with its current exhibition Home Front (see below), the Old Stone House is hosting a two-hour workshop exploring ideas of self, family, home, and community through guided meditation, games, theater exercises, and art therapy practices. The goal of the workshop is to help participants gain a greater awareness of their bodies, minds, and relationships with others, offering tools to use in their daily lives. Participation is required so be prepared to move, speak, interact, challenge yourself, and have fun!
How Much: Free, space is limited so registering is recommended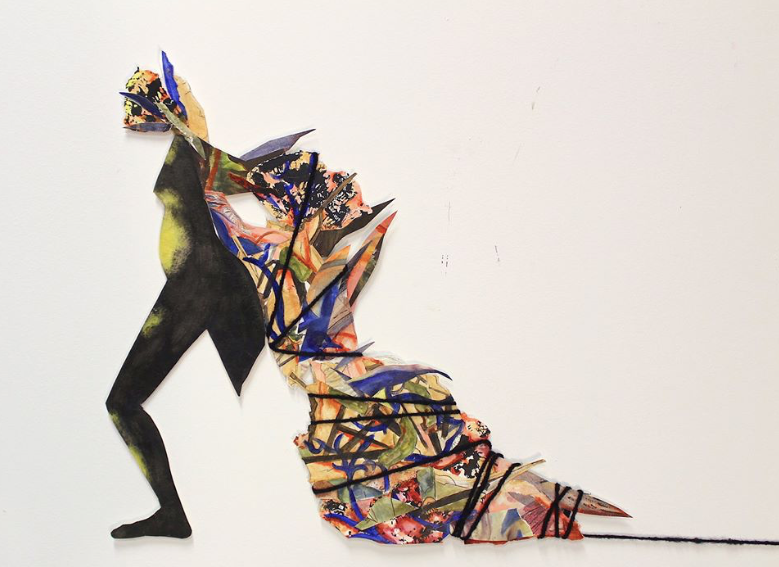 Home Front
When: Exhibition on view from Thursday, April 19 through Sunday, June 24
Where: The Old Stone House, 336 3rd Street (between 4th & 5th Ave), Park Slope
What: This exhibition showcases six artists whose work explores public and private acts of strength and resistance by women in times of social or political upheaval. The artists are inspired by their own family and community histories as well as their ideas of home. Featured artists include: Lauren Frances Adams, Golnar Adili, Aisha Cousins, Maya Jeffereis, Lorena Molina, and Katherine Toukhy.
HIMBAD and the 9th Wave
When: Exhibition on view Friday, May 25 through Sunday, June 24
Where: 3RD ETHOS Gallery, 154 Knickerbocker Avenue, Bushwick
What: "Not all waves are the same and not all waves are of water. Underneath the 9th Wave of the 9th Wave is an entrance to the underworld. Dare to walk this path less trodden?" 3RD ETHOS presents the first NYC solo show of UK-based street artist, HIMBAD.
Molly Crabapple & Marwan Hisham: Syria In Ink
When: Exhibition on view through Saturday, June 30
Where: BPL Central Library, 10 Grand Army Plaza, Prospect Heights
What: An exhibition of original artwork from the forthcoming graphic book Brothers of the Gun: A Memoir of the Syrian War, illustrated by BPL's 2018 Katowitz Radin Artist-in-Residence Molly Crabapple and co-authored by Syrian journalist Marwan Hisham. The exhibit features more than 50 of Crabapple's pen-and-ink works displayed throughout the Central Library's lobby and accompanied by an audio guide in which Hisham, now exiled in Turkey, discusses his experiences living through the Syrian conflict, the country's partial occupation by ISIS, and the art it inspired.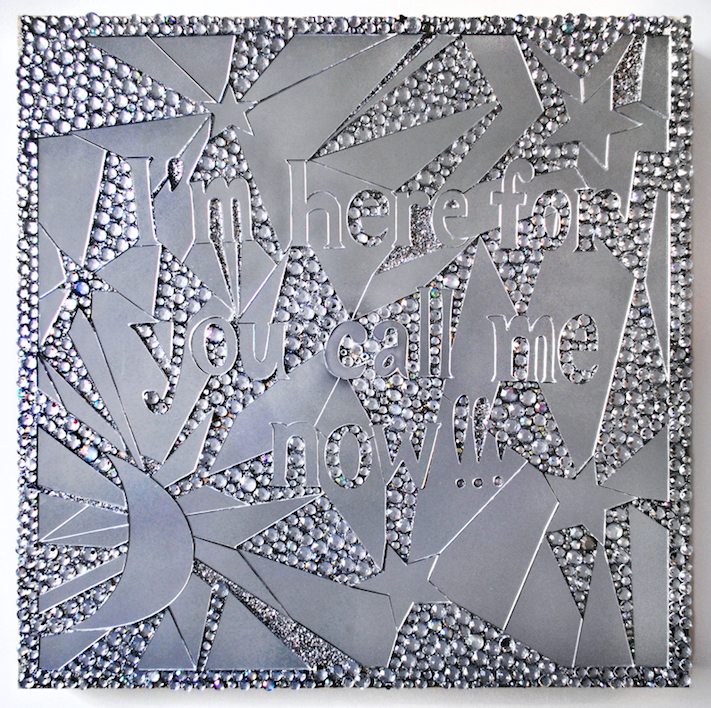 On Reflection
When: Exhibition on view from Wednesday, May 23 through Saturday, July 28
Where: Urban Glass, Agnes Varis Art Center, 647 Fulton Street, Fort Greene
What: An exhibition bringing together the work of six artists who work with reflective surfaces to explore reflection in the physical sense and to reflect the conditions of contemporary experience.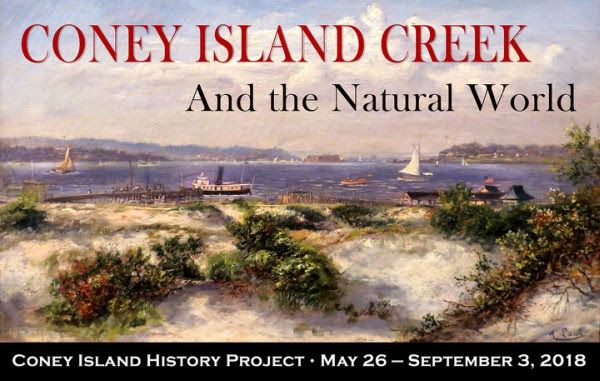 Coney Island Creek and the Natural World
When: Exhibition on view Saturday, May 26 through Monday, September 3 (open Saturdays, Sundays, and holidays)
Where: The Coney Island History Project, 3059 West 12th Street (at the entrance to Deno's Wonder Wheel Park), Coney Island
What: Organized around a timeline of Coney Island Creek from 1645 to 2018, the exhibition illustrates Coney Island's original attraction with maps, photographs, posters, art, artifacts, oral history, and video. The exhibition describes the Creek's environment through history, art, and ecology.
How Much: Free