Weekend Art Events: July 21-23 (Bike Rave, Jazz Fest & More)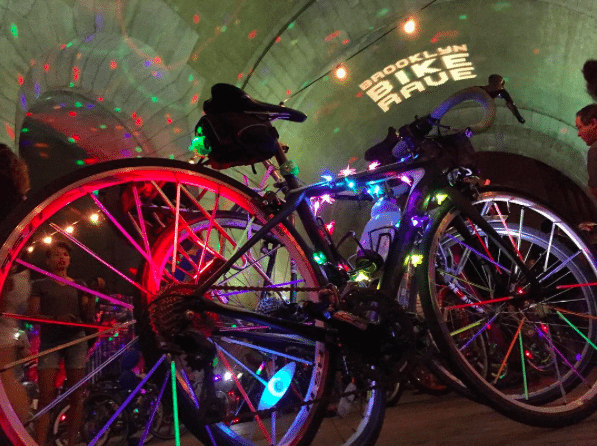 The weather may be steamy, but don't let that stop you from getting out this weekend and enjoying some great events. Just remember to take it easy and drink lots of water!
There's a free BRIC Celebrate Brooklyn! show tonight in Prospect Park and an outdoor game night in DUMBO. The 8th Annual Fort Greene Park Jazz Festival is happening on Saturday, and Piper Theatre's final performance of The Brontës, A Musical is scheduled for Sunday.
Check out the list below for more on what's going on this weekend.
BRIC Celebrate Brooklyn! Festival: Amadou & Mariam
When: Friday, July 21, 6:30pm gates open/7:30pm show
Where: Prospect Park Bandshell, 9th Street & Prospect Park West, Park Slope
What: This husband and wife duo hailing from Mali, Amadou Bagayoko and Mariam Doumbia, will preview their ninth album, La Confusion, which blends West African blues with pop at this free outdoor concert.
How Much: Free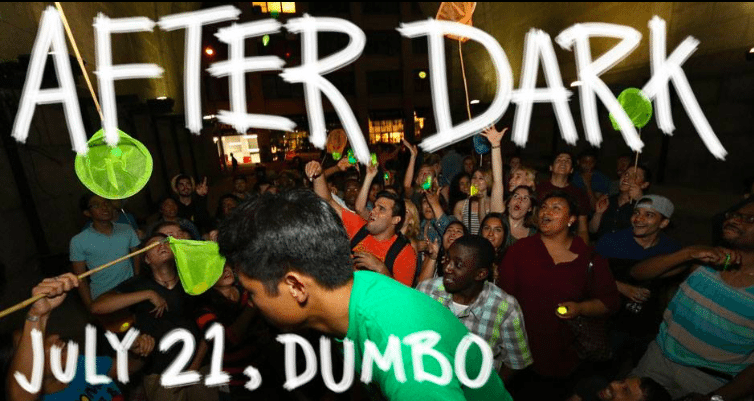 Come Out & Play: After Dark
When: Friday, July 21, 7pm to 10:30pm
Where: Manhattan Bridge Archway Plaza (across from 155 Water Street), DUMBO
What: This annual festival of street games turns New York City into a giant playground. The organizers present innovative public games, like a city-wide game of zombie tag, life-sized Pong using only audio to "hear" the ball, and pummeling papier-mache pigeons with wiffleball bats.
How Much: Free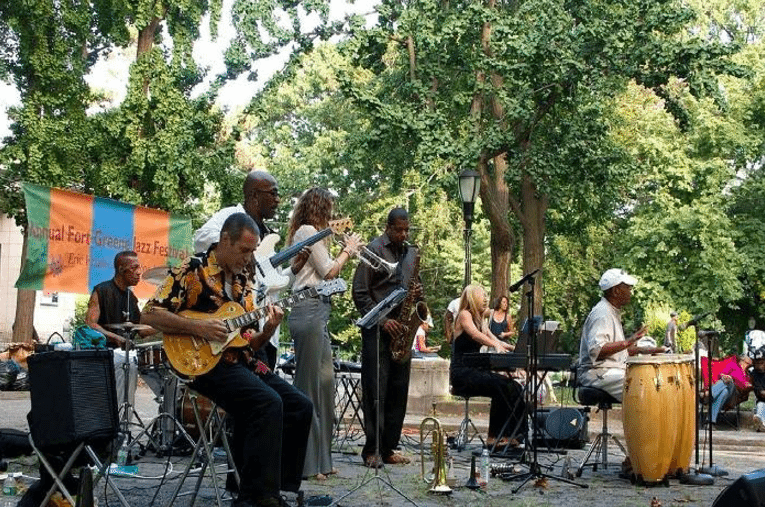 8th Annual Fort Greene Park Jazz Festival
When: Saturday, July 22, 3pm to 7pm
Where: Fort Greene Park, 85 S Oxford Street (near the Visitor's Center), Fort Greene
What: Local jazz legend Eric Frazier hosts this two-part jazz festival (the next date is scheduled for Saturday, September 9) bringing an all-star lineup of some of the city's finest musicians to the park. There will be free giveaways at this family-friendly celebration of music. Check out fortgreeneparkjazzfestival.com for more info.
How Much: Free
Brooklyn Bike Rave
When: Saturday, July 22, 7pm to 10pm
Where: Meet at 1 Commercial Street (at Dupont Street), Greenpoint
What: Dress yourself and your bike up in neon, LED lights, and glow sticks. This seven-mile nighttime ride along the Brooklyn Waterfront starts in Greenpoint, goes through Williamsburg, the Brooklyn Navy Yard, DUMBO, and Brooklyn Bridge Park, and finishes with a party at Manhattan Bridge Archway Plaza. The event supports the Brooklyn Waterfront Greenway.
How Much: Registration $25 – $45
Grand Neptune Ball
When: Saturday, July 22, 8pm to 11pm
Where: Waterfront Museum, 290 Conover Street, Red Hook
What: A celebration on the historic Waterfront Museum Barge, a boat and nonprofit organization raising funds for arts and education programs. Enjoy food and drink from local vendors and dance to live jazz by the Zac Greenberg Quartet. Cocktail attire or 1920s maritime-inspired dress is encouraged.
How Much: Tickets $50 – $100
Swingin' And Stompin': Swingadelic
When: Saturday, July 22, 8pm
Where: On Stage at Kingsborough, 2001 Oriental Boulevard, Manhattan Beach
What: A part of the Hot Summer Nights! Free Outdoor Concert Series, this performance by Swingadelic, "New York City's greatest 'little big band,'" will include Big Band and Great American Songbook classics from Frank Sinatra, Count Basie, Ray Charles, Dean Martin, and more. Swing dancers from The Rhythm Stompers will perform alongside the band.
How Much: Free
The Brontës, A Musical
When: Sunday, July 23, 8pm to 10pm
Where: The Old Stone House at Washington Park, Fourth Avenue between 3rd & 4th Streets, Park Slope
What: This free, outdoor Piper Theatre production of Theater in Asylum's original musical explores the struggles of the Brontë siblings—Charlotte, Emily, Anne, and Branwell. Charlotte wrote the masterpiece Jane Eyre, while Emily wrote the classic, Wuthering Heights. The dynamics of the family, sibling rivalries, and ultimate unraveling of family ties are exposed.
How Much: Free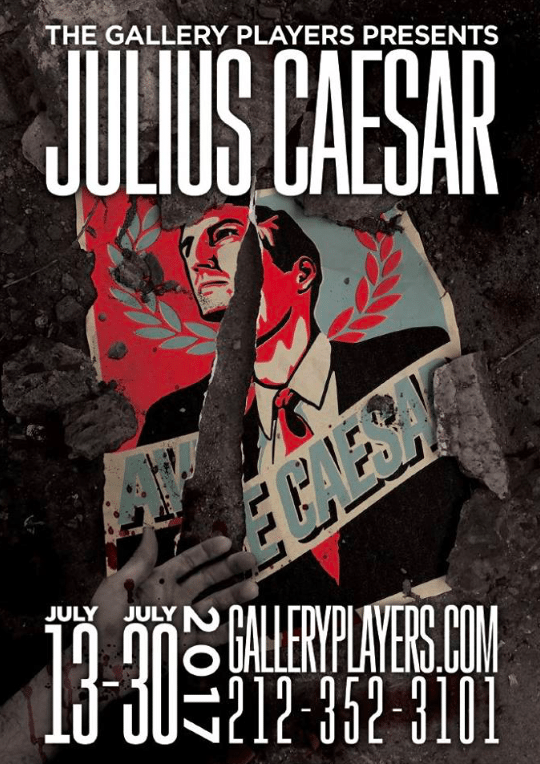 Julius Caesar
When: Thursday-Sundays, July 13 – July 30, 7:30pm, Sundays at 3pm
Where: The Gallery Players, 199 14th Street, Park Slope
What: The Gallery Players perform Shakespeare's story of ambition, duty, and political intrigue in a production compressed into 16 scenes, charting the events leading up to Caesar's assassination and the civil war that follows.
How Much: Tickets $25 adults; $20 children/seniors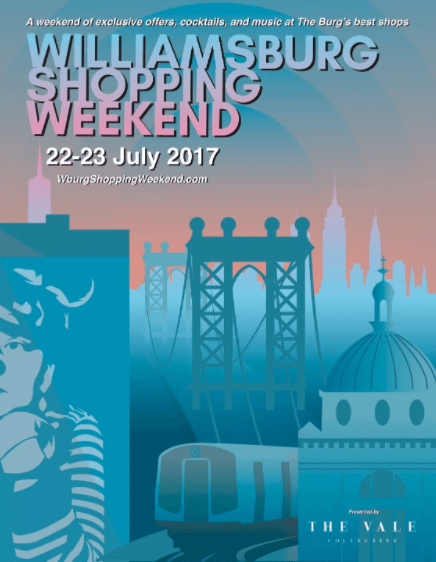 Williamsburg Shopping Weekend
When: Saturday, July 22 and Sunday, July 23
Where: Begin at The Vale Collective, 113 North 7th Street (between Berry Street & Wythe Avenue), Williamsburg
What: A two-day event with retail stores all around the Northside offering special discounts, drinks, and entertainment. Start at The Vale Collective for a welcome cocktail, an illustrated map of participating shops, and a tote bag filled with swag. There will be live music and drinks in their garden from 6pm to 9pm.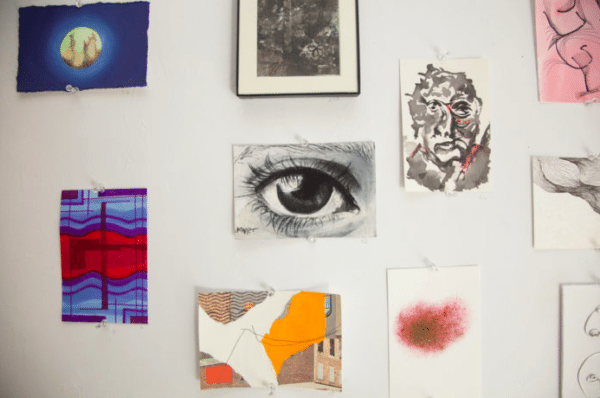 Priority Mail: Our Mail Art Summer Biennial
When: On view from Thursday, July 20 through Sunday, August 20
Where: Ground Floor Gallery, 343 Fifth Street, Park Slope
What: A summer survey featuring 250 small, original artworks created by artists from around the world and mailed to the gallery. In the spirit of inclusion and accessibility, all the works will be priced at $100 with 10% of the profits from the exhibition going to Arts Gowanus.