Weekend Art Events: January 4-6 (First Saturday, First 50 Jokes, FERUS Festival & More)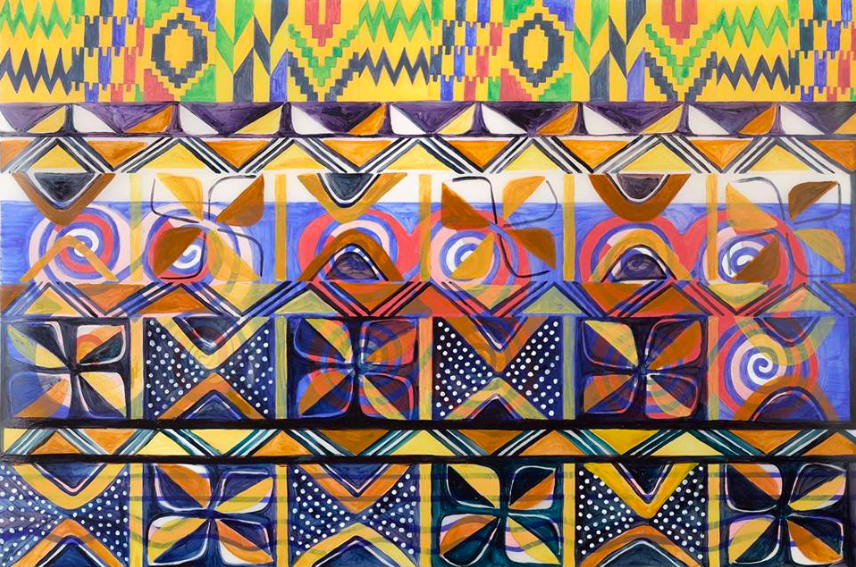 The first weekend of 2019 offers photography, painting, living sculptures, comedy, and lots of music including performances at National Sawdust, Roulette, Brooklyn Museum and more.
Check the BKLYNER Calendar for more events happening around town or to list one of your own.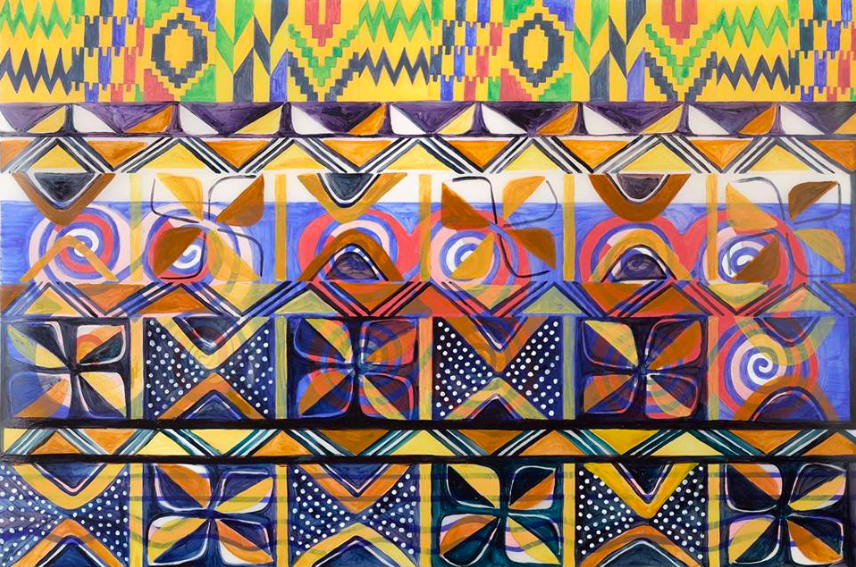 Trish Townes: "Let This Be America"
When: Exhibition on view Thursday, January 3 through Sunday, February 3 (opening reception Sunday, Jan. 6, 6pm to 8pm)
Where: 440 Gallery, 440 6th Avenue, Park Slope
What: Artist Trish Townes' first exhibition at 440 Gallery features abstract paintings based on designs from Islamic, Chinese, Tibetan, East Indian, Nigerian, and Malian cultures created on transparent mylar sheets. The sheets are painted on both sides, with one side displaying the colors of the American flag. Townes hopes "that showing harmonious composition of the different designs may inspire people to work and live peacefully together."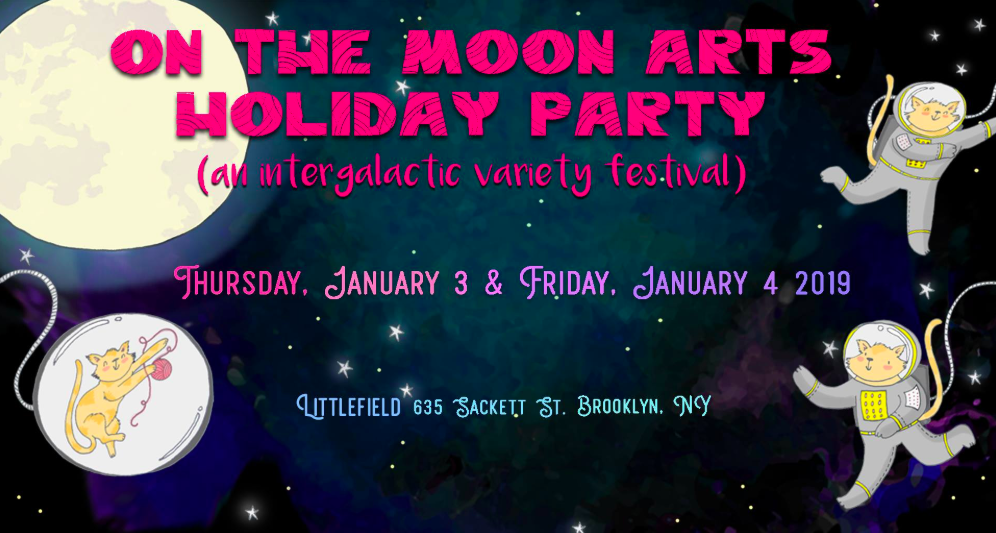 On The Moon Arts Holiday Party
When: Thursday, January 3 & Friday, January 4, 7pm
Where: Littlefield, 635 Sackett Street, Gowanus
What: Presented by On The Moon Arts, this two-night holiday party/variety festival will showcase a "quirky roster" featuring comedy, music, drag, dance, improv, storytelling, and more including Ophira Eisenberg; Lizz Winstead; Leah Bonnema; Adira Amram & The Experience; Joyelle Johnson; The Dance Cartel; Your Love, Our Musical, and many more.
How Much: Tickets $15 – $20
Faces Of Downtown Scene By Maria Baranova
When: Exhibition on view Friday, January 4 through Saturday, February 16 (opening reception, Friday, Jan. 4, 5:30pm to 8:30pm)
Where: The Invisible Dog Art Center, 51 Bergen Street, Boerum Hill
What: Maria Baranova's two-year "Faces of Downtown" project is dedicated to NYC's experimental performance community. The photographer has shot more than 200 portraits of off-Broadway dancers, choreographers, actors, producers, playwrights, designers, and directors at her Gowanus studio, including Ivy Baldwin, Yanira Castro, Meg Harper, Bobbi Jene Smith, and more. The opening reception for the exhibit will feature "Surveys the Prairie of Your Room," a special performance by Witness Relocation/Dan Safer (6:30pm).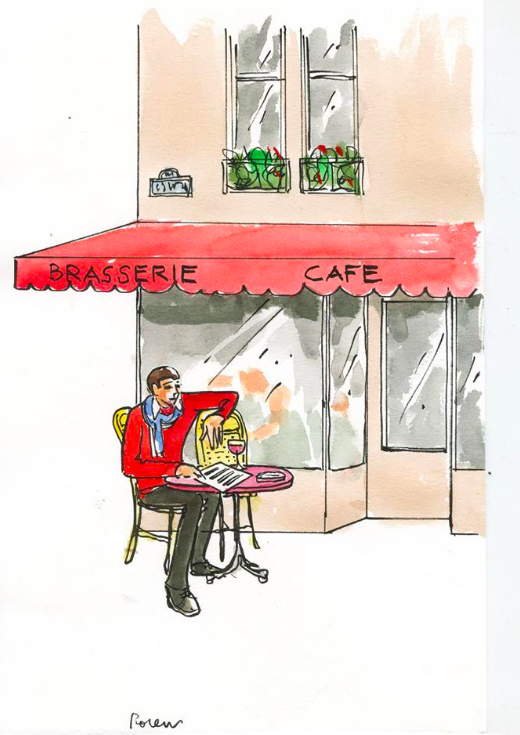 Brooklyn Art Song Society Presents American Iconoclasts III: Ned Rorem
When: Friday, January 4, 7:30pm
Where: Brooklyn Historical Society, 128 Pierrepont Street, Brooklyn Heights
What: Brooklyn Art Song Society presents a celebration of the songs of Ned Rorem, one of the most prolific American song composers who reinvigorated the form during his time in Paris in the 1950s and 60s. The program will present two of his greatest cycles, War Scenes and Poems of Love and the Rain, along with other works performed by sopranos Justine Aronson and Sarah Brailey; mezzo-soprano Annie Rosen; baritone Steven Eddy; bass-baritone Dashon Burton; and pianists Michael Brofman, Daniel Schlosberg, and Daniel Zelibor.
How Much: Tickets $25, $15 student/senior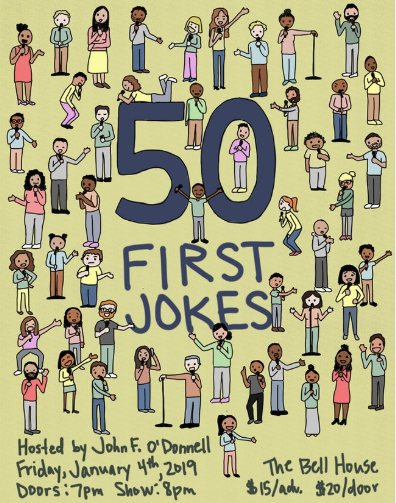 13th Annual 50 First Jokes NYC
When: Friday, January 4, 8pm (doors open at 7pm)
Where: The Bell House, 149 7th Street, Gowanus
What: 50 First Jokes NYC returns to The Bell House showcasing "50 Comics. One Mega Show. 1st New Joke of the New Year!" The annual comedy event celebrates NYC's standup comedy scene and features a mix of established comedians along with up-and-comers presenting the first new joke each has written in the new year.
How Much: Tickets $15 in advance, $20 at door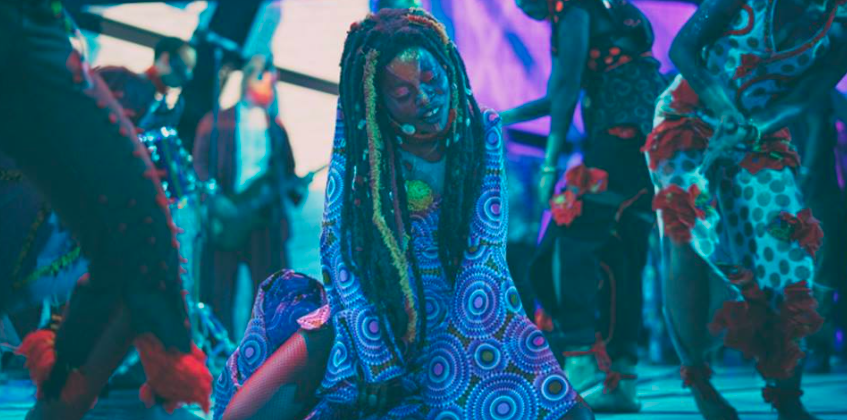 FERUS Festival
When: Friday, January 4 through Tuesday, January 8
Where: National Sawdust, 80 N 6th Street, Williamsburg
What: National Sawdust's four-day FERUS Festival showcases the latest in cutting–edge new music, featuring a variety of new music programs including the debut of two new concerts featuring Artists-in-Residence Huang Ruo and Jojo Abot; Projects-in-Residence, the chamber opera Chimera by Angélica Negrón; music from the winner of National Sawdust's inaugural Hildegard Competition, Kayla Cashetta and her band maenu; and work by current and past curators. Visit nationalsawdust.org for the full schedule of performances and ticket info.
How Much: Tickets start at $22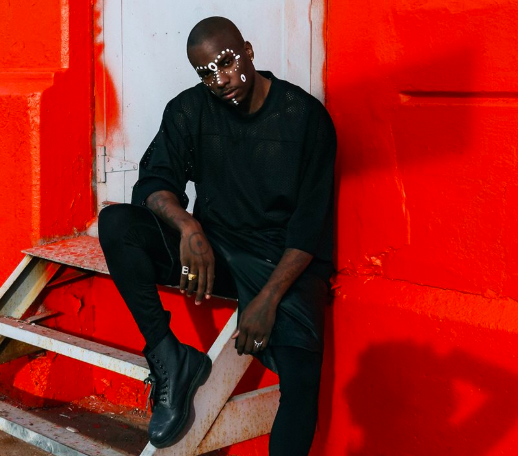 Target First Saturday: New Year, New Futures
When: Saturday, January 5, 5pm to 10pm
Where: Brooklyn Museum, 200 Eastern Parkway, Prospect Heights
What: "What will you do to transform our world this year? Imagine new possibilities and make commitments to transforming our communities with artists and change makers." The first Target First Saturday of 2019 features music by N0VA tREK, Bembona, and Young Paris as well as pop-up poetry, a dance showcase, a community talk, and a performance of Timothy DuWhite's Neptune.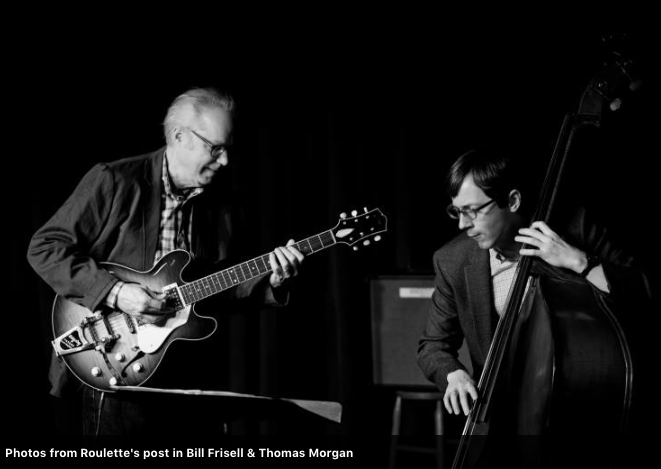 Bill Frisell & Thomas Morgan
When: Saturday, January 5, 8pm
Where: Roulette, 509 Atlantic Avenue (at 3rd Avenue), Boerum Hill
What: Catch bassist Thomas Morgan and guitar legend Bill Frisell in the duo's only 2019 performance. The musicians will play works from their 2017 album Small Town as well as their soon-to-be-released Epistrophy.
How Much: Tickets $35 in advance, $45 at door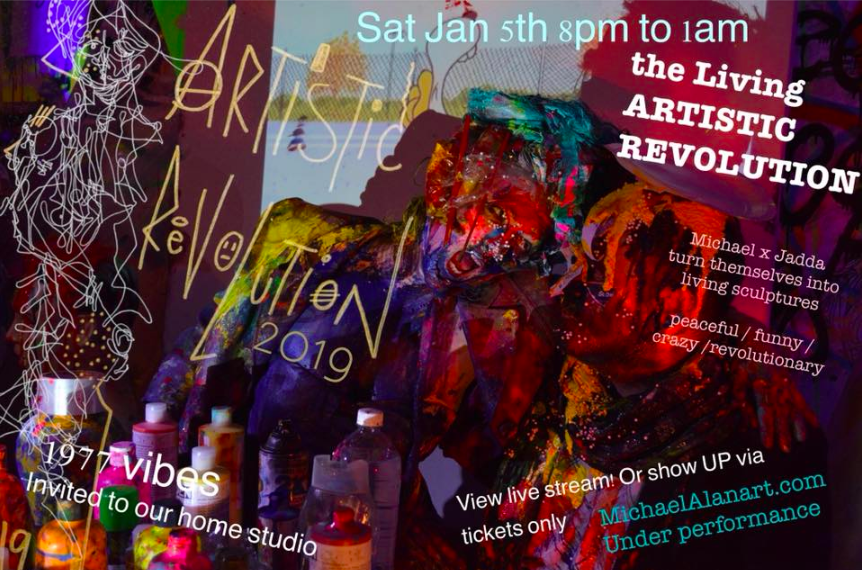 The Living Installation | Artistic Revolution
When: Saturday, January 5, 8pm to 1am
Where: Address info provided with confirmation of ticket sale, Bushwick
What: Experience this installation in-person or check it out online as artists Michael Alan and Jadda Cat transform themselves into living sculptures and "become living self painted, acted out anti-heroes demonstrating actions, movements, and body transformation against our corrupt art scams and governments worldwide."
How Much: Tickets $20, $40 ticket & donation
Looking ahead…
Opera On Tap: Opera Dinner Theater! (Sponsored)
When: Thursday, January 10, 9pm
Where: Freddy's Bar & Backroom, 627 5th Avenue, Park Slope
What: Straight from the tap, Freddy's Bar and the Divas of Opera on Tap bring you the Home Brewed Opera series: funny, engaging, immersive operatic concerts in a casual setting. For our first show in 2019, bring your beer stein, put on your bib, and join us for a night of opera paired with items off of Freddy's delicious menu and beer!
How Much: $10 suggested donation
Reclamation: Ruddy Roye & Curtis Talwst Santiago
When: Exhibition on view through Sunday, January 6, 2019
Where: Brooklyn Public Library, Central Branch, 10 Grand Army Plaza, Prospect Heights
What: This joint exhibition of photographs by Radcliffe "Ruddy" Roye and sculptures by Curtis Talwst Santiago focuses on the Black experience, "contrasting the realism of contemporary inequality and structural racism with the positive force of cultural resistance." The double meaning behind the exhibit's name references salvaging or reclaiming material and reasserting rights. Santiago's Infinity Series features jewelry boxes repurposed into mini dioramas illustrating contemporary life and folkloric imagery that examine mass migration, incarceration, slavery, African religion and myth. Roye's ongoing photo project When Living Is a Protest addresses issues of police brutality, racism, and social protest.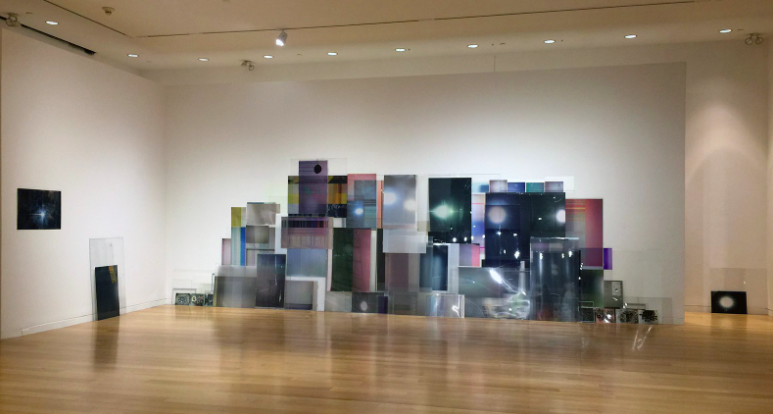 Penelope Umbrico: Monument
When: Exhibition on view Thursday, November 29 through Sunday, January 20, 2019
Where: Gallery at BRIC House, 647 Fulton Street (enter on Rockwell Place), Fort Greene
What: Umbrico's exhibit explores technologies in terms of their obsolescence, beginning with the idea that all technologies are "'black boxes' whose contents are largely incomprehensible to end users." The center of the exhibition consists of a wall displaying broken and semi-functional TV and computer monitors showing the news. Behind the wall is a "knolling table," where visitors are invited to contribute their unwanted screen-based electronic devices to be disassembled and arranged for an overhead photograph that will be shared on social media.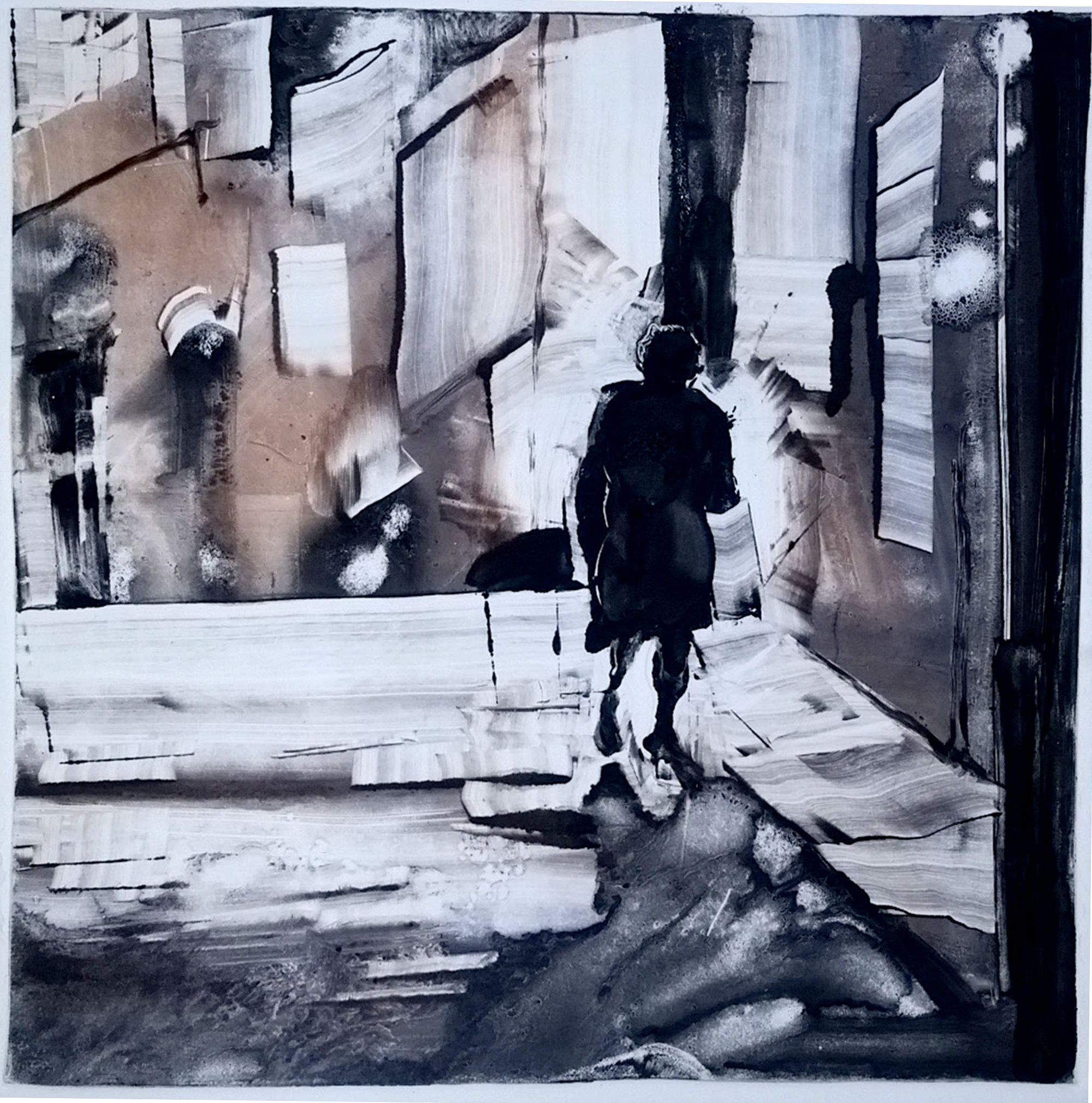 Tom Bennett: Paintings and Master Prints
When: Exhibition on view Sunday, December 9 through Saturday, February 9, 2019
Where: Tabla Rasa Gallery, 224 48th Street (between 2nd & 3rd Avenues), Sunset Park
What: Bennett's artwork features "impassioned brushwork, bold compositions, and rich subject matter" including bucking horses and classical nudes.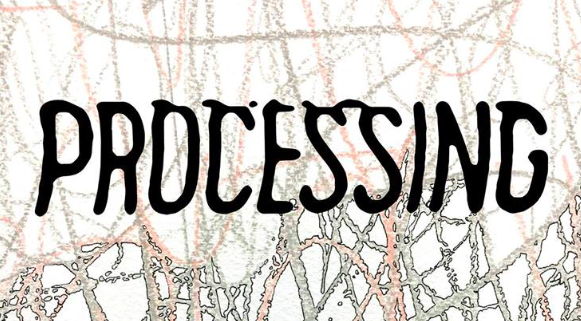 Processing
When: Exhibition on view Saturday, October 20 through Friday, February 15, 2019 (Fridays 3pm to 6pm, or by appointment)
Where: The Old Stone House, 336 3rd Street (between 4th & 5th Avenues), Park Slope
What: The Old Stone House presents an exhibition of current work by the members of the  Gowanus Swim Society artist collective. The eight artists manipulated their art materials through "intentional, systematic procedures that sometimes incorporate[d] chance," producing work that borders on representation and abstraction while showing "the evolution of most artists' work processes."