Weekend Art Events: January 25-28 (Femme Fatales, Philosophy, Psychotic! & More)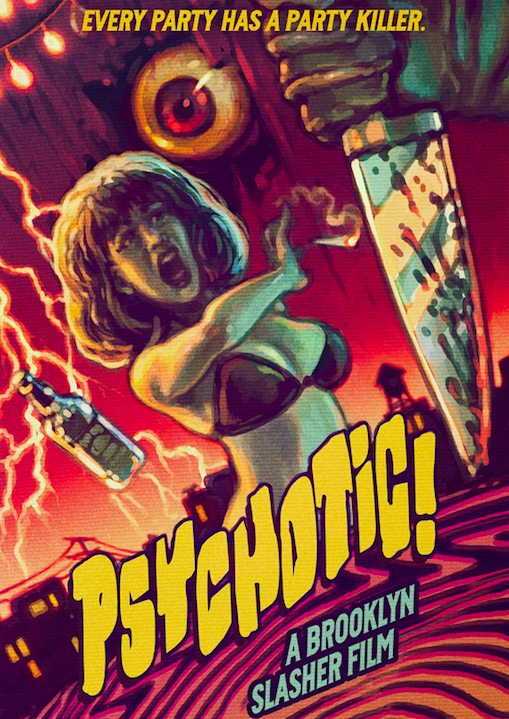 The weekend is almost here! There's lots to check out starting on Thursday, from art exhibitions, performances, and film screenings.
Feeling philosophical? The all-night Philosophy & Ideas event returns to the Central Library branch for twelve hours—from Saturday night into Sunday morning.
Don't forget to check out the BKLYNER Calendar for more events happening around town or to list one of your own.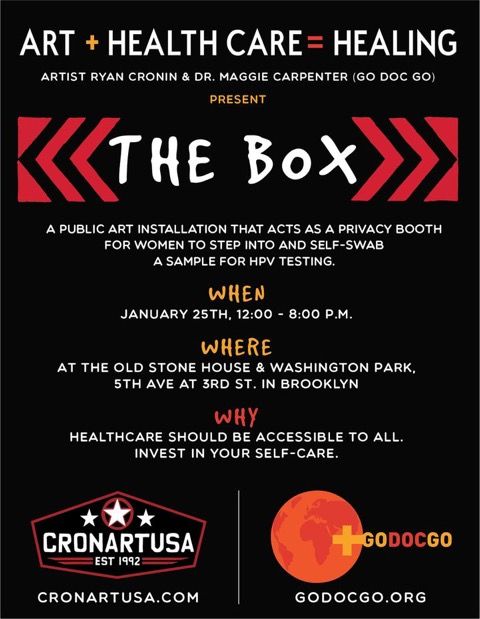 The Box: Cervical Cancer Prevention Test & Public Art Installation
When: Thursday, January 25, 12pm to 8pm
Where: The Old Stone House, 336 3rd Street (between 4th & 5th Avenues) Park Slope
What: Dr. Maggie Carpenter and artist Ryan Cronin created "The Box," a public art piece that also acts as a privacy booth for women's free HPV testing, allowing women to take their healthcare into their own hands. Cervical cancer screening has been done with a pap smear which required a doctor's visit. Now HPV testing is an established alternative to pap smear screening in women 30-65. The art installation will provide a safe, private place for women to self-collect their samples. No exam necessary! Dr. Carpenter will be on-site to assist participants who will be contacted via phone with their results.
Lyrics from Lockdown: Hip Hop & Spoken Word by Bryonn Bain
When: Thursday, January 25 at 6pm
Where: St. Francis College, Genovesi Center, 180 Remsen Street, Brooklyn Heights
What: A Brooklyn-born hip-hop artist and poet, Bain was wrongfully imprisoned in a case of mistaken identity while a student at Harvard Law. Now a prison activist, actor, author, educator, and member of the faculty at UCLA, Bain returns to Brooklyn to deliver his groundbreaking one-man show that confronts America's unresolved conflicts surrounding race.
How Much: Email events@sfc.edu for tickets.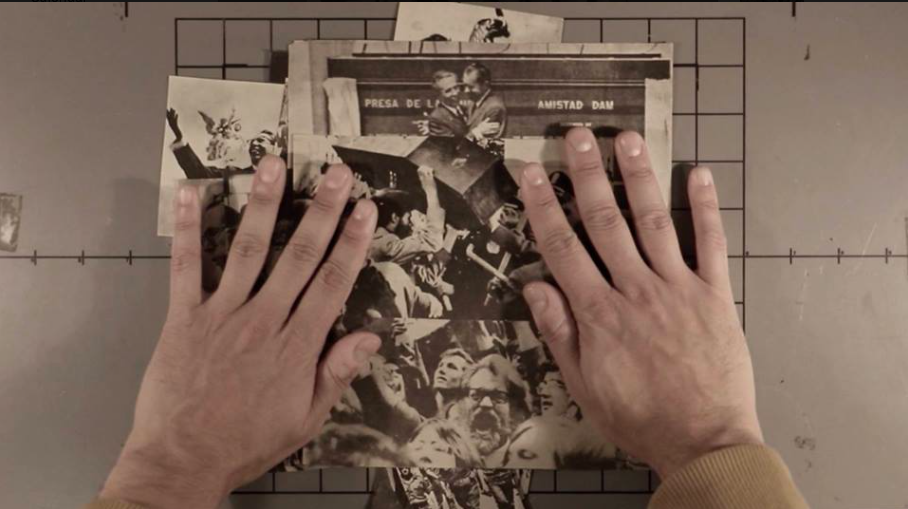 Film Screening: At the Top of Grasshopper's Hill
When: Thursday, January 25 at 7pm
Where: Interference Archive, 314 7th Street, Park Slope
What: A screening of this essayistic film, organized in three chapters, examining overlapping narratives in Mexico City surrounding the Second French Empire's invasion in Mexico in 1861 and the 1968 state-sponsored student massacre at Tlatelolco. The 26-minute film is composed of a mix of archival footage of hollywood-esqe films and 16mm footage from the military combined with re-stagings and digital interventions. A discussion will follow the screening with filmmaker Suneil Sanzgiri and artist/educator Carla Herrera-Prats.
How Much: Free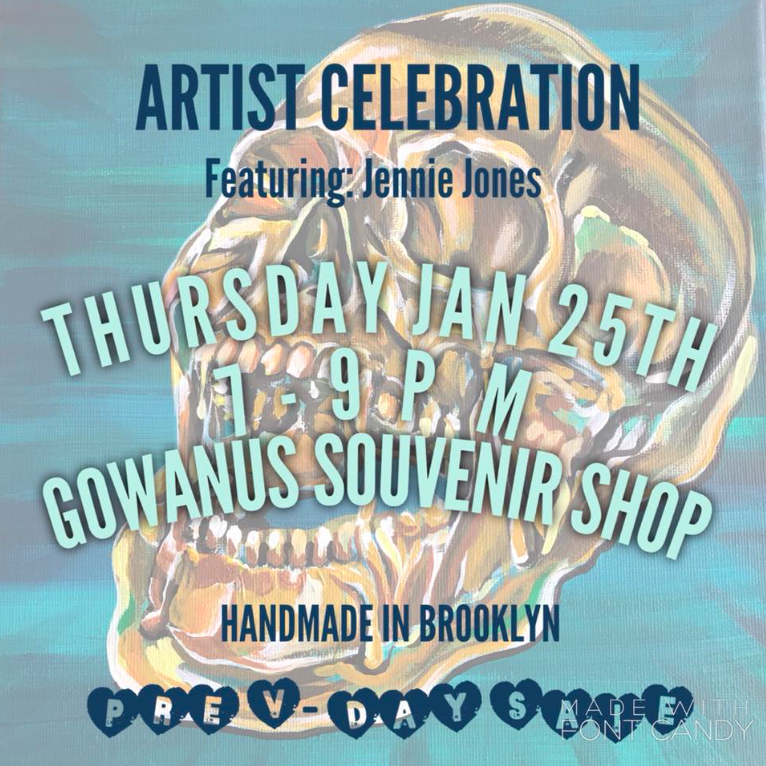 Handmade in Brooklyn Pre-Valentine's Day Sale & Art Show
When: Thursday, January 25, 7pm to 9pm
Where: Gowanus Souvenir Shop, 567 Union Street, Gowanus
What: An event celebrating Gowanus Souvenir Shop resident artist, Jennie Jones, and all the makers featured in Handmade In Brooklyn. There will be pre-Valentine's Day sales, drinks, and mingling with the artists and makers.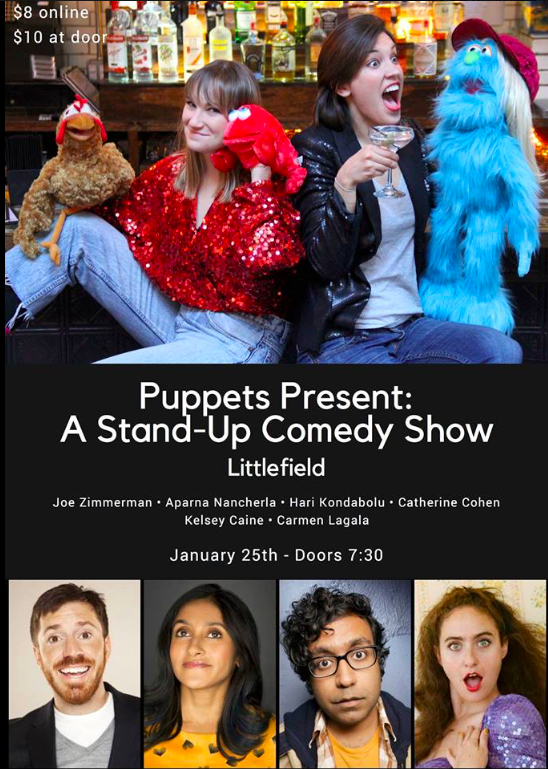 Puppets Present: A Stand-Up Comedy Show
When: Thursday, January 25, 7:30pm to 10pm
Where: littlefield, 635 Sackett Street, Gowanus
What: Kelsey Caine and Carmen Lagala host a stand-up comedy show where comedians interact with puppets after their sets. It's as if Sesame Street grew up and got weird. Featuring comedians Aparna Nancherla, Hari Kondabolu, Joe Zimmerman, and Catherine Cohen.
How Much: Tickets $8 in advance, $10 at door
She Stands Alone
When: Thursday, January 25—Saturday, January 27, 7:30pm and 9:30pm
Where: Irondale, 85 South Oxford Street (at Lafayette Avenue), Fort Greene
What: Check out the second week of Irondale's She Stands Alone, featuring two solo performances by women who grew up facing extraordinary difficulties—Lee Harrington's Jellybean and Vicki Tanner's Running Into Me. Read more about the program here.
How Much: Tickets $30 for both shows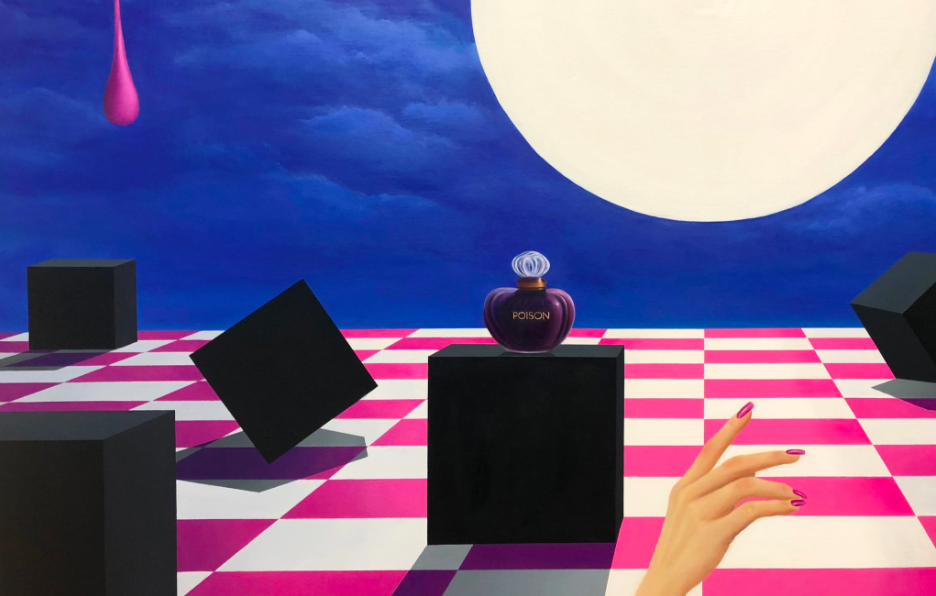 Under the Paper Moon
When: Friday, January 26, 6pm to 9pm
Where: 56 Bogart Street, East Williamsburg
What: Artist Teresa Kudarauskas presents a new '80s-esque, surrealist work entitled "Under The Paper Moon" that tackles the underlying issue of reaching for the hand that hurts you, as well as how the allure of products and desires negatively affect our psyche.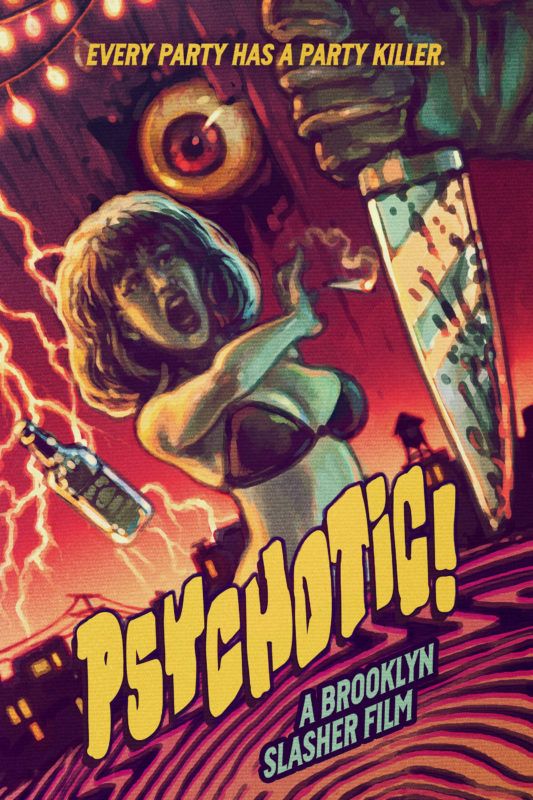 Psychotic! Screening at Film Noir
When: Friday, January 26, 8pm to 10pm
Where: Film Noir Cinema, 122 Meserole Avenue, Greenpoint
What: The rent is high but the body count is higher in this suspenseful, psychedelic slasher that follows a group of hard-partying Brooklyn hipsters as they're stalked and savagely murdered by a masked maniac known as the "Bushwick Party Killer." Williamsburg's Videology will also screen Psychotic! on Saturday, January 27 at 6:30pm.
How Much: Tickets $10
Art in the Bar
When: Saturday, January 27, 2pm to 4pm
Where: The Lodge at Sycamore (heated tent in back garden), 1118 Cortelyou Road, Ditmas Park
What: This Acrylic on Canvas workshop will teach students basic acrylic painting techniques, which will be applied to their own finished paintings. Attendees will be taught the skills they need to create the painting of their choosing. One 8 x 10 canvas and canvas paper will be provided, along with all painting materials.
How Much: Tickets $65 per student
A Night of Philosophy & Ideas 2018
When: Saturday, January 27—Sunday, January 28, 7pm through 7am
Where: Brooklyn Public Library, Central Library, 10 Grand Army Plaza, Prospect Heights
What: This all-night philosophy event will be a twelve-hour marathon of philosophical debate, performances, screenings, readings, and music featuring dozens of acclaimed philosophers, social critics, and thinkers. Co-presented with the Cultural Services of the French Embassy.
Igor Butman & Friends
When: Saturday, January 27 at 8pm
Where: On Stage at Kingsborough, 2001 Oriental Boulevard, Manhattan Beach
What: Join this international jazz superstar and his outrageous quintet for an intimate and swinging evening featuring award-winning piano and vocal jazz prodigy Oleg Akkuratov and more surprise guest vocalists.
How Much: Tickets $32 – $37
Stoopdreamer
When: Sunday, January 28, 5pm to 6:30pm
Where: St. Francis College, Founder's Hall, 180 Remsen Street, Brooklyn Heights
What: A staged reading of Pat Fenton's play about the gentrification of Windsor Terrace. Set in Farrell's Bar & Grill, the play focuses on the memories of three locals—Jimmy the bartender and two of the bar's regulars. Read more about Stoopdreamer here.
How Much: Tickets $10 in advance, $15 at door
House of Noire Presents: FEMME FATALE Burlesque Experience
When: Sunday, January 28, 7pm to 10pm
Where: House of Yes, 2 Wyckoff Avenue, Bushwick
What: Join​ House of Noire ​for a night of elegant seduction, libations, music, burlesque, and immersive artistry. Featuring Perle Noire, Bizzy LeBois, Tutu Toussaint, Lilin Lace, Pearls Daily, Poison Ivory (Miss Exotic World 2016), Taradise, and Storm Marrero.
How Much: Tickets $15 – $40
Waterfront
When: Exhibition on view beginning Saturday, January 20
Where: Brooklyn Historical Society DUMBO, 55 Water Street, DUMBO
What: The culmination of four years of research and development, Waterfront is the first major exhibition focusing on the history of Brooklyn's coastline. The exhibit and multimedia experience brings to life the vibrant history of Brooklyn's coastline through stories of workers, artists, industries, activists, families, neighborhoods, and ecosystems.
How Much: Suggested admission is $10 for adults, $6 for seniors and teachers, and free for members and students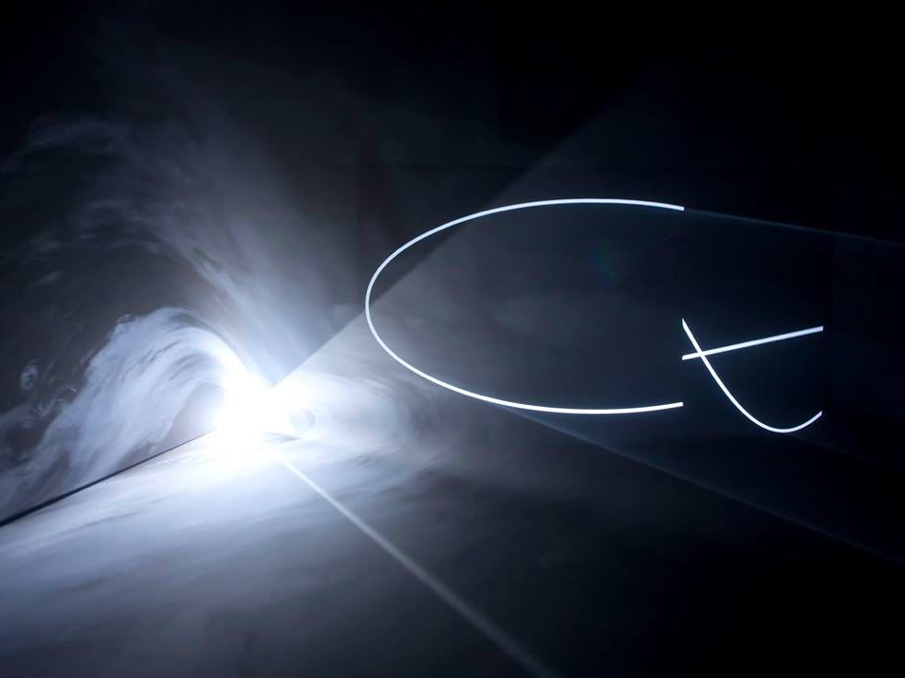 Solid Light Works: Anthony McCall
When: On view through Sunday, March 11
Where: Pioneer Works, 159 Pioneer Street, Red Hook
What: Requiring more than thirty feet of clearance from floor to ceiling, few venues in NYC are able to accommodate these colossal works which the artist describes as a combination of sculpture, cinema, and drawing. The six vertical and horizontal light installations will fill Pioneer Works' massive main hall, which will be completely blackened out and immersed in haze. Read more about Solid Light Works here.