Wednesday What The What: Canoeing And Romance Go Hand In Hand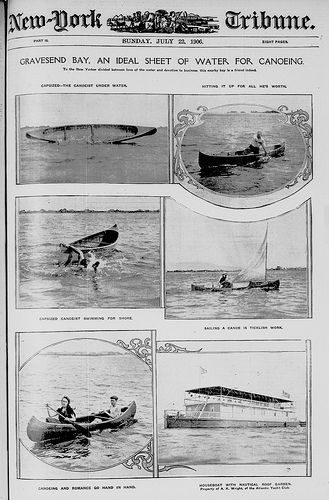 Click to enlarge (Source: New York Tribune 1866-1924 via Flickr)
For a coastal community, we sure have few water-related activities. Back in the early part of the 20th century, things were a bit different. Canoeing was a popular Gravesend Bay pastime. There was even a Marine and Field Club of Bath Beach that hosted the International Canoe Challenge Cup back in 1913.
These photos were taken on July 22, 1906 by a photographer for the New York Tribune touting how great canoeing was in the Bay.
I love the idea of maritime sports and would love to see something as grand as a Canoe Cup return to the Bay.
Has anyone ever kayaked or canoed in the Bay as of late? Maybe we should revitalize the Marine and Field Club. Hey, if they can do it in the Gowanus Canal, we can certainly figure something out.
"What the What?" is a photo feature looking at odd, weird and interesting things in the neighborhood. If you have photos of what the what happenings in Bensonhurst, Bath Beach, Dyker Heights or the surrounding areas send them to lvladimirova [at] bensonhurstbean [dot] com.