'We Miss You Caleb!': Plaque In Memory Of P.S. 10 Student Now Rests In School's Garden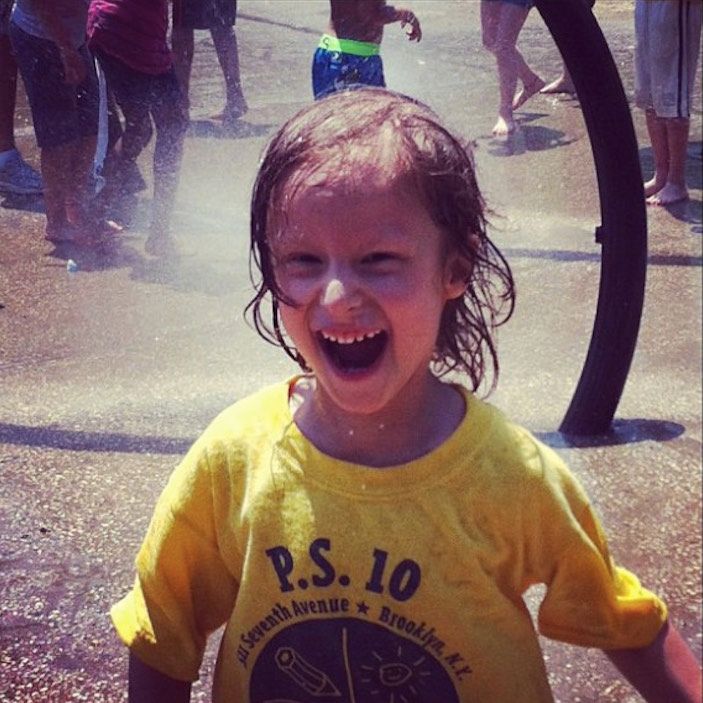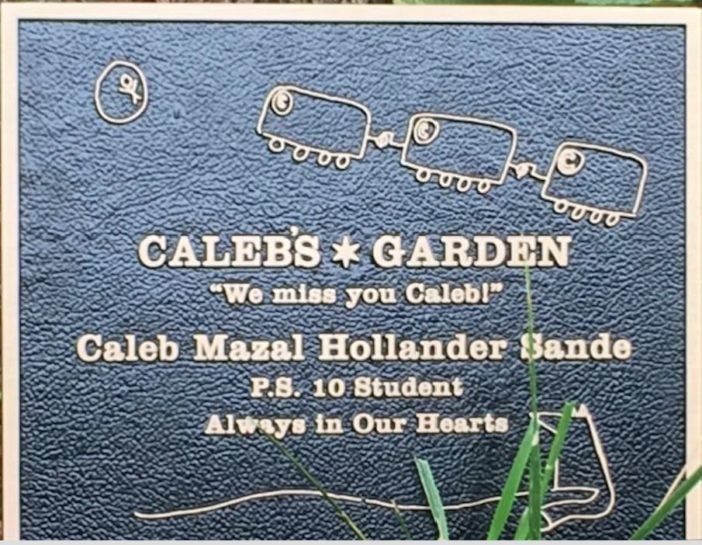 The P.S. 10 community honored the memory of student Caleb Sande this morning with a memorial plaque that was unveiled in an area now named Caleb's Garden.
Caleb Sande was only six years old when he was diagnosed with Burkitt's lymphoma, a rapidly growing form of non-Hodgkins lymphoma, in 2013. By September of the same year, the P.S. 10 first grader had passed away.
"I'm very excited to have children here who were classmates of Caleb, and his teachers. He touched all of our lives," said Mr. Cliff, Caleb's teacher who also presided over the ceremony. A parent close to the family said the highly-respected teacher visited Caleb in the hospital during his treatments.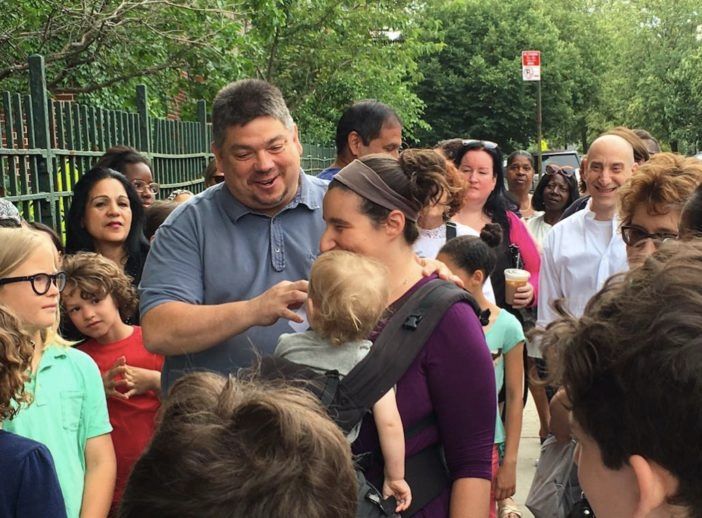 The large crowd of family, students, teachers, and community members gathered closely to hear the words of various speakers. The traffic which passed by did not take focus away from the elegance and grace of the ceremony.
Caleb's brother Banjo revealed the plaque, which now rests at the side of P.S. 10 on 17th Street. "Caleb was a really awesome person," said Banjo. He's spoke about being glad to have the plaque at P.S. 10 to remember him.
Ellen Hollander Sande, Caleb's mother, said the illustrations on the plaque were drawn by Banjo. "The fox, moon, and subway are symbols that have special meaning," she explained.
"He wore an MTA shirt almost everyday," said his mother. The moon symbol represent a book about the moon Caleb created when he was in treatment. "He also loved the book Fantastic Mr. Fox," she continued. "Michael [Caleb's father] would read it to him. And Caleb was able to teach us things."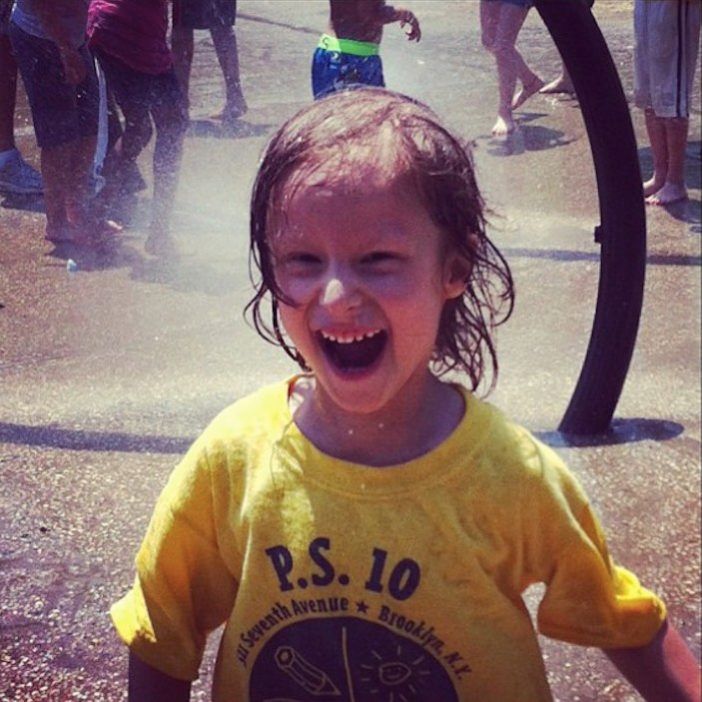 Jody Alperin, a P.S. 10 parent as well as a teaching artist spoke about a special project she worked on with Caleb's first grade class. Along with her teaching partner Vicky Finney, the class wrote a song for Caleb. In the brainstorming session for the song, Caleb's classmates referred to him as their "best friend", that he's "very friendly," "a LOT funny," "very stubborn in a GOOD way," and "ask him anything and he'll say yes."  Most touching was the comment, "We all want to help him because he's a part of our family."
"Caleb's little brother Jonah will hopefully keep going on the path that Caleb started," said one eloquent friend during the ceremony.
"I know some of you have thoughts that you want to say, but you may have a little stage fright," said Mr. Cliff. "Now you can now come here, say hello to Caleb, and talk to him whenever you want."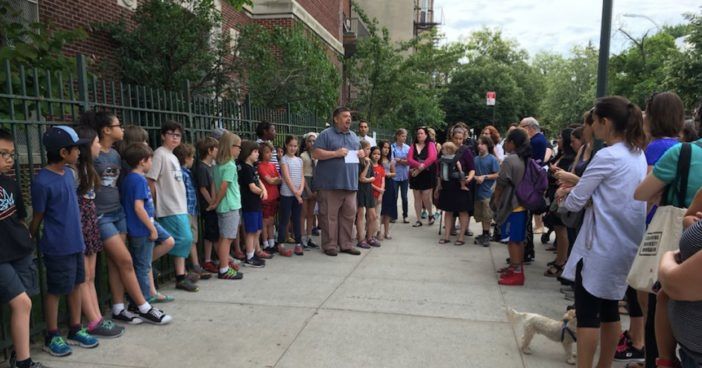 The ceremony was also an opportunity for community members and friends to gather who have not seen each other regularly since Caleb's passing. "As students move up in grades, we don't have a chance to say hello as much," said Mr. Cliff. "It makes me very happy to see all of you."
"'We miss you Caleb!' is deliberately in quotes," said Ellen, referencing the plaque. "It's what you sang to him. The plaque is your quote…P.S. 10 will always be in our hearts."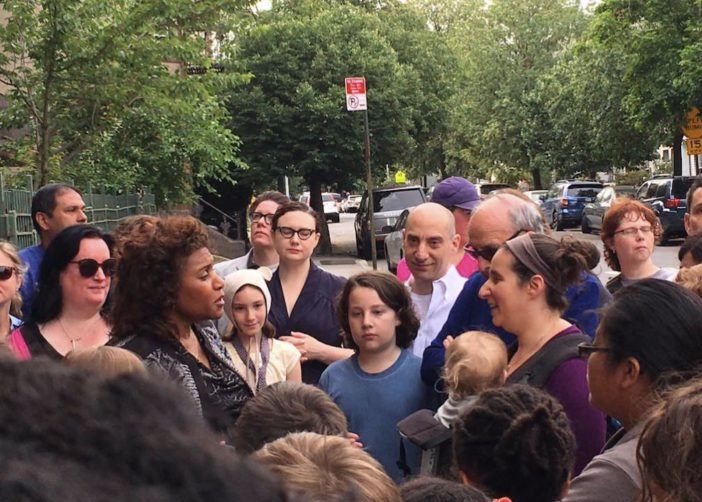 In addition to the communal warmth of the ceremony, it was clear the gathering served as an indelible teaching moment for the students who attended.
After Mr. Cliff finished, the group remained for a few quiet minutes. The students took turns viewing the plaque. One little girl was trying not to cry. She grasped the metal gate tightly. But after a few moments looking at Caleb's Garden, her hands began to relax. She breathed out, carefully removed her arms, and went back to class.
Additional reporting by Christine Bush.