Jehovah's Witnesses Watchtower Sign Is Replaced on Brooklyn Waterfront
BROOKLYN HEIGHTS– The Jehovah's Witnesses "WATCHTOWER" sign illuminating the East River waterfront is being replaced with a new one, after almost 50 years.
, a
new office and retail campus in Brooklyn Heights developed by Columbia Heights Associates, a joint venture of CIM Group and Brooklyn-based LIVWRK, announced this week the completion of a new sign on the top of the multi-building complex at 30 Columbia Heights.
The building was sold for $340 million in 2016, as the Jehovah's Witnesses headquarters moved to Warwick, NY.
The new building management sought permission from the Department of Buildings to replace the sign in a winded back and forth–they were initially denied after the department determined that it was never legal in the first place. Their lawyers had found documents from 1961, indicating that pharmaceutical company E.R. Squibb & Sons, which built the building and occupied it before selling it to Jehovah's Witnesses, received a permit to install its sign, which finalized the permission.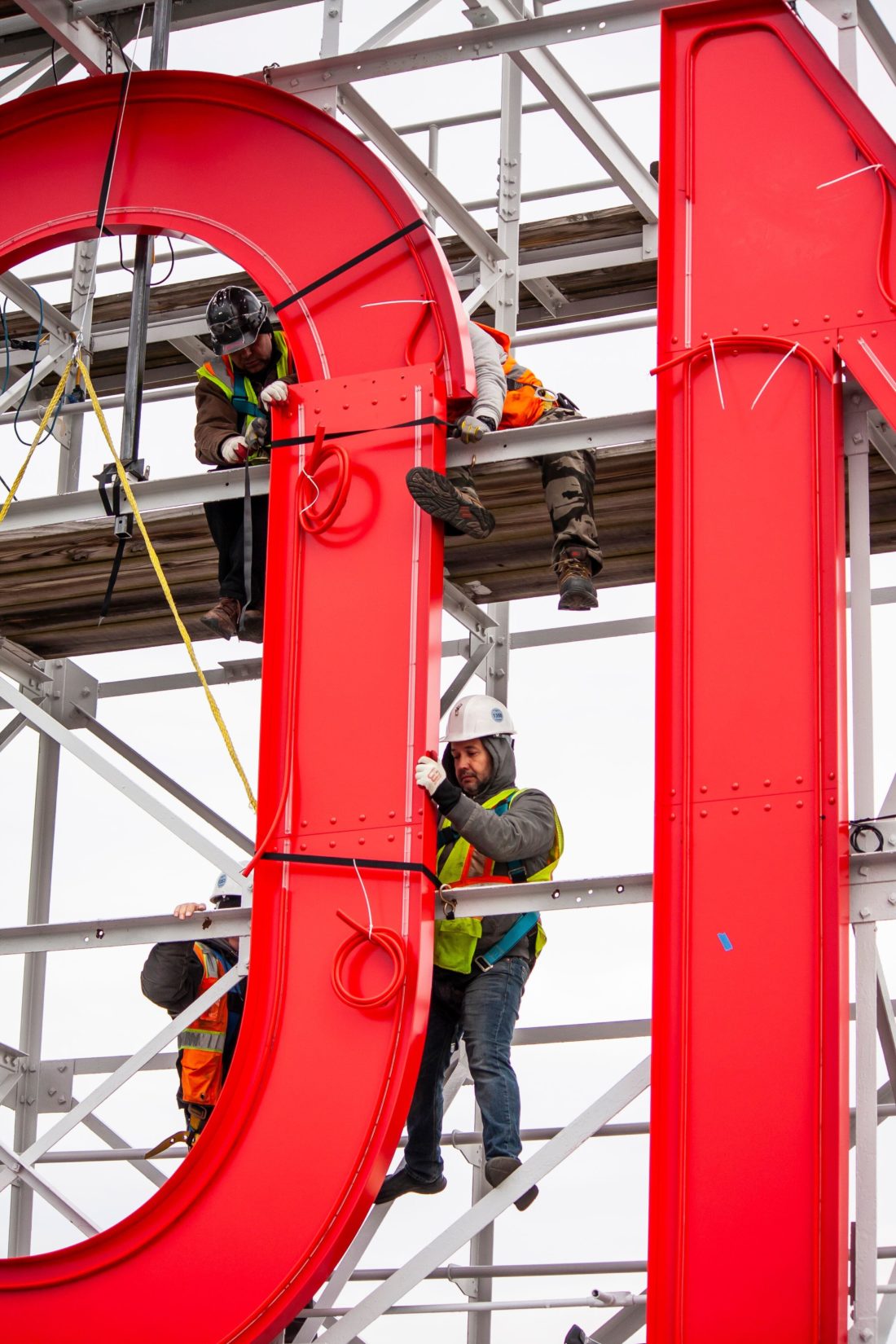 The new sign, conceptualized and designed by New York-based Morris Adjmi Architects, is illuminated by energy efficient LEDs and continues the classic rotating time temperature display. Measuring 80 feet in width and 15 feet tall, the sign reads "WELCOME" in bright red lettering reminiscent of the previous "WATCHTOWER" sign that was installed by the Jehovah's Witnesses when the campus operated as its global headquarters from 1969-2017.
The new sign will be officially lit this upcoming Wednesday evening to coincide with the 50th anniversary of the first lighting of the "WATCHTOWER" sign that took place on November 27th, 1969.
"What a great message for the gateway to DUMBO and all of Brooklyn," says Alexandria Sica, President of DUMBO Business Improvement District in a statement. "DUMBO opens its arms to visitors, dreamers and entrepreneurs from around the world. This is iconic and the right message for these times."