Washington Cemetery: Gravestones Destroyed By Sanitation Workers In Snow 'Cleanup'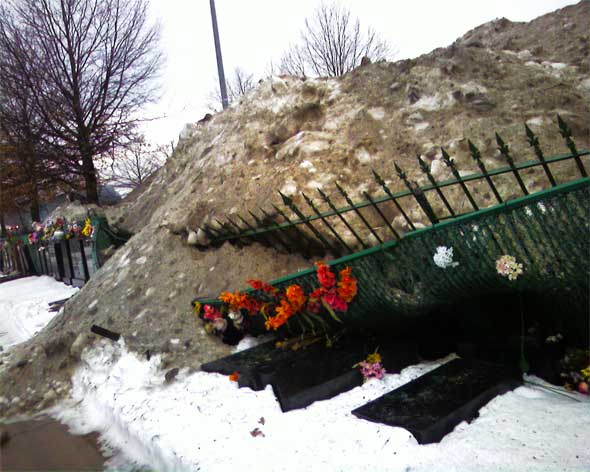 When residents demanded that heads roll after the city's shameful response to the blizzard cleanup, they didn't mean headstones.
But that's exactly what happened when Department of Sanitation workers packed load after load of snow and ice against the fence of Washington Cemetery on Bay Parkway, between McDonald Avenue and 57th Street. The metal gates buckled under the weight, toppling approximately 30 gravestones over the weekend.
"[Sanitation workers] were continually dumping snow there for several days," said Washington Cemetery (5400 Bay Parkway) employee Mike Ciamaga, who added that cemetery officials first noticed the broken gravestones on Sunday morning.  "As of this morning they were still dumping there."
A full tally of the broken gravestones hasn't yet been determined, since many are buried under the snow and ice, according to Ciamaga. Most of the families affected have not yet been notified.
But at least one family made the shocking discovery when they went to pay their respects to a deceased relative on Sunday. They were outraged at the city's lack of concern.
"It was just unbelievable that the city would be so careless and absolutely negligent," Yana Zhuravel told Sheepshead Bites. Zhuravel, a Brooklyn lawyer, said she is also dismayed that the city is making no attempt to clean the mess, inform the families or pay for the damage. "The failure of the city to foresee such damage and their failure to respond or communicate with the families about it is the truly appalling part. We all understand that accidents happen sometimes, but when you screw up in such a profound matter, there should be some accountability."
Cemetery officials don't know if the expense will be paid by taxpayers through the city government, or if the families themselves will have to shoulder the cost.
"We don't know yet, it's still early," said Ciamaga. "We havent had any formal discussions with [the city] yet."
It's the second blow to families with deceased relatives in Washington Cemetery in a month. In mid-December, more than 200 gravestones were destroyed in the Jewish cemetery, sparking a hate crime investigation. Several of those toppled in that incident belonged to Holocaust survivors; others were hundreds of years old.
Councilman David Greenfield, who represents the area around the cemetery, has been an outspoken critic of the Sanitation Department's lackluster blizzard response. This latest Sanitation snafu sparked further condemnation of the beleaguered agency.
"I am incredibly disheartened to learn that Washington Cemetery, the target of hate-filled vandalism in recent weeks, was needlessly damaged by the Sanitation Department during our city's botched snow removal," said Councilman David Greenfield. "It is shocking that the Sanitation Department is incapable of serving the living, or respecting the dead."