WANTED: Man Linked To Murders Of Two Separate Store Owners – Police Get Word Out In Sheepshead Bay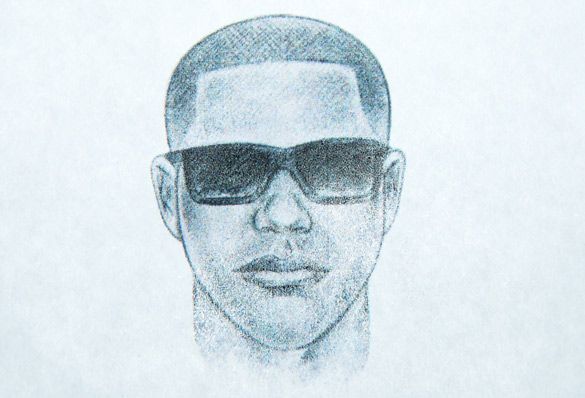 Police officers flooded Sheepshead Bay's commercial corridors on Sunday, going door-to-door to inform business owners of a murderer believed to be targeting convenience stores in a bloody spree that has already left two dead.
The man they're looking for, pictured above, is described as a Hispanic male in his 20s, 5-foot-9 and with a medium build.
The suspect's most recent alleged victim is Isaac Kadare, found brutally killed in his Bensonhurst 99-cent store on August 2. The discovery of Kadare's body was first reported by Bensonhurst Bean. Media reports later confirmed that two customers found Kadare on the floor of the store at approximately 8:45 p.m., and that Kadare had been stabbed in the throat and shot in the head.
Over the weekend, NYPD ballistics teams linked Kadare's murder with the July 6 murder of Mohammed Gebeli in his Bay Ridge clothing store, Valentino Fashion. Both men were shot in the head in their shops with what's believed to be the same .22 caliber gun.
According to the New York Post, police sources are exploring the possibility that the suspect is a serial killer, targeting businesses with the numbers 1, 7 and 8 in their street addresses – Kadare's store was located at 1877 86th Street, while Gebeli's was at 7718 5th Avenue. However, they acknowledge that the addresses could be simply be a coincidence, and are looking at other motivations, such as ethnic hatred.
Police are offering a $12,000 reward for information leading to the arrest and conviction of the suspect. Additionally, Senator Marty Golden is offering $5,000 and Councilman David Greenfield, along with the Sephardic Community Federation, are offering up another $5,000.
Anyone with information regarding this crime is urged to contact Crime Stoppers. All callers to Crime Stoppers remain anonymous. Callers should use the reference number BK-2303 when calling. Crime Stoppers can be reached at 1-800-577-TIPS, via the website, or by texting their tips to 274637 (CRIMES) then entering TIP577.