Volunteer Spotlight: 97-Year-Old Neila Pierre Warms Hearts At CAMBA Food Pantry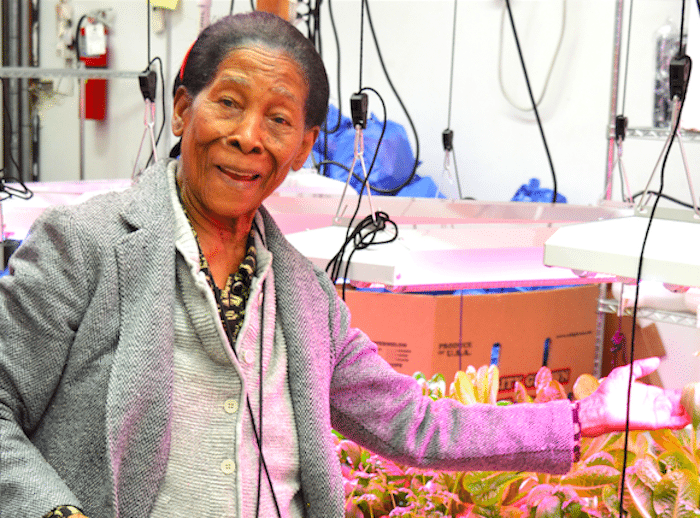 As he enters the food pantry to a warm greeting, a guest at CAMBA's Beyond Hunger Emergency Food Pantry at 2241 Church Avenue recognizes Neila Pierre and relief washes over his strained face. He knows that, at least for today, things will be OK.
At 97 years old, Neila is a frequent sight at the food pantry, where she volunteers several times a week, offering reassurance to the clients who stream through the doors of the pantry every day.
Neila is one of CAMBA's most beloved and devoted volunteers and an inspiration to those of us who feel overwhelmed at the prospect of truly making a difference.
Neila has volunteered with CAMBA's food pantry for three decades now, and she knows just how grim life can be for a single mother, an elderly person, or anyone who is forced to go without food simply because they cannot afford to eat.
Every day that she volunteers, she walks into the pantry past a line of clients patiently waiting for their turn to fill their shopping carts with the food they need. Upstairs, these guests select nutritional food from the pantry's shelves and can meet with staff who will help them apply for public benefits.
Neila says that her volunteer work at the pantry is endlessly rewarding. "I like to meet them where they are, and I try to make their day a little bit better," she said. "And I love my garden," she adds, gesturing to the pantry's hydroponic garden — a bed of green vegetables, lettuce, and herbs.
The thousands of clients who visit the Beyond Hunger Emergency Food Pantry each year are happy to get the food that they need to get by another few days. Yet as we approach the holidays, a time when people celebrate by sharing meals, we want our neighbors to share in the season's bounty.
For Thanksgiving, Ditmas Park Corner and CAMBA are partnering to donate 500 turkeys to 500 families — a small gesture that will provide some holiday pleasure. And now more than ever, local organizations need your help to continue serving the community.
Will you follow Neila's example this Thanksgiving and bring a little joy to hungry neighbors?
Help us reach our goal — donate today here. Learn more about volunteering at CAMBA here.