Vladimir Kats, a resident of Brighton Beach's Oceana condominium complex, admitted to his role as a co-founder of a digital currency service that prosecutors say was favored by crooks, and the black-market banker pleaded guilty for his role in laundering an estimated $6 billion. Prosecutors say it is the largest international money laundering case ever prosecuted.
Kats, 41, pleaded guilty on October 31, according to United States Attorney Preet Bharara, having served as co-founder of Liberty Reserve, a digital currency service that billed itself as the Internet's "largest payment processor and money transfer system."
But prosecutors say Liberty was no Paypal. They allege that it was created, structured and operated to help users conduct illegal transactions anonymously, aiding them to launder the proceeds of their crimes. Liberty had more than one million users worldwide and conducted approximately 55 million transactions before it was shut down in May 2013. It served to launder more than $6 billion in suspected proceeds of crimes, including credit card fraud, identity theft, investment fraud, computer hacking, child pornography and drug trafficking.
"As a co-founder and operator of Liberty Reserve, Vladimir Kats served as a global banker for criminals, giving them an anonymous, online forum to hide the proceeds of their illegal and dangerous activities," said Bharara in a press release. "With his guilty plea today, we take a significant step toward punishing those responsible for creating and running this international den of cybercrime."
Kats, who was arrested in May, pleaded guilty to one count of conspiring to commit money laundering, one count of conspiring to operate an unlicensed money transmitting business, one count of operating an unlicensed money transmitting business, one count of receiving child pornography, and one count of marriage fraud. He faces up to 75 years in prison, with a mandatory minimum sentence of 15 years for the child pornography charge.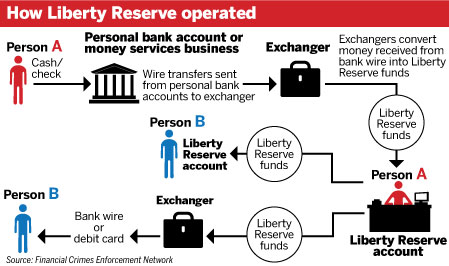 Liberty Reserve was incorporated in Costa Rica in 2006, established by Kats and partner Arthur Budovsky. It allowed money to be transferred via wire transfer to an exchanger, which converted the money into Liberty Reserve funds. This was usually done in nations with lax financial laws, like Russia or Malaysia. The Liberty Reserve funds could then be sent to an individual, either as Liberty Reserve money or to be converted, again through an exchanger, back into a national currency.
The two already had a history together, having run a digital currency exchange called GoldAge from 2002 to 2006. That venture also ended with indictments, as prosecutors shut the service down and charged the two with operating an illegal financial business.
Budovsky and Kats were sentenced to five years probation in 2007. Budovsky high-tailed it to Costa Rica, where he allegedly married for citizenship and renounced his American citizenship, which bought him some protection from American law enforcement.
The investigation into Liberty appears to have kicked off in 2009, when Costa Rican authorities took Budovsky to task for operating without a proper license. When his license application was rejected in 2011, Budovsky formally disbanded the company, but continued to operate it through five other Costa Rican businesses. That spurred an investigation into suspicious bank activities, and in 2011 the United States asked their Costa Rican counterparts to investigate Budovsky's business dealings.
The investigation snowballed over the next two years, involving as many as 17 countries at the time of the May 2013 bust. Budovsky was arrested by Spanish authorities as he attempted to return to Costa Rica. His three homes and five shell businesses had already been raided.
Kats and three additional people were arrested across three countries. Two remain at large in Costa Rica. In total, seven people were charged.
In addition to the charges relating to Liberty, prosecutors say that Kats entered into a sham marriage in 2002 to help a woman fraudulently obtain citizenship. They also say he downloaded child pornography off of a file-sharing network – a charge that follows up on a 2006 conviction of Kats for possessing a sexual performance of a child under 16 years old.