Vision Zero Projects In Fort Greene-Clinton Hill Show No Sign Of Slowing Down In 2016 And Beyond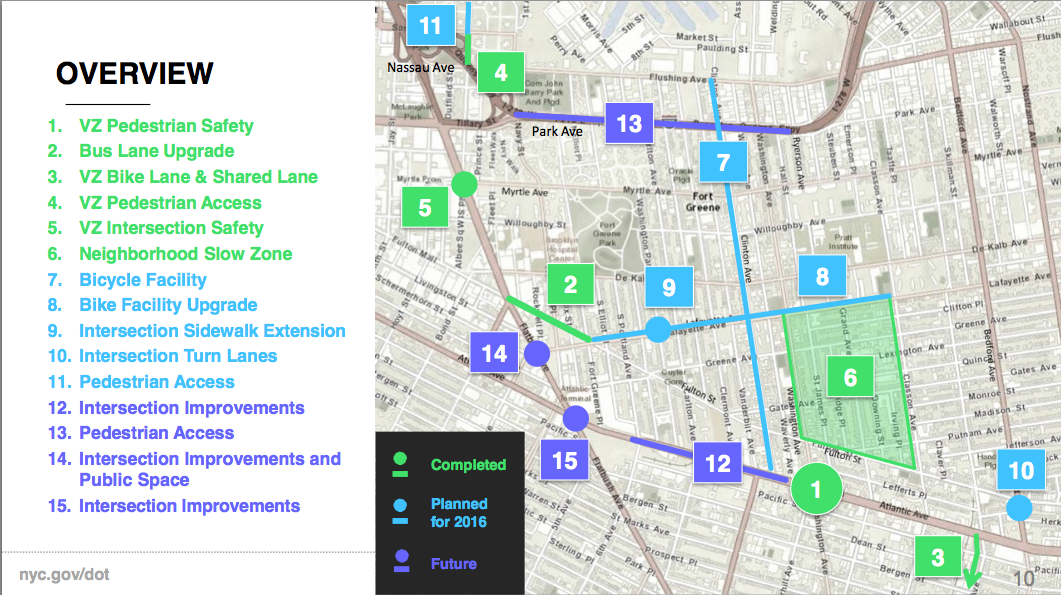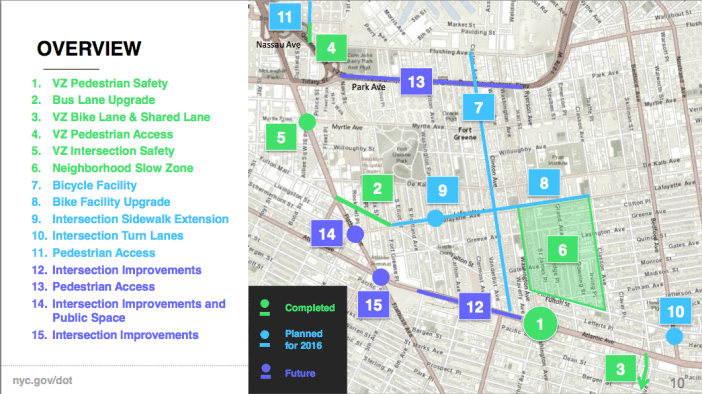 Transportation-related projects show no sign of slowing down in Fort Greene and Clinton Hill, as the above map from the city Department of Transportation (DOT) shows no fewer than nine projects planned here for 2016 and beyond. They range from creating left turn lanes and shortening crosswalks at various intersections to installing a buffered bike lane on Lafayette Avenue and adding sidewalk extensions along Fulton Street.
The reason for all of these changes and upgrades is to continue the mission of Vision Zero, according to DOT Commissioner Polly Trottenberg, who addressed a few dozen residents at a town hall about street safety this past Tuesday, January 26 at Lafayette Avenue Presbyterian Church.
Sean Quinn, acting co-director of pedestrian improvement projects at the DOT, explained this year's upcoming and proposed projects (#7-11) thusly:
The Lafayette Avenue buffered bike lane is to connect a gap in the bike path system between Fulton Street and Classon Avenue, while also alleviating bike volume on DeKalb Avenue;
Increasing pedestrian access on Gold Street between Sands and York Street will be done by expanding the existing median from 3 feet to 7 feet, adding parking lanes on both northbound and southbound sides, and adding a crosswalk mid-block;
A proposal for a left turn lane/bay and shortening of crosswalk distances at Bedford Avenue and Fulton Street is in response to a recent fatality at the intersection;
An idea being floated to transform Clinton Avenue from a two-way corridor into a one-way, northbound corridor with distinct parking and travel lanes, plus a parking/pedestrian/trees lane and a protected two-way bike lane on the eastern side — the goal being to "figure out ways to improve the flow of bikes [as] Vanderbilt Avenue is a problem." Quinn noted, though, that this is "still in the planning stages and we need community input."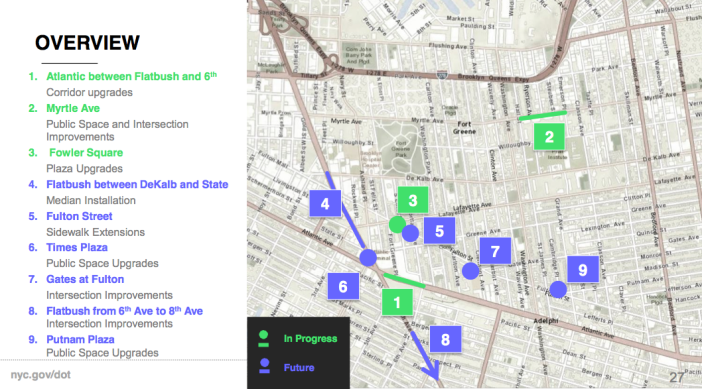 Other future projects in the pipeline include some already in-progress, like the Myrtle Avenue Pedestrian Plaza and Fowler Square upgrades.
Quinn noted that the Fowler Square upgrades will include new sidewalk extensions at South Elliott and Fulton, the Gates Avenue/Greene Avenue sidewalk extension "should be quick," and the Putnam Plaza project is "close to the final design" and will likely include a sidewalk extension on Grand Avenue.
What do you think of all these changes? Pros? Cons?