Vendors At Park Slope Farmers Market Hope For Warmer Temps & More Foot Traffic
The vendors at the year-round Park Slope Down To Earth Farmers Market are maintaining a positive attitude as they confront unseasonably cold weather combined with the competition of the new Whole Foods Market that opened in December at 3rd Avenue and 3rd Street, only a hop, skip, and a jump from this Sunday market.
While the presence of loyal customers is being felt, a noticeable decline in business for the month of January has vendors hoping that once spring arrives, business will return back to normal. Decked out in layers of silk and wool and, in some booths, a portable heater, for extra warmth, the vendors tough out the winter to offer their fresh and wholesome goods to Park Slope shoppers.
Brooklyn-based William DeFillips and Erica Pratico, the founders of Brooklyn Bean, arrive each week with an impressive selection of beans and a hot, fresh soup of the day in addition to frozen veggie patties and frozen soups. Recently, Erica says she's observed a noticeable decline in shoppers.
"I definitely think our loyal customers have continued to come and support the market every week," she says, "but the foot traffic in general has slowed a lot."
Erica acknowledges that the weather could be the deciding factor when people have to choose between a heated store with a place to park and an open market.
"It's definitely much slower than the summer, and we are seeing a lot of people walk through here with a Whole Foods bag, so it may just be that it's the new shiny thing in Brooklyn," she says. "Everyone wants to check it out, which is totally cool, but I just hope that they continue to support the farmers that come here from three hours away, lugging all of their stuff."
Erica points out that the Farmers Market has so many unique things to offer. "Whole Foods is a giant. It's hard for anyone to compete with it. I do appreciate that they support local agriculture and local products too, so hopefully there can be some sort of balance, and that everyone can win in the end."
Greg Miller, the owner of Go-Go Pops, travels an hour and a half each way from Cold Spring, New York, and attributes the drop in business to the weather.
Greg brings his mostly organic soups, salads, and a rotation of the 90 different flavors of frozen ice pops to Park Slope weekly, and states that while they're not 100 percent organic, they do their best to support local farmers who use organic methods.
"We try to be as green as we can," he says. "If anyone ever visits our store in Cold Spring, we sell organic fair trade coffee, tea, and chocolate. We do a juice bar and smoothies and all of our cups are compostable. All of our supplies like that are compostable. And our fruit and vegetable waste goes to local farmers either for compost or feed for their animals, so we try."
Rafael Fernandez, who can be found at the Tierra Farm booth offering a selection of of USDA certified organic nuts, nut butters, and fair trade coffee, believes the next few weeks will give a better indication about whether or not Whole Foods is affecting business.
"I think our customers will also go to Whole Foods, but I think it's a different universe in the attitude of shopping," he says. Tierra Farms offers a pound of coffee at a competitive $10 a pound.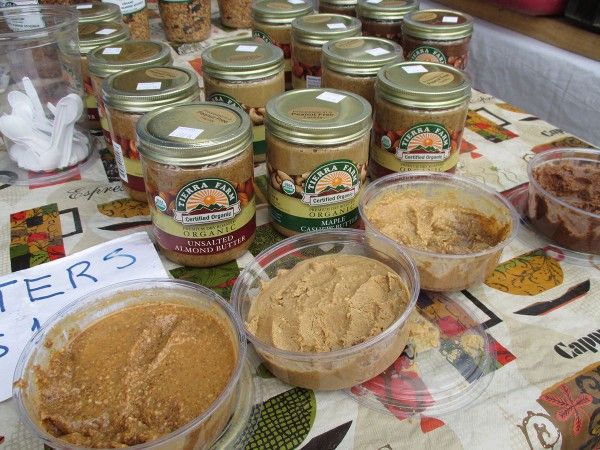 "You cannot find our products in corporate supermarkets," Rafael says. "If they want Tierra, they must come here. The prices that we sell here are the cheapest prices that we can offer."
Vincent Lopez, who spoke on behalf of D&J Organic Farms — which offers organic produce in addition to homemade pickled salads, spicy kimchi, and juices — said he feels a decline in business by 20 percent.
But Vincent says that while business is down from last year, he's confident that they will survive the winter, and that business will pick up in the springtime.
If the cold weather has kept you away, this Sunday should be a really nice day to make your return. The Park Slope Farmers Market is open year-round on Sundays from 10am to 4pm at 4th Street and 5th Avenue.