Valentine's Day Events That Your Wallet Will Love
Valentine's Day can be an expensive holiday habit to sustain, with the average person planning to spend $133.91 on "candy, cards, gifts, dinner and more" — $18.9 billion nationwide — according to the National Retail Federation. That's why we've compiled this list of local (no car needed!), affordable (free or low-cost!) events and activities to celebrate.
BEFORE THE DAY
Wednesday, February 11 from 7-9pm
Meet fellow pet-lovers at Who's Your Doggy's Valentine's Day Party at 197 Adelphi Street. A kissing booth (for both humans and pets) will be present.
Wednesday, February 11 from 7-9pm
Jill Lindsey boutique's "Date Dash" Speed Dating Party at 370 Myrtle Avenue. $12 ticket.
Thursday, February 12 from 5-7pm
Kick off the festivities early with a pre-Valentine's Tasting Event & Pop-Up Shop at the Greene Grape Annex (753 Fulton Street). The event is co-hosted by With Love, From Brooklyn, and will feature mixology from Morris Kitchen and Mason Shaker, as well as tastings from Liddabit Sweets, Fatty Sundays, The Salty Road, Queen Majesty Hot Sauce, and Squish Marshmallows. An RSVP is "strongly suggested."
Friday, February 13 from 5-7pm
Join a Chocolate Whiskey Tasting at Greene Grape Wine & Spirits (765 Fulton Street), which hosts the folks from Kings County Distillery as part of their "Meet the Makers" series. They'll be pouring their signature Chocolate Whiskey – moonshine infused with ground cacao bean husks from Mast Brothers Chocolate. The perfect love potion for you and your sweetheart!
Thursday, February 12 through Monday, February 16
Enjoy a Valentine's Weekend Wine-Tasting and Discounts at Corkscrew Wines (489 Myrtle Avenue). Taste wines for free before considering one of the deals: 10% 0ff any 6 bottles all weekend long or $35 for a Be My Valentine pack of two red wines plus a candy.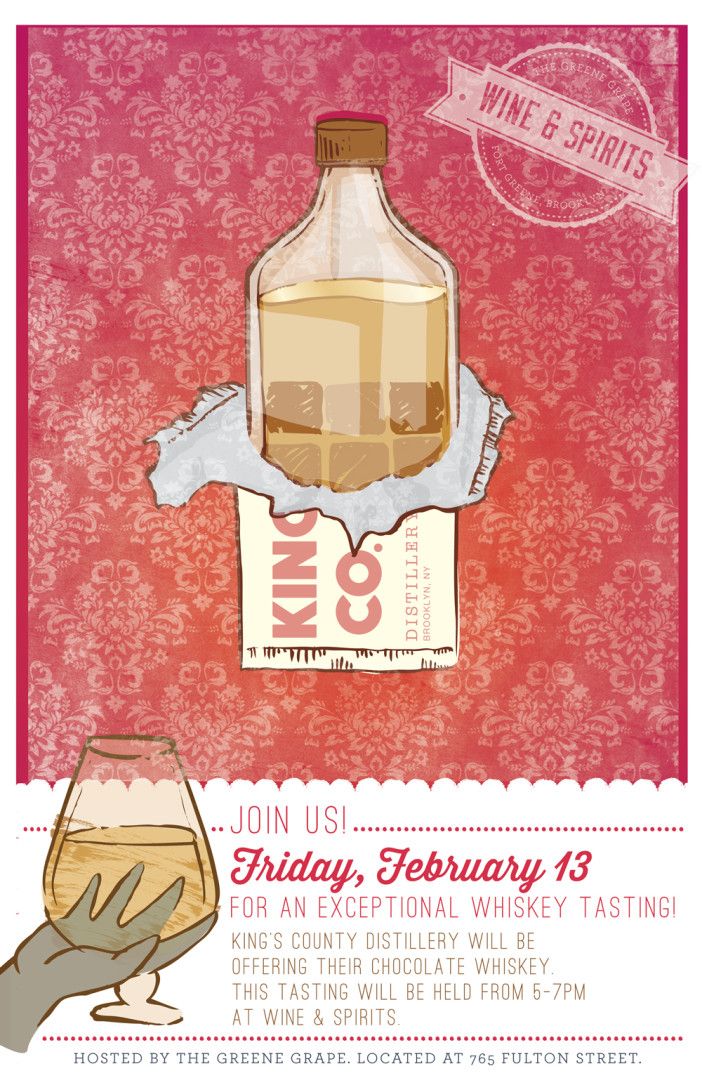 ON THE DAY
11am
Need a last minute gift that won't break the bank? Stop by Pratt Area Community Council's Estate Jewels Vintage Valentine's Day Party. Located at their office at 201 DeKalb Avenue, the party will include pieces on sale for up to 50 percent off, plus on-site music, wine, treats and sweets. Bring your significant other to pick out his/her own gift, then get a surprise item, as well. The single folks among us can also shop for ourselves. Proceeds benefit PACC.
4:30-6pm
Singles, never fear: whether you're looking for someone or simply looking for someone to sit next to while scarfing down a delicious pastry, Baba Cool has got you covered. The cute and cozy cafe at 64B Lafayette Avenue is hosting a Valentine's Day Speed Dating event. For $10, you get a pastry, a drink and a 15-minute window to chat with a potential new friend. Email speed@babacoolbrooklyn.com for full details.
5pm
Let local children and musicians serenade your valentine at the Brooklyn Music School's "Songs of Love and Hope" concert at 126 Saint Felix Street. The ticket price is only $5, which leaves plenty left over for dinner and a gift.