Urban Martial Arts Celebrates Five Years in Ditmas Park
Living in Ditmas Park and commuting to a corporate job in Manhattan, life took a turn one night for Serge Sognonvi when he got into a bad car accident.
"The car was a complete wreck, totaled, and I got out without a scratch," he said. "The firemen were surprised I was alive. I decided to do something with that gift."
He began training again in martial arts, something he had done for many years perviously, and then brought up the idea of opening a school with his soon-to-be wife, Carmen.
"Six months later we were signing the lease," she said.
Urban Martial Arts opened in a small storefront on Coney Island Avenue near Newkirk Avenue in March of 2008. The couple was living on Beverley Road at the time, both commuting to jobs in the city, and though they had considered looking for a place in Manhattan for the school, they quickly realized their own neighborhood was the best option.
"While Manhattan is great — I grew up there — we saw the opportunity to build this in Brooklyn, in our neighborhood," Serge said. "And now there's more stuff here for people to do, rather than going to Manhattan for those things, and it makes even more sense. Even so, we're still trying to create awareness about that, to let people know we're here. It takes time."
Still, in the five years that they've been operating, their presence has grown, both in the minds of neighbors looking for a karate class for their child or for a workout for themselves, and in actual space. Where they once passed out photocopied flyers to people on the street as advertising, now most students find them through their website. They have a popular summer camp program (now registering), and they relaunched a kickboxing class which has become a big hit, particularly with women. This past fall, they took over the adjacent space next door after a medical office closed, more than doubling the size of the school. And, perhaps the biggest change they've seen, is where their students are coming from.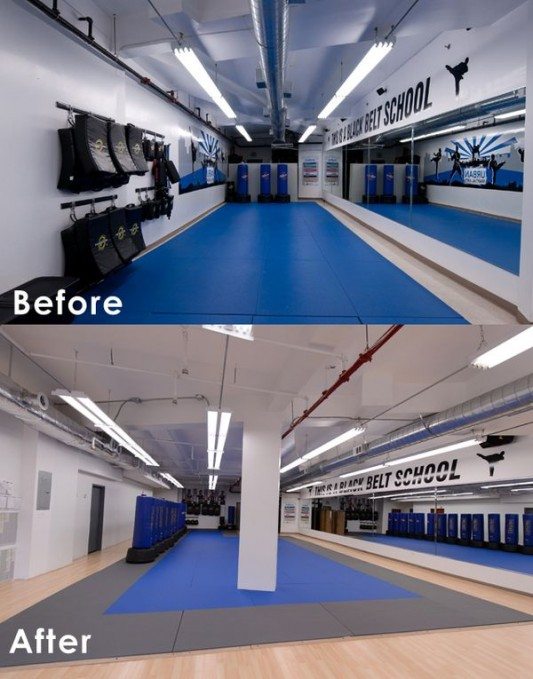 "Initially everyone who trained here lived in the immediate area, and now more and more students are coming from all over Brooklyn," said Carmen. "That's exciting for us. It feels like we're becoming a bit of a destination."
Even so, it's the people in the neighborhood that helped them get where they are today, and Carmen and Serge certainly know and appreciate it.
"I'm really grateful for those first 20 or 30 families that took a chance on us," she said. "When they came in to do their introductory class, it was still a construction site. They believed in us enough to sign up for a program, and they didn't have to believe in us. They didn't know us, we didn't have a track record in this space. They saw something that they liked, and if it wasn't for that, we wouldn't be here."
A lot of those kids are still with the school today, and they, along with all the students, constantly remind the couple just how incredible and diverse our neighborhood is.
"Sometimes if you read mainstream media outlets, you would think everyone in this neighborhood is that 'hipster' label, but it's a tiny sliver of what this community is like, which I don't think is reflected much," Carmen explained. "The good thing about our school is that we can have people from all walks of life who train together. Talking with all the different students and their families, it's so interesting to hear how different everyone's experiences are."
The same goes, she says, for local businesses. With such a diverse population comes varying needs, and Carmen feels like there can, hopefully, be a place for everyone, much like there was a place for Urban Martial Arts.
"Every new business is somebody's baby, that's their dream," she said. "It's important not to discount businesses that might not be as sexy as a new restaurant. We probably fell in the same category — not a lot of people are going to be excited about a martial arts school opening, but we've had a positive impact on hundreds of families in the area, and I feel the same is true for a lot of other businesses. We may not always see it, but it's there."
Though they have since moved their home out of the neighborhood, they may feel more connected now to Ditmas Park than they even did when they lived here. They've seen kids grow up, and are proud to watch as their first batch of karate students will be up for black belts this year.
"I'm more nervous than the kids are," said Serge.
They've also created a four jobs at the school since they opened, and all four employees live in the neighborhood. The challenge now is, in addition to being a destination where people want to train, to make it a place where people want to work, so they're focusing on professional development and trying to create a place that's not just a job, but a place where employees can learn and grow.
"That's been amazing," said Carmen. "Being able to create jobs is something we wouldn't have imagined five years ago."
As for the next five years, the couple is finally out of survival mode. They're done expanding for the moment — both with the school, and in their personal life, as they added a second daughter to their family three months ago. What they are considering adding is more fitness classes. The success of the kickboxing class, which we can confirm from the students we've met who are currently trying to convince us (nicely) into giving the class a try, could lead into more like that for adults.
"We've seen how important fitness is to people in the neighborhood, so that's something we're looking at doing more of," Serge said.
Additionally, they want to ensure that Urban Martial Arts is here for the long haul, so that the karate students who have spent a lot of time and energy training toward their black belts are able to achieve that goal.
"That journey is really important to us," Carmen said.
Looking back on the past five years and the abrupt decision they made to open the school and change their lives in such a big way, when asked if they made the right choice, Carmen and Serge answer without hesitation: "Definitely."
"One of the goals that we have is to deliver a better experience than we did six months ago," Carmen said. "And hopefully people will realize that they don't have to go to Manhattan, or even to other places in Brooklyn — there's plenty of great stuff right here."
Happy anniversary, guys!
Urban Martial Arts is located at 965 Coney Island Avenue. You can contact them at 718-287-5500 or info@urbandojo.com, and you can also find them on Facebook and Twitter.