Updates And A Glimpse Of The Ongoing Navy Green Project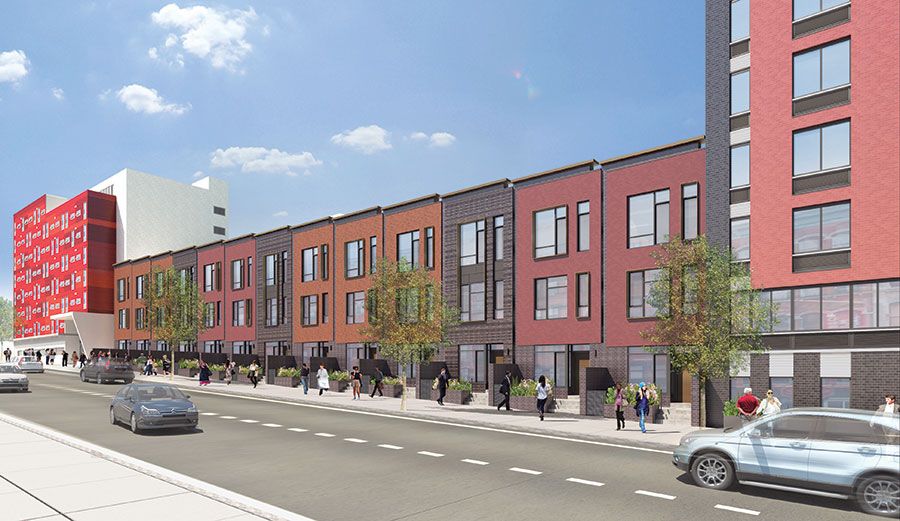 Four years in, the Navy Green mixed-income housing project is still inching along and is beginning to pick up steam again on two fronts: the Navy Green Townhouses (17-35 Clermont Avenue and 14-38 Vanderbilt Avenue) and the Navy Green R2 project (8 Vanderbilt Avenue).
The $37.5 million R2 project already broke ground last year and is due to be completed in Spring 2016 with 99 one-, two-, and three-bedroom condo units hitting the market — 74 of them "affordable" (165 percent Area Median Income/AMI) and 23 of them market-rate. It will stand 12 stories tall and include 1,600 square feet of ground-floor commercial space. It will also be connected to the Navy Yard R1 building by a community center/facility on the Flushing Avenue side.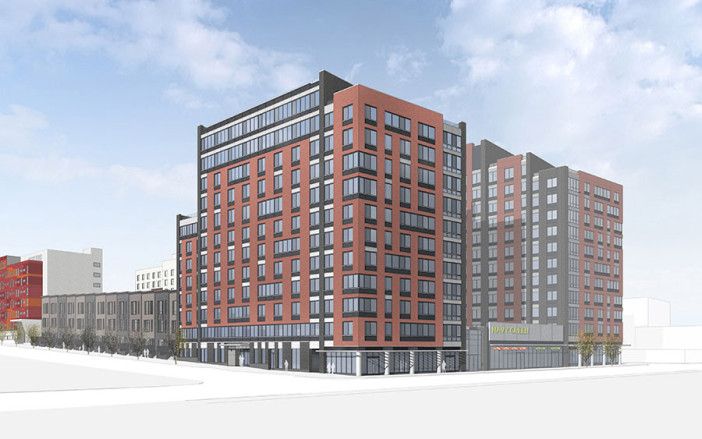 The $23.3 million Townhouses portion of the project is also making headway, as first noted in New York YIMBY, breaking ground on what will be 23 single-family, market-rate townhomes, each with approximately 3,000 square feet over three stories, plus its own cellar: 10 along Clermont Avenue and 13 along Vanderbilt Avenue, between Flushing and Park Avenues.
The entire Navy Green project is being jointly developed by Dunn Development Corp., L&M Development Partners Inc., and Pratt Area Community Council. It also includes the already-complete R1 (7 Clermont Avenue) — a $35.6 million, 12-story complex with 112 "affordable" units for residents making between 40 percent and 100 percent AMI — and R3 (45 Clermont Avenue) — a $27.3 million, eight-story complex with 101 studio- to three-bedroom units for low-income tenants making 40-60 percent AMI.
Once completed, all four portions of the project will effectively border a shared interior landscaped green space with lawns, benches, and a playground.
The Navy Green site was once home to the Brooklyn Navy Yard's prison, known as the "Brig."
Dunn Development was also part of the team that brought the Putnam Court supportive housing complex to Clinton Hill and the Myrtle Avenue Apartments to Bed-Stuy.