Surveillance Video Of Cop-Impersonator's Deli Dust Up Shows Counter Meltdown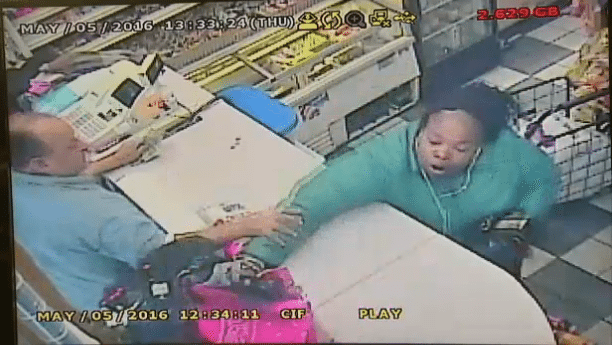 Newly released surveillance video, obtained by NBC, related to last week's cop impersonation incident shows the suspect's deli meltdown was sparked over a single penny!
Retired corrections officer Joyce Fields, 48, was at the store on 382 Myrtle Avenue on May 5 when she allegedly trashed a register and shoved her viands to the floor after deli owner Zaid Ali Hussein Bin Hadi failed to put the penny in her palm, according to NBC. When Bin Hadi attempted to call the police, Fields brandished her corrections officer badge which led to Fields being charged with impersonating an officer and mischievous conduct.
"I'm the motherf*cking police!" Fields exclaimed, the deli owner told NBC.
NBC reports that Fields retired from the Department of Corrections on April 28 after 25 years.
Customer Nurray Yoosuf told NBC that "I have seen him let people go without paying full – 'oh, you don't have enough money, give me what you got."