Upcoming Town Halls Provide Opportunity for Civic Engagement
Two town hall meetings this week offer Brooklynites a space to engage with elected officials before the year's end. Residents of Councilmember Laurie Cumbo's 35th City Council District and parents with kids attending schools in the 13th School Board District will have meetings in their neighborhoods starting this evening.
The first event is tonight, Tuesday, December 19, at K056 in Clinton Hill. From 6:30-7:30 pm, New York City Schools Chancellor Carmen Fariña will be on hand at a town hall meeting of the 13th District Community Education Council.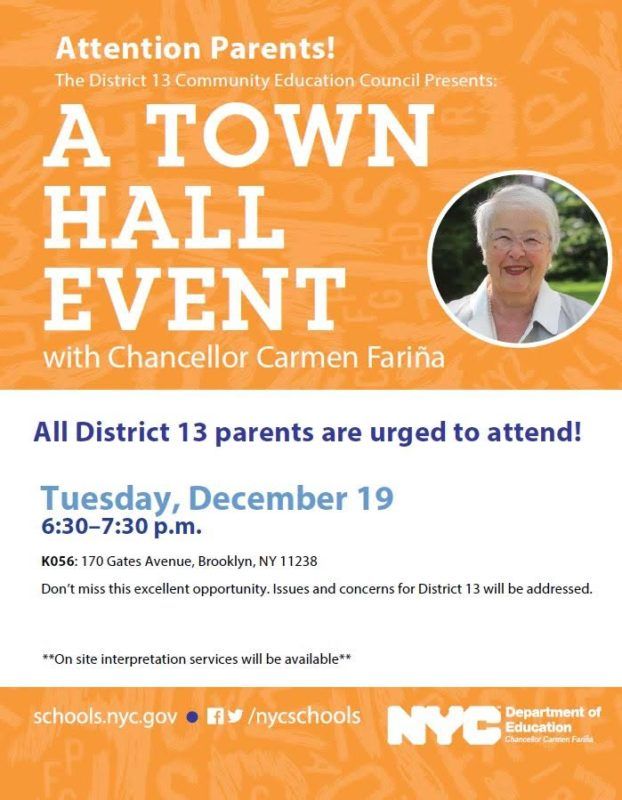 The school is located at 170 Gates Avenue in Clinton Hill, between Downing Street and Irving Place.
On Wednesday, December 20, Mayor Bill de Blasio will continue his sweeping campaign of town hall meetings, with his 50th appearance happening in the 35th District, which includes Fort Greene, Clinton Hill, Crown Heights, Prospect Heights, and parts of Bed-Stuy.
The meeting will start at 7:00 pm, though doors will open at 6:00 pm—since seating is on a first come, first served basis, showing up a bit early may be advisable.
The meeting will take place at the Ingersoll Houses Community Center in Downtown Brooklyn, at 177 Myrtle Ave, between Prince Street and Fleet Place.
Check out our coverage of previous town hall appearances by Mayor de Blasio, including a list of promises for Sheepshead Bay, a nostalgia trip in Park Slope, and a packed house in Brooklyn Heights.