Uncle Louie G Has Been Screaming For Ice Cream For Over 20 Years
There are Park Slope restaurants. And then there are Park Slope institutions. Uncle Louie G's is one of the latter.
Uncle Louie G's, a homemade Italian ice and ice cream shop with three locations in the Park Slope (319 7th Avenue, 741 Union Street, 402 5th Avenue) and one in Windsor Terrace (157 Prospect Park Southwest) is a reminder of everything summer should be — sweet, sticky and full of things you love.
And as the season starts to change, the local institution stands out as a place that won't be changing any time soon.
"It's a hard business," said Vinny Nerone, owner of the 7th Avenue, Union Street and the 233 Smith Street locations. "But we've outlasted the yogurt fads that came and went. There are probably other ice cream places that you could go to that are more trendy. I hope that what we always demonstrate is that our prices are reasonable and that we are a family place."
Nerone, who has been an Uncle Louie G franchise owner for 10 years, speaks of his work like a Willy Wonka with a Brooklyn accent.
He hides gift cards for free ice or ice cream around Park Slope in the summers to help bring joy to kids and families. He tries to hire teenagers from local schools and churches to staff the locations. And he is fluent in every flavor of Italian ice and cream.
"Classic rainbow always wins," he said.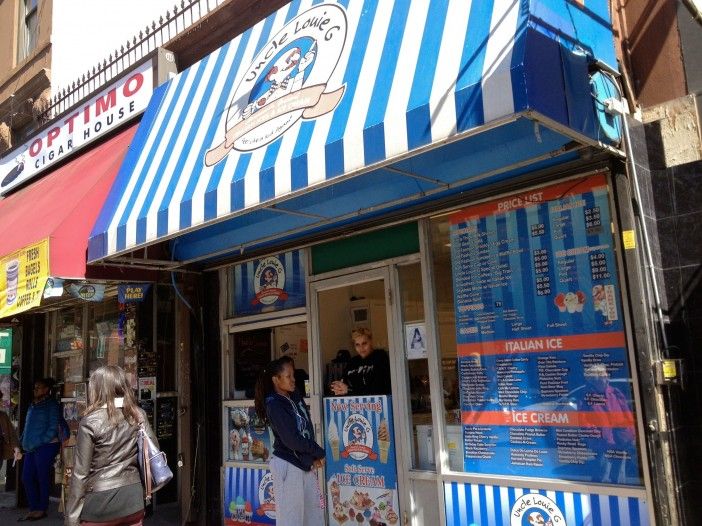 Started over 20 years ago with a factory on 18th Avenue in Brooklyn, Uncle Louie G has become a well-known Italian ice and ice cream institution throughout the city. The factory eventually moved to Staten Island because, according to Nerone, "it got priced out of Brooklyn just like everything else."
There are now 48 locations in nine states, one in Malaysia and an outlet possibly opening in Dubai. Uncle Louie G is a franchise-company; entrepreneurs can buy into the brand and open locations.
But despite the growth, their mission remains the same.
"For a family of four and with ten dollars you can enjoy yourself," said Uncle Louie G President and CEO, Dino Russo. "That's basically it. We are a simple company."
The secret, according to Russo who has been leading the company for seven years, is that it's a family-run company that uses ingredients that are the "finest out there."
Nerone, whose best friend owns Uncle Louie G locations around the city, said the team is close-knit and that they all know each other. And that familiarity is part of what makes the business special.
"You say franchise and everyone thinks it's McDonalds," Nerone said. "It's not. We all know each other. We're all friends."
Russo, who now owns the recipes and international business, grew up in an ice cream family. His brother started the company after experiencing success in the kitchen, mixing flavors and selling ice cream in small batches. He named the company after his uncle from Italy, so while the inspiration is grounded in family values, the name is not.
"We just put the G on there," Russo said, "just so people can ask why."