The 2016 Ultimate Guide To Drinking And Dining Outside In Ditmas Park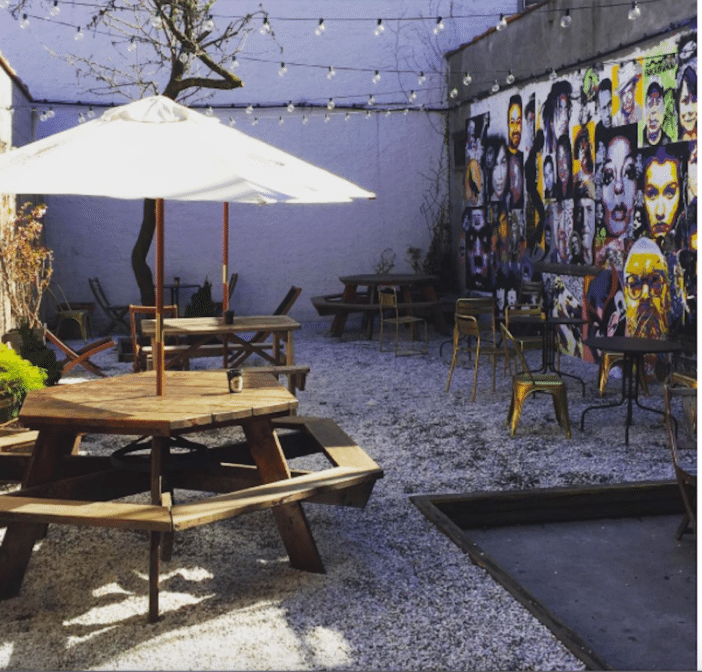 We were appalled at Renthop's newest "study" which ranked the best summer neighborhoods on factors like outdoor cafes and nearby parks, but completely ignored the outdoor dining and bar scene in Ditmas Park. I mean, you've gotta be kidding — we scored 0 in the category "outside eats"! It's clear that wherever this data is coming from, the data collectors have never even stepped foot in Ditmas Park.
In retaliation, (and to help you have a great summer, of course) we've compiled a list of the definitive places in our neighborhood (and immediately outside its boundaries) to enjoy your summer — with over 20 beautiful gardens, patios, benches, and street tables to soak in a sunny afternoon or an evening summer breeze, without hopping a train to stroller city.
Bar Chord (1008 Cortelyou Road. between Stratford Road and Coney Island Avenue, 347-240-6033) doesn't have a kitchen, but they do have a backyard where you can sip your brews and cocktails — and eat whatever takeout your heart desires.
Cafe Madeline (1603 Cortelyou Road between E. 16th and E. 17th Streets, 718-941-4020) has some chairs and small tables set up outside where you can throw back as many cheddar biscuits as possible. And keep an eye out for their sister cafe, Victorian Flatbush Counter, opening soon (hopefully) and already sports two nice benches outside.
Cafe Tibet (1510 Cortelyou Rd. between Marlborough Road and E. 16th Street, 718-941-2725) has some tables and chairs on their porch outside, where you can listen to the trains while eating your momos.
Cinco de Mayo (1202 Cortelyou Road on the corner of Westminster Road, 718-693-1022) is another spot with just a few tables outside, and a great place to watch the action at Engine 281 & Ladder 147.
Lark Cafe (1007 Church Avenue, by E. 10th Street, 718-469 -0140) might be a stretch on our part — but there is a nice outdoors bench where you can sit, sip your coffee and watch the world of Church Avenue pass you by. Plus, they serve food from Brancaccios. Lark's sister cafe, Elk (154 Prospect Park Southwest, between Seeley and Vanderbilt streets) is definitely Windsor Terrace, but we though its worth a mention due to their huge outdoor patio complete with a toy-stuffed kids play shed.
Lea (1022 Cortelyou Road, by Stratford Road, 718-928–7100) enjoy an antipasti or wood-fired oven pizza for brunch, lunch, or dinner, sitting outside at Lea's expansive outdoor patio seating.
Purple Yam (1314 Cortelyou Road between Argyle and Rugby Roads, 718-940-8188) has a lovely backyard with semi-covered seating. Plus, while you're there, check out all the new artwork at the restaurant!
Shenanigans (802 Caton Avenue on the corner of E, 8th Street, 347-398-1905) doesn't serve food, but their backyard is great for ordering in a burger to go with your beer.
Sycamore (1118 Cortelyou Road between Stratford and Westminster Roads, 347-240-5850) has a great outdoor spot where you can kick back with your whiskey and banh mi, barbecue, Tex-Mex, and a whole lot more from the bar's Flatbush Food Court. Garden closes at 11pm.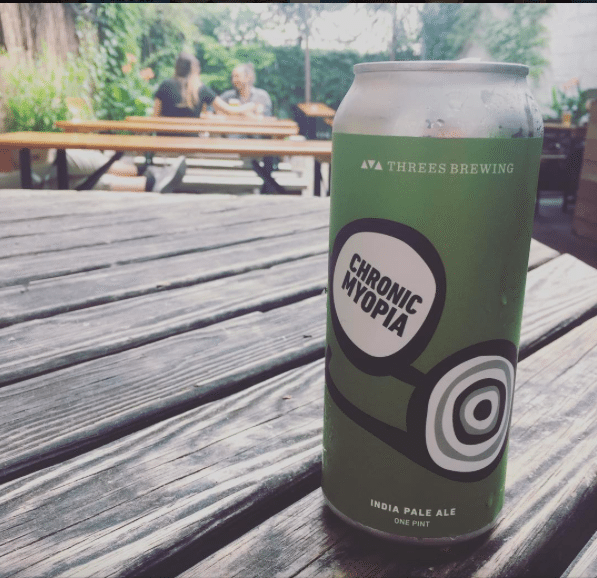 The Castello Plan (1213 Cortelyou Road between between Westminster and Argyle Roads, 718-856-8888) has some nice outdoor seating that's prime for Cortelyou people watching.
The Farm on Adderley (1108 Cortelyou Road, between Stratford and Westminster Roads, 718-287-3101) has a relaxing spot for outdoor seating — just expect to wait a little longer if you want to snag a spot outside while the weather's gorgeous.
Qathra (1112 Cortelyou Rd. between Stratford and Westminster Roads, 718-484-3322) serves everything from salad to skirt steak around their backyard fountain, complete with murals and a canopy for shade.
Hunger Pang (1021 Church Ave between E. 10th and Stratford Road, 718-552-2869) this asian fusion restaurant has a small outdoor area, and is open until 9pm.
Kettle and Thread (1219 Church Avenue between Westminster and Argyle Roads, 347-789-3108) sports a large backyard garden patio with 16 tables, with umbrella's being unveiled this weekend. Open 8am to 6pm.
[Update June 24] Hinterlands Bar (739 Church Avenue, between East 7th and East 8th Streets, 718-633-0550) the newest neighborhood addition, Hinterlands has a large draft beer selection, a dimly lit back room, and an outdoor patio open until 12am. Even though the patio closes at midnight, the bar plans to stay open until 4am.
[Update June 27 Kumo Sushi (1406 Cortelyou Road, between Rugby and Marlborough Roads, 718- 282-8288) cold sushi is perfect on a hot day. And although this Cortelyou sushi spot advertises easy take-out, one reader tells us that they have a lovely little backyard garden.
Werkstatt (509 Coney Island Avenue, at Turner Place 718-284-5800) enjoy schnitzel, soft pretzels, and other treasures outside at this Austrian-themed brunch and dinner restaurant. But first, meet the chef and Kensington neighbor Thomas Ferlesch and read our full review of our favorite menu items. ]
Propellerhead (752 Coney Island Avenue, between Cortelyou & Dorchester Roads, 718-872-5023) look out — their delicious sandwiches, salads, pastries and coffees will be available to eat in their backyard garden patio…opening in July. Read our full review here. [Update 9/16: Propellerhead has closed]
Update August 11: Bashi Channel (1120 Cortelyou Road between Stratford and Westminster, (347) 221-1970) now has outdoor seating! Check out the video here, and read our full review here.
Outdoor Seating Coming Soon…
[Update: Asya closed its doors in July] Aysa Indian Restaurant (1310 Cortelyou Rd between Rugby and Argyle, 718-703-3000) they do have a backyard but it's not open yet — according to staff, they're doing electrical work back there and don't have an estimate for when it would be open. Read our full review here.
More From Across the Border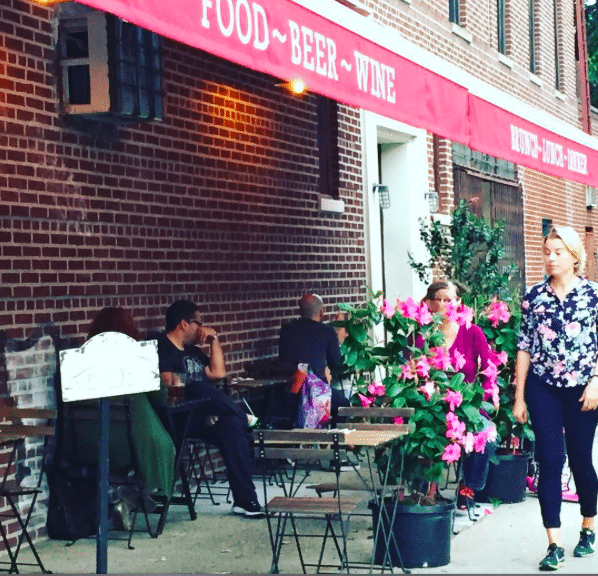 Hamilton's (Fort Hamilton Parkway between E 4th and E 5th streets, 718-438-0488, 2826) enjoy a full brunch and dinner menu at outside street-side tables, with a long happy hour from 11am-7pm, Monday-Friday.
Le Paddock (1235 Prospect Ave. on the corner of Reeve Place 718-435-0921) serves French fare like moules frites and escargot alongside brick oven pizza— and it's not a far walk for many of our readers to find out why everyone loves their brunch.
Thai Tony's (3019 Fort Hamilton Parkway between E 2nd and E 3rd Streets, 718-436-6932) gets raves reviews for its Pineapple Fried Rice, Chicken Green Curry, and Tom Kha Kai.
The Adirondack (1241A Prospect Ave, between Reeve Plave & Greenwood Ave, 718-871-0100) with a full menu of drafts, wines, cocktails, pretzels, pickles and sandwiches — this bar has a front patio with lots of chairs to enjoy the other side of the train tracks (Fort Hamilton Parkway F/G).
Brooklyn Commune (601 Greenwood Ave, between Prospect Ave & 7th Street, 718-686-1044) breakfast and lunch look incredible here, serving sandwiches and salads like the Asian BBQ Pulled Pork on a brioche bun. And of course, plenty of places to eat them outside.
[Additional reporting by Nora Whelan and Anna Gustafson]
What did we miss? Please tell us in the comments below!