Uke Can Do It!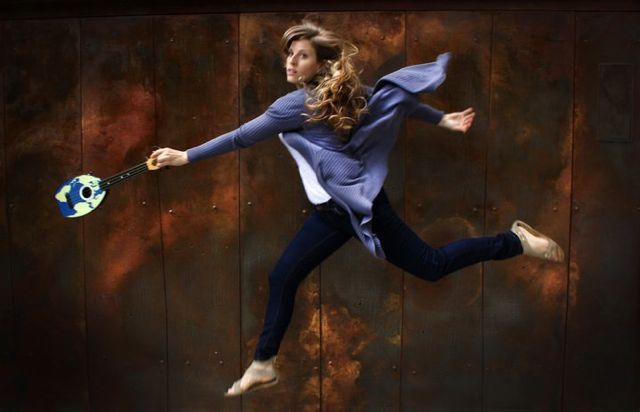 photo credit: Lizzy Doe
Amelia Robinson always knew that music was her calling. It was just a question of how.
She didn't anticipate she'd be making a name for herself in the growing kindie scene. She definitely know she'd be doing it on the ukulele. But with Mil's Trills, her kid-oriented, uke-centric concert series, Robinson's found a way to bring together her a decade of musical adventures that have taken her from Brooklyn to London to Qatar and back again. "It just feels like elements of my journey in the last eight years have finally clicked together and served a purpose," she says.
And this weekend, Robinson will be doing her trillin' thing at Littlefield: Sunday is Mil's Trills 2nd Annual Summer Bash, which will bring together instruments from around the globe for an afternoon "feast of the senses." The theme? "Uke Can Change the World."
Festivities begin with a bang (literally — there's a drum circle) at 3pm before the "official" concert kicks off (also literally — there will be dancing) at 3:15. Adult tickets are $10 in advance/$15 at the door; kids under 4 get in free.
Intrigued, I caught up with Robinson — herself a native Park Sloper — to find out more about the show, the series, and life as a professional ukulele player (not in that order).
Why the ukulele? How did you get started?
I started playing when I was 23, watching the Ukulele Cabaret once a month down at Jimmy's No. 7 in the East Village — before the uke really hit it off. I went backpacking around Europe by myself for 5 weeks and brought the uke along.  It was so amazing to have this tool that so easily engaged strangers and helped me make new friends everywhere. I'd have to write novel to go into the uke-inspired generosity of strangers.
When I came back [from Europe], I was a bit jaded by the rapid gentrification of my hometown (ha!) and needed a break from the grind of New York. I moved to London and the uke was really kicking off there at that time. People would get together in pubs and play covers til all hours of the morning — oh dear. I think the uke became so popular in 2008 because the recession hit and people who got laid off all of a sudden started to realize the importance of doing what you love and appreciating the present moment in life. Also — the uke is cheap!  It's cheap and  it makes you smile! What more do you need?!
Do you think the uke gets a bad rap?
The ukulele has a stigma for being what I call a "plinky plonk" instrument, but it really is a beautiful tool for creating raw, sensitive, honest songwriting from deep within the heart. Some people laugh at it, not taking it seriously, some people laugh 'cuz of it, yet everyone can't help but love it. There's no denying that the accessibility of the ukulele makes it a perfect design for team building, teaching early childhood education, or as ice breaker when meeting new people.
So maybe not on the uke, but did you always know you'd be a musician?
Although I always knew I wanted to do music, I didn't know in what capacity. In London I had it in mind that I wanted to be more behind the scenes, composing for adverts, but then I got that job in Qatar and started performing more and enjoying it more as I got more practice. I always struggled with knowing how my music would fit into the world — I am still figuring that out (even more so now that there's some really crazy stuff evolving with the solo grown-up gigs). That's part of the fun of it all, I guess. Then I moved back here and, well, here I am.
I feel like so many performers would kill to actually be making a living from music — how have you made it work? When did you realize, "yes, I'm going to take the leap and do this for real"?
Visualisation is really important, along with belief and trust — trust yourself and know that even thought you don't have all the answers — the universe will respond and somehow everything will all make sense.  Also, because there are just so many ups and downs, a good support system is key.
What was the spark for Mil's Trills?
Mil's Trills started when my sister had a baby and I came home to visit from living abroad in London/Qatar.  A handful of her friends and other parents gathered by the Picnic house in Prospect Park and I sang my songs to them and their kids. They told their friends, and their friends told their friends, and before you knew it – we were the next big thing! When it got cold, the Brooklyn Lyceum opened its doors to us and allowed us to use their cafe space for performances.
Did you have a specific vision in mind?
My sister and I wanted to recreate the music experience we had growing up, and the essence of the Park Slope community, so we built the series on a symbiotic model, where families, local businesses and artists all work to give back to each other. Keeping the series drop in and donation based, we got such a big response that we had to move downstairs into the main performance space. At one point, I was doing five shows a week in different neighborhoods all over Brooklyn, but that became too much for me to handle. Now, the series has grown to a point where I collaborate and perform with major venues (we just had a show at Lincoln Center) and other artists (we're going to play with Rolie Polie Guacamole in Sept and Suzi Shelton in December), but I still do the drop in, donation-based "POP-UP" shows once a month to keep giving back to the community and to bring new families together.
This Sunday is one of the big shows. What can people expect?
A multi-sensory feast of exotic instruments from around the world. I aim to make my shows as interactive as possible, so I always give kids and families the chance to meet and greet the musicians with their instruments before and after the show. Kids are also invited to come up on stage at our last number (and crowd favorite), "You Have My Heart."  There will also be a drum circle where the audience will be welcome to join in [with musicians playing] the tabla, darbuka, gyil, djembe, ghatan, and washboard!
Anything you're particularly looking forward to?
I've asked the musicians to contribute a song to the set from the country of their instrument's origin — that should be really exciting, because every instrument will be playing on these styles, even if [it is originally] from a different part of the world. Also, given the nature of this music, much of it will be improvised! With the talents of these amazing musicians, anything can happen!
Has performing for kids changed the way you think about "grown-up" music?
There is a huge kindie scene rising up in America and it's amazing to see how much of it is so appealing to kids and adults alike!  I started playing the same songs for babies as I did for adults, finding alternate meanings and depth to songs that have kind of taken on a life of their own. Every so often a kid comes along that has a really intense reaction to an instrument, and that always blows my mind.  This happened with the tuba and the West African gyil (ancestor of the marimba) where kids just went WILD and it was truly incredible. It makes you think what it must be like to hear music for the first time…
Lighting Round!
Favorite place to hear live music in the neighborhood?
There are some great new venues now — The Rock Shop & Littlefield are my fav.
Perfect Park Slope weekend?
Coffee at Cafe Martin, cruising the farmers markets for cheese and pickle freebies, walk through Prospect Park and get lost in the Nethermead. Beers at The Gate with old friends. Sunday brunch with the family at home, Celebrate Brooklyn!
Coop member (yes/no)?
Never!
Favorite thing about the neighborhood?
So many new friends with babies! Not so great for a single woman, but great for business! Haha.
Park Slope pet peeve?
So many new friends with babies! Where the single brothers at? And don't tell me Williamsburg!